By Bob Weaver

Charlie "Spav" Stump (1869-1956), the son of A. H. and Drusilla Ball Stump, may have been one of Grantsville's most outstanding street characters in the last century. The stories are endless.

He was among a dozen of so street characters that graced the community in the 20th Century.

In the early part of the century, Spav was a trainer of horses, operated a livery stable, rented out teams and equipment, and did hauling for oil and gas companies. He was a horse trader and dearly loved horse races.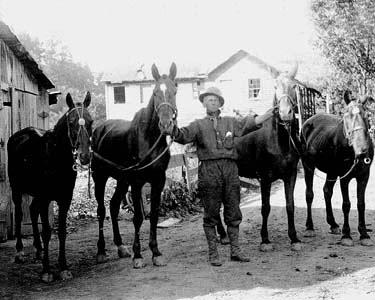 "Spav" and His Horses
He also operated a very fancy hack to haul passengers around the county, but in later years was remembered for his push cart, which he used to deliver groceries and pick up junk.
I can remember Spav ambling through Poe Gunn's store and getting his lunch, hitting the meat cooler first, taking out his "castrating knife" and slicing off some cheese for himself and his little dog. Usually, on his way out, he would get a few grapes and a soda pop. Poe didn't care.
The Stump family ran the Stump Hotel on Main Street (SEE earlier stories in The Hur Herald), kept going by his sister, Miss Nettie, a poet and artist. Another sister, Lilly, married Judge Reese Blizzard of Parkersburg.
Spav, a crusty kind of guy with WWI leggins' and a quasi-military look, except for his treasured droop eared hat, was often ejected from the hotel by Miss Nettie, when he had a little too much to drink.
There were a number of ladies around town that welcomed him.
Spav was quite a carver, making tiny little animal characters from peach seeds. He gave them to about every kid in Calhoun County.
An accomplished fiddle player, he would sit out on the balcony of the hotel after dark, sipping the juice and playing tunes to folks on the street.
Sometimes a large crowd would gather, and the concerts would go well into the night. Miss Nettie would go in the house and work on her poems and paint a spell.
The Poet Laureate of West Virginia, O. E. Echols, wrote this poem about Spav, many years ago:
Charlie Stump or Spav is a friend of mine,
Whose friendship is a gift divine;
For it is mighty fine to have
a big hearted friend like Spav.
Yes, it is great to have a friend
On whom you ever can depend;
Who knows of your besetting sin,
Yet sticks to you through thick and thin.
We've known each other many years,
And shared each other's hopes and fears;
And I've found him a good old scout
Whose roughest side is always out.
He lays no claim to sprouting wings;
Immune to life's most tempting things.
But what a dismal world we'd have
were it not for such souls as Spav.
He loves a horse, and loves to trade,
And of his judgment unafraid;
And I've found out, without a doubt,
He knows a horse inside and out.
And Spav would walk ten miles at night
To watch a good game rooster fight;
But what is that to fuss about:
We know men knock each other out.
Back in the days of Auld Lang Syne,
This genial old friend of mine
Won for himself statewide renown,
When mayor of good Grantsville town.
This worthy subject of my pen
Has suffered losses now and then;
And sometimes borne a heavy cross
In disappointments and in loss.
Of troubles Spav has had his share
And carried burdens hard to bear.
But that great Watchful Eye above
Looks down on him with tender love.
And at the final judgment day,
Saint Peter will unto him say,
"I know you've had it pretty tough,
Come in, Spav, you've had hell enough!"
Carl Morris, when he was Sheriff, had Spav open the Circuit Court for several years. Carl said that he enjoyed the Bailiff role and delivered his duty with great drama: "Oh Yeh! Oh Yeh! Oh Yeh! Silence is now commanded upon pain of fine or imprisonment ... The Honorable Judge of the Circuit Court of Calhoun County ... God bless this Court and this Honorable State."
When Spav passed on in 1956, Gladys Weaver Stump, made sure he was buried in his "outfit," down at the Stump Funeral Home.
SPAV CATCHES HIS MAN: 1898 Newspaper Account
Charley Stump has long enjoyed the reputation of being one of the best jailers this county has ever had, and his watchful eye has been continually on his prisoners.
But last Saturday evening, just before dark, while cleaning out ashes and getting in coal for the night, Joe Drake, a prisoner confined on a charge of felony, gave him the slip and was 150 yards away before the jailer noticed his flight.
A hot chase to the top of the adjacent mountain followed, but Joe succeeded in reaching the woods. Whereupon a posse was summoned and the mountain surrounded, and by 11 o'clock, the same evening he, the said Joe, was again safely behind prison bars, Fred Pell and George Boayers having caught him at the Bethlehem cemetery.
Charley had his posse so systematically arranged that escape was impossible. Much credit is due him and the brave boys for getting him. This will give Charley another pointer on how to prevent escapes.