By Bob Weaver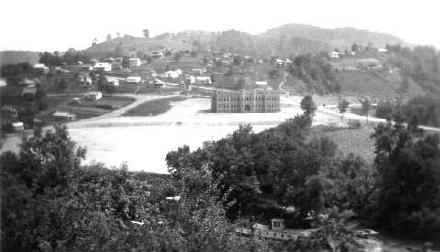 Photo courtesy of the Morris Bower Collection
This photo of a brand new Calhoun County High School, taken about 1920, shows the newly developing "south side" of Grantsville, dirt streets and the yet to be developed football field, later to become Wayne Underwood Field. In the foreground you can see some riverboats on the Little Kanawha.
Near the river's edge you can see some of dozens of gasoline riverboats that went up and down the Little Kanawha, a "modern" transportation link with the outside world, replacing ox carts and horse drawn wagons.
The football field was long the center of activity in Calhoun, from football to baseball games, outside wrestling matches, contests, hot-air balloon ascents, graduations, circuses, carnivals, fireworks and country music shows, not to forget the thousands who came to the 1956 Centennial Celebration, which covered the field from one end to the other.
I remember it well as the site of rocketry experiments in the 50's by the rocket boys of Calhoun, shooting missiles toward the heavens before the entire student body.
All Calhouners, and thousands of visitors, will remember it as the place to get the best hot dogs in the world.
This field of play has survived dozens and dozens of floods, some major, some minor.
Flooding created years of work by band boosters, bus drivers, teachers, parents and supporters, moving stuff above the flood line, cleaning up and moving back.
It has been the tromping grounds for thousands of graduates of the old high school, who courted on the bleachers, or climbed down the riverbank to crouch behind the hog weeds and practice inhaling....cigarettes.
It was home to legendary football coach Wayne Underwood, whose winning ways are yet recalled, and for whom the field is named.
Since the school moved to the Mt. Zion campus, the field has held forth as a place for youthful athletes, with the six-acre site being donated to the county by the Board of Education (Now owed by the 1982 Foundation)
Volunteers have managed to make some improvements and keep it going, although it has been the source of pain over how to operate it with limited shoestring funds.
For most people it will be a place of old memories, and for some there will be a few new memories, if the field carries on through this century.