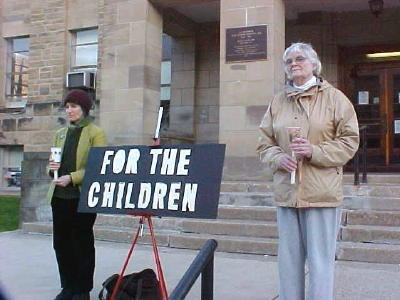 2003 - Calhoun women Jude Binder (L) and Rev. Margaret Peig Schmitz (R) a presence in silence in front of the Calhoun courthouse, praying for the needs and the healing of children of the Iraq war and the world.
They had little support.
Rev. Margaret "Peig" Roohan Schmitz of Grantsville was widely opposed to the US entry into the Iraq and Afghanistan wars, believing the rationale was concocted, with the outcomes to be declared ill-fated
Peig died in 2010 at the age of 82. The Atlanta, Georgia native, on her spiritual journey, spent her last years in Calhoun as a dedicated community servant, volunteering hundreds of hours of time each year.
Peig wrote a small book "My Fair Share," about being a Christian, transforming from being a Presbyterian in Alanta GA, to become a United Methodist pastor, and then coming to Calhoun to pastor the Pleasant Hill United Methodist Church.
Peig was a leader in the effort to collect documents and artifacts to be buried in a time capsule at Calhoun Park, to be opened in the year 2053.