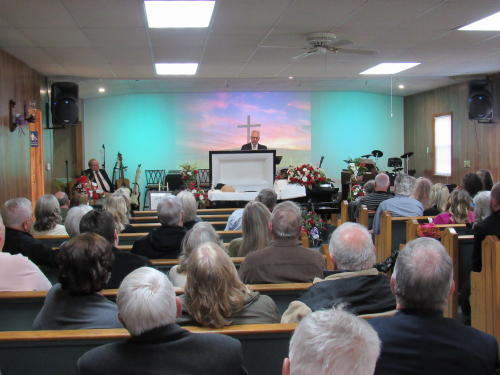 An old-fashioned country funeral at Nebo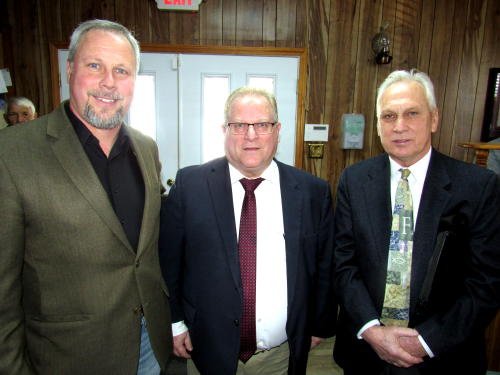 Three ministers (L to R) Revs. Daniel,
Kenneth and Lester Tanner from Nebo
By Bob Weaver March 2023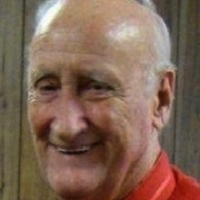 Dennis Brooks Tanner (1936-2023) shown right, the last of the original "Tanner Boys" gospel singers, has died in Tanner Holler (Nebo-Walker Road, Clay County), after over 40 years of Christian music making and devotion to the Nebo Baptist Church.
Dennis Brooks Tanner, 87, and his family had their music recorded on LP records years ago, and widely distributed, while performing at churches and community events.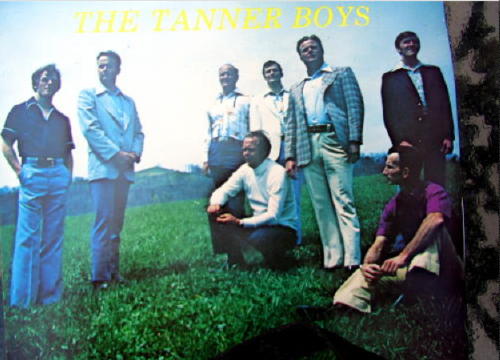 Tanner Musicians performing for over 40 years: Kenneth, Dewey, Dennis, Russell, Charles, Ronald, Danny, and Randy Cantrell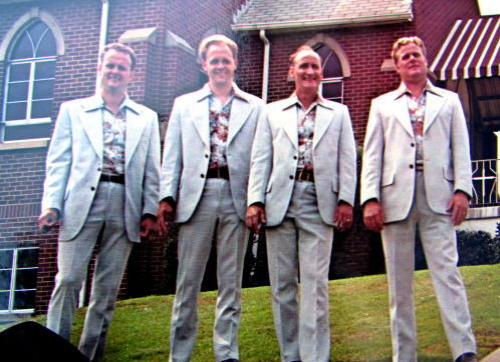 Quartet all deceased (L to R) Dewey (tenor), Russ (lead), Dennis (bass) and Charles (baritone)
Tanner's funeral was reminiscent of days-gone-by funerals, the church packed with family, neighbors and friends, the highlight being the minister Lester Tanner's tribute and the video screening of the quartet singing gospel songs years ago. Following the burial in the church cemetery, the attendees enjoyed a traditional sit-down dinner.
Tanner was a person of place, spending his life in the backwoods holler.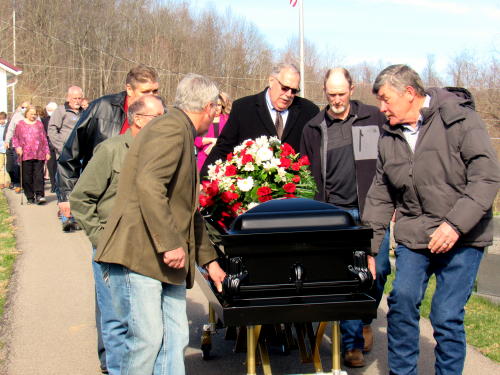 Funeral Director John H. Taylor leads pro-
cession to Tanner's final resting place
The Tanner clan has a well documented history, Samuel Tanner and his family traveled from Harrison County to Roane County in 1812, a site of what is now the City of Spencer, establishing his home under a rock cliff. Explorer and native American indian hunter Jesse Hughes named the place Tanners Crossroads.
TANNER OBITUARY
Dennis Brooks Tanner, 87, of Nebo, went home to be with his Lord and Savior on Sunday, March 5, 2023 surrounded by his family.
He was born January 8, 1936, at Nebo, the son of the late Samuel and Lyda Sampson Tanner.
In addition to his parents, he was preceded in death by his son, Steve Tanner; daughter, Dorma Tanner; brothers, Russell, Romie, Richard, Andy, Seldon, Spencer, Homer, and Harry Tanner; sisters, Myrtle Tanner Dickey and Lula Tanner Cutlip.
Dennis was a lifelong resident of Nebo and an original member of the Tanner Boys Quartet. He loved singing the gospel for Jesus.
He retired from the Clay County Department of Highways in 1996, after 21 years of service.
His pastimes included attending various churches, spending time with his family, hunting and visiting special friends.
Survivors include his loving wife of 67 years, Patricia Tucker Tanner, whom he married December 5, 1955 at Clay; sons, Larry (April) Tanner of Charleston and Jerry (Karla) Tanner of Nebo; daughter, Loretta (James) Brady also of Nebo; daughter-in-law, Sue Tanner of Charleston; six grandchildren, Stefanie (Casey) Stutler, Dennis (Greta) Conley, Jordan Tanner, Joseph Tanner, Emma Tanner and Luke Tanner; four great grandchildren, Graceyn Conley, Kamryn Stutler, Karter Brown and Peyton Nelson; many nieces and nephews.
The family wishes to thank the many special friends, neighbors, relatives, church family, nurses and Hospice for their prayers, love and support during his illness. A funeral service will be held Wednesday, March 8 at 2:30 p.m. at the Nebo Baptist Church, Nebo with the Rev. Kenneth Tanner and the Rev. Lester Tanner officiating. Burial will be in the Nebo Cemetery.
John H. Taylor Funeral Home, Spencer, was in charge of arrangements.