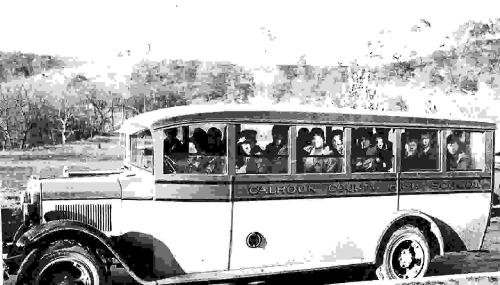 Early 1930 school bus driven by Roscoe "Honk" Hoskins transport-
ing students from Arnoldsburg to Calhoun County High School
By Bob Weaver
After a struggle to get Calhoun citizens to support a high school, the struggle continued to provide bus transportation to its only secondary school - Calhoun County High School in Grantsville. The cause was further hindered by long rides over improved roads, many of those roads in knee-high clay mud winding through creek beds.
In the 21st Century, Calhoun's 500-plus roads are among the most tortuous in America. The often narrow, winding and dangerous passages taken for granted by long time drivers whose skills allow them to pass other drivers by a razor's edge and avoid crashing over a steep hill without a berm.
21st Century Calhoun school bus drivers likely have the best honed skills.
See also   SUNNY CAL JOURNAL - Calhoun Roads Evoke Spiritual Experience