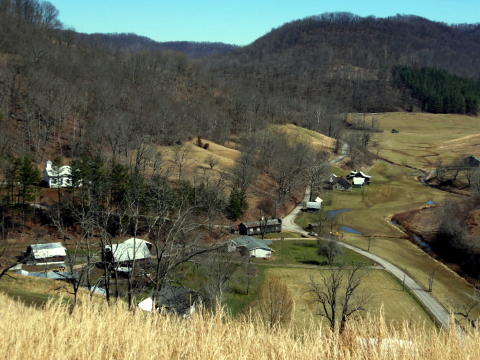 The Uler-Elana Valley (Roane Co.)
photographed from Smith Cemetery
By Bob Weaver
In my long lifetime I've had some close calls with death, hearing "angel wings." Most were brief adrenaline risers, and a few barely excited me when guns were put in my face, mostly during the 25 Hur Herald years, while other potential near death experiences were likely events of which I was barely aware.
During my funeral home years, I answered thousands of ambulance calls with thousands of miles under my belt, including many emergencies, but never having a serious crash. My funeral home in Spencer answered 1,200 calls a year, most being long runs.
One such experience I remember clearly, mostly because of its duration, and it was not related to an ambulance call.
In the 1960s I was taking a steel burial vault and tent to the Smith Cemetery at Uler, Roane County, accompanied by my hardworking helper Pete Cogar, a deaf and mute man related to the Calhoun Cogars.
The Smith Cemetery rested on a high hill above the Village of Uler, near Ralph Harold's country store, a historic one-room school and a country church.
A narrow and meandering mud road led to the hilltop cemetery, likely carved about 1900. Traveling in an International 4x4, we started up the slippery mountain. About three-quarters of the way, driving slow in low range, the vehicle began to slide, coming to rest on the precipitous edge.
It was a straight down drop-off to the creek bed below, the vehicle was actually shaking on the edge with movements of our bodies. Turning the engine off, I began a plan on how we could exit the vehicle to save our lives.
Communicating with my helper Pete, on the passenger side, using his ability to read lips and hand signs, I managed to get him to understand when I slid from the drivers seat, he was to open the door and jump.
The vehicle was continuing to tip and balance during the development of the plan.
I slid, Pete jumped out with me following, the vehicle still tipping. It did not go over the mountain. After a brief respite we walked down the mountain to enlist the help of storekeeper Ralph Harold, who provided a team of horses to pull the vehicle back into the roadway.
We continued up to the cemetery, dropping the vault and setting the tent. A second adrenaline occurred on our trip back down the mountain.
In recent years I returned to the Uler-Elana valley and the Smith Cemetery, the long and narrow road improved with asphalt, recalling the event about 48 years ago, my adrenaline pumped up recalling the event.
The Uler-Elana Valley is where my Burns relatives settled in 1859, and is among the places I enjoy coming back to, likely because of the stalwart, hardworking families who lived there.
See AROUND THE BEND: ROANE'S ULER-ELANA COMMUNITY HOLDS FAST TO COUNTRY LIVIN'