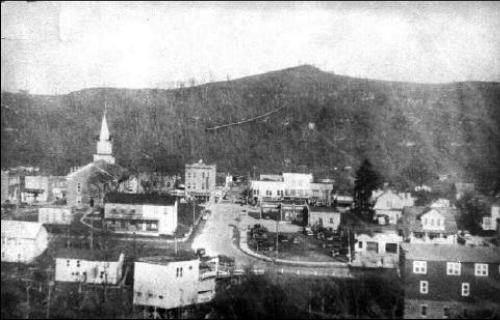 This 1930s photo shows the three-story Masonic building to
the right of Calhoun's original courthouse on Main Street
By Bob Weaver
Grantsville's Masonic Hall will be 100 years old, a building constructed after the original lodge building was destroyed by the Great Grantsville Fire of 1919, after it was constructed in 1887.
A 100th Year Celebration of the hall has been ordered by the Eastern Star Grantsville Chapter No. 73, for Monday, September 27, 2021 at 6:00 p.m.
"All past and present Masonic Brothers and Eastern Stars are welcome to attend. Please feel free to bring any new prospects to join in the evening of fellowship and bring your favorite dish to add to the dinner," says Tom and Dawn Fox (304-354-7686).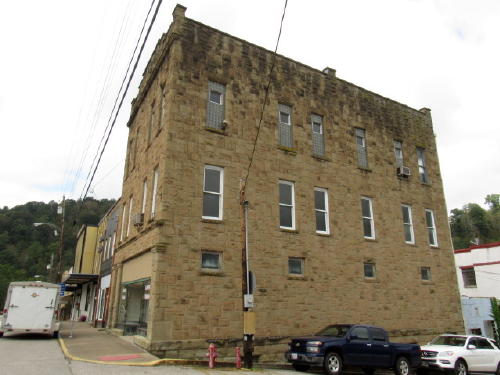 Masonic building at 100 years, 2021
The Masonic lodge has been closed for about two years, leaving behind four historic cornerstones placed around Grantsville, the Masonic Hall, the Calhoun Courthouse, Calhoun High School and Grantsville Grade School.
The current Masonic lodge cornerstone contains items from 134 years ago.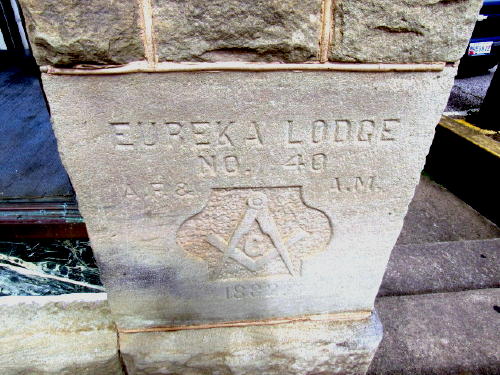 The cornerstone contains artifacts from 1887, 134 years ago.
100 YEAR OLD CORNERSTONE SET IN 1921
Calhoun Chronicle News Story 9/21/1921 - The corner stone for the new Masonic Temple which is being erected at the corner of Main and Court streets, was laid with appropriate ceremonies Monday afternoon of last week, September 19th, by the Grand Lodge of Masons of West Virginia. Quite a number of Masons from various sections of the country and many others were present and witnessed the impressive ceremony.
The cornerstone of the first Masonic building, which was destroyed by fire in June 1919, was laid December 24th, 1887. Several Masons who participated in that event were present for Monday's event. Among those noted were J.P. Knight, G.S. Smith, S.H. Wilson, M.W. Hoskins, and possibly others.
The personnel of the Grand Lodge was as follows:
Robert L. Hamilton as Grand Master, W. Van Park as Deputy Grand Master, L. Scott Peninger as Grand Senior Warden, E. Lory Hays as Junior Grand Warden, Bailey G. Stump as Grand Treasurer, Fred Hickel as Grand Secretary, Roy Righter as Grand Senior Deacon, Thomas Johnson as Grand Junior Deacon, C. Foster Johnson and Elmer Cain Grand Stewards, L. John Fogle as Grand Pursuivant, John M. Hamilton as Grand Marshall, Rev. J. Smith Dye as Grand Chaplain, Charles C. Starcher Principal Archivist, Hagan T. Francis Master of Oldest Lodge, Bud Johnson as Grand Tiler. The corner stone, a huge block of native stone, was laid in the northeast corner of the building. In a receptacle in the stone were deposited relics and mementos bearing testimony to the age in the building was erected. A list of the articles so deposited and the names of the depositors follows:
All of the articles taken from the corner stone of the old building; copy of the Calhoun Chronicle, dated January 3rd, 1888, containing account of corner stone laying on December 24, 1887 and address of John M. Hamilton on that occasion; copy of Calhoun Chronicle, dated January 10th, 1888, containing list of articles deposited in receptacle at above corner stone laying., these copies of the Chronicle were reserved by Mrs. A.J. Barr at the request of the late John M. Hamilton, for the purpose of placing in the corner stone of any Masonic edifice that might be built in the future; Holy Bible by A. Judson Barr (son of A.J. Barr who deposited Holy Bible in cornerstone of first building); square by Hagan T. Francis, Worshipful Master of Eureka Lodge No. 40; five cent piece dated 1915 by Arastus R. Stump; twenty five cent piece dated 1907 by L. John Fogle; ten cent piece by Rev. J. Smith; penny by Bud Johnson; photographs of A.H. and Drusilla Stump by Miss Nettie Stump; photograph of the Steamer Edith H. by James B. Huffman; eight cent French coin by James T. Waldo; silver dollar by Jerome Francis; silver dollar by C. Foster Johnson; Indian arrowhead by Johnson Bennett; ten cent piece dated 1912 by Alfred L. Betts; penny dated 1851 by Roche C. Hall; ten pfennig coin dated 1893 by Jacob Bennett; penny 1919 by Erra Stump; ten pfennig coin 1889 by A.J. Rine; five cent piece 1914 by Bailey G. Stump; ten cent piece 1904 by Louise Rine; ten cent piece 1917 by Leona Rine; ten cent piece 1916 by Okey Martyn; twenty five cent piece 1910 by Wiley Ferguson; three cent piece 1856 by E.R. Busch; ten cent piece 1905 by R.A. Ferrell; old penny by Bud Johnson; copy of Industrial Edition of Huntington Herald-Dispatch by Alfred J. Pickering.