J. B. 'SAM' DILLON HAS DIED 2020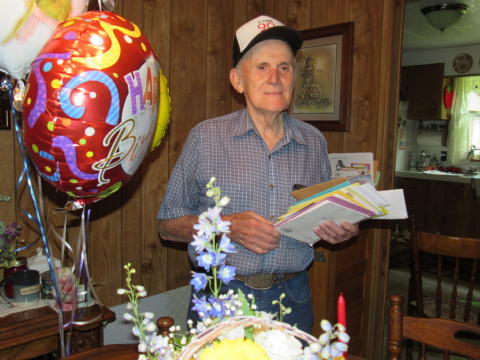 Sam Dillon celebrates 90th birthday on
Crummies Creek with lots of birthday cards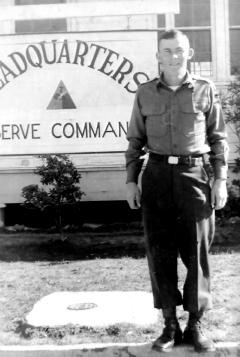 Dillon with dog, Korean War
By Bob Weaver
Korean War veteran J. B. "Sam" Dillon left his Crummies (Crummis) Creek farm in 1951 to serve in that conflict, to return to his ancestral home briefly before going to Barberton, Ohio to work over 31 years at a chemical plant.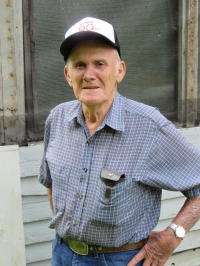 In 1954 he married Lorraine Schoolcraft and in 1985 they returned to Crummies Creek to live, coming home. She passed in 2018, surviving are his two children, Patricia Gregg of Barberton, Ohio and Kevin of Port Washington, Ohio.
Sam just run over his 90th birthday, coming from a family with longevity genes, says "I have lived a blessed life," having just received a bunch of birthday cards.
He has been a faithful member of Albert's Chapel United Methodist Church, starting when he was a child, saying "I've tried being a good neighbor."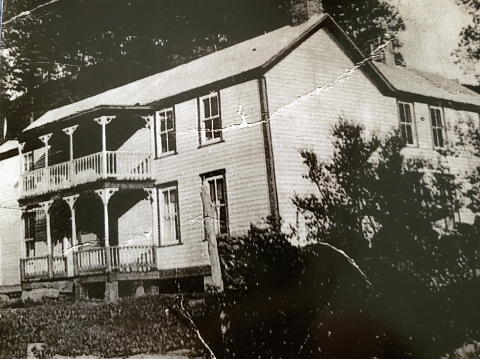 Old photo of the original Dillon house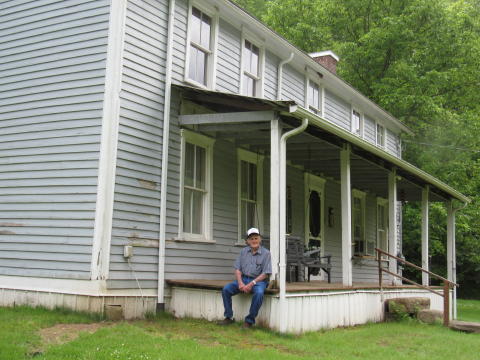 Dillon at original homestead, later owned by Dare Crawford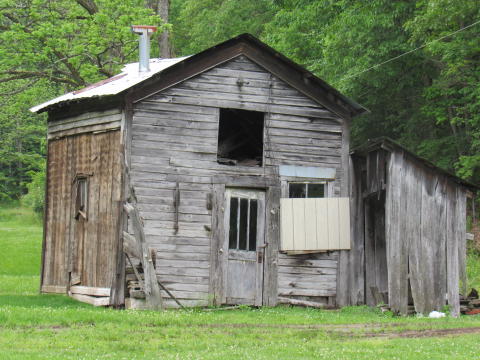 The original Dillon store building from 1885
The Dillon Homestead, his parents William David and Nellie Groves Dillon, was later the longtime home of Dare Crawford, in recent years restored by Crawford family members.
The bright-eyed, mentally alert Dillon said "All the hills were cleared for farm animals. We had four barns with 40 cattle, 50 sheep, milk cows and hogs. We worked from daylight to dark."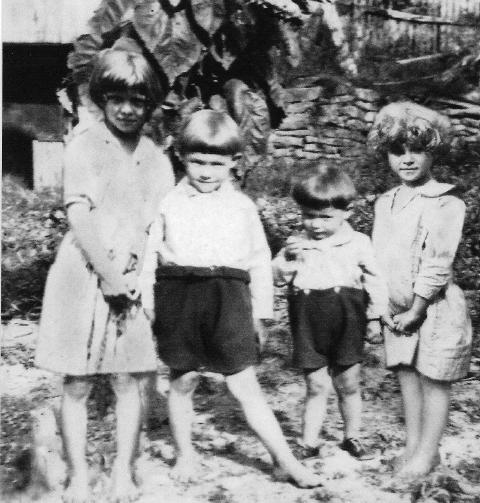 The Dillon kids (left to right) Greta, William, J. B. "Sam" and Ruby
The Dillon family established a general store in 1885 at the mouth of Crummies Creek, later to be moved upstream near the family home.
Across the road was the one-room Apple Grove school and its potbellied stove, with longtime teacher Lona Shaffer.
"It is my little place here on earth," he concluded.