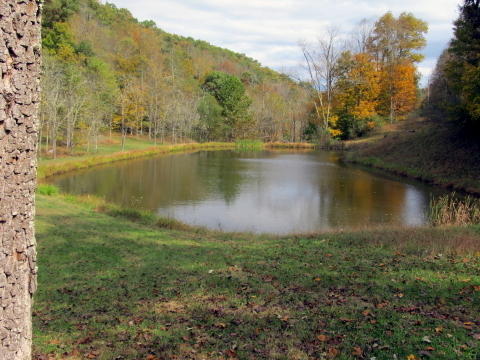 A Pine Crik Hollow Home
Former Pine Creek resident David Charles Kirby, the son of Roy and Eva Buck Kirby, recalls his life and times growing up in a remote Pine Creek hollow and in Calhoun County.
He attended a one-room school taught by his mother and graduated from Calhoun High School in 1954, with a BS degree in agricultural engineering from WVU (1959).
Professionally he is a Certified Fire and Explosion Investigator and Professional Engineer in WV, OH, and PA, having worked 22 years as Loss Prevention Engineer with Factory Mutual Engineering; 20 Years as Process Safety Engineer with Union Carbide in South Charleston; 12 years a Sr. Principal Engineer with Baker Engineering & Risk Consultants of San Antonio, TX.
He is married to the former Betty Estep of Mt. Zion, their children, sons, Dr. Kris N. Kirby, professor at Williams College, Williamstown, Massachusetts; and Gregory D. Kirby, of Parkersburg, Safety Engineer at Cytec, Willow Island, WV.
Kirby's recollections reflect life from the Great Depression to the fabulous 1960s, earlier tales can be found under People, Humor and History.
Clay, Maude, And A Lost Tradition Of Serenade
Clay Wilson was one of those characters you never forget. He was born in Calhoun County, and as a very young man, the year about 1900, he loaded a road wagon with some belongings and hooked up his team of horses and went west to homestead. I think that he said he went to Montana. I assume someone went with him, presumably a wife, but I don't know. I do recall him telling many stories, such as it took him 90 some days to make the trip. I recall him telling that he crossed the river at Saint Louis, MO.
In early 1920's in the depression following WWI, as I recall him saying "I went busted", and he made his way back to Calhoun County (without horses and wagon). Sometime in mid-1930's he went back out West, and homesteaded again. My guess is that he rode a train. Automobiles were available, but he told us that he did not learn to drive until he was 65 years old.
This time out West he was much more successful and made some (or a lot) of money, sold out just after WWII, and came back to Calhoun County to a house on Mount Zion Ridge. In addition to his interesting stories, the thing that I remember most is when he bought a new 1950 straight-eight Buick Dynaflow automobile. It was coal black with four doors, and one of the largest cars on the road. He had only been driving a few years, and seemed to have no concept of speed. He drove at a speed rage somewhere between, somewhere between 35 and 45 miles an hour (believe me I followed him a few times). He seemed to speed up at the sharp turns, and slowed down when warned by his howling tires. You could hear him half way around Mt. Zion Ridge, tracking every turn curvature by the decibels. One time (Marvin Stemple may have told me this story, because he was working at Bud Gun's store), Clay bought groceries, put them in the trunk, went around to the driver's side, opened the back door, and climbed in. Realizing he had no steering wheel, he corrected his mistake, got in the front, and drove off.
Maude Gainer was interesting in her own right – primarily for pinching pennies. In later years Maud's health was failing, and my mom went around helping her out on some household chores (she was living by herself). Maude had free gas, and would not let my mom use an electric iron - she had to use a flat iron heated on the stove. Dad bought a new Farmall C tractor in 1948, and Maude hired him to mow her ridge meadows. It took dad all day, including the time to drive the tractor from our place on middle fork (now known as Right Pine Road) to her farm on Upper Pine. He charged her $7 (he said it cost about $3 for the gas). She complained to neighbors that he way overcharged her, and she never got him again.
In April 1949 Clay and Maude got married. She was 62, and he was 73 (from the County Records), and they moved into Maude's house on upper Pine Creek.
Dad said that Cleo Gainer was organizing a Serenade* for Clay and Maud the next Saturday night, and we should go. I had heard of serenading someone, but I had never been to one. In my parent's generation it was common to serenade newlyweds. The tradition being that you would gather at their home and make enough noise (to drive off demons that could ruin a good marriage), and make enough nuisance of themselves that the couple would invite you in for desert (hot tea for the women, a drink of moonshine for the men, and some candy for the kids would suffice). The louder the noise the better. My dad said that frequently in his day dynamite would be used. The size and placement of the charge was sometimes not well thought out. He said at one serenade someone climbed a tree away from the house and hung some amount of dynamite, and strung the shooting wire to a remote location. When the shot was detonated it broke windows along the side of the house facing the tree (I don't know what happened to the tree). Note: the technology was not well known at the time, but an above ground burst gives twice the TNT energy equivalency, because the shock wave is reflected from ground surface and spreads multi-latterly in all directions. That is why Hiroshima and Nagasaki atom bombs were detonated several hundred ft. above grade.
In any event, probably 15 or 20 of us gathered at Maude/Clay house to serenade them. It was a damp evening, and they immediately invited us in. Cleo had about 4 ft. of 18 inch galvanized culvert pipe carried on a length of steel pipe. With this he provided several hammers for people to beat on the drainpipe with. That was primarily for the immediate family to use, and I did not qualify. I had taken a very large iron skillet which I suspended with a piece of wire strung through the hole in the handle, and a ball peen hammer. Others had cowbells. The cumulative noise was quite deafening, and at one point Cleo quieted things down saying he was afraid it would break ear drums. I have a condition called "boiler maker's ear" with constant ringing in my ears, and total hearing loss at high frequency. The doctors say it is from too much exposure to loud noise. I blame it on my service with the army artillery, but maybe it started at Maude's. As I recall, we had pie, cake, and cool aid.
Clay and Maude were really good folks, and we had them for Sunday dinner on several occasions. I loved to get him started on some of his experiences. He was in the middle of one of his stories about his first trip out West, when his team and wagon were being swept downstream at one of the many river crossings, when he suddenly got quiet, with a blank look on his face. After a pause, he said what was I talking about? No amount of prompting could get him to remember the outcome of the crossing adventure (the only thing I know is that he survived). I witnessed her selling a 3 cent stamp to Clay – he gave her a nickel – she fished around in her purse, and came up with 2 cents change.
Too bad the serenade tradition has been lost. It was a lot of fun, or maybe I was just young then.
*I Googled wedding serenade and Wikipedia came up with "Charivari (or shivaree or chivaree)". Quoting Wikipedia: "Charivari has been practiced in much of the United States, but it was most frequent on the frontier, where communities were small and more formal enforcement was lacking."
Another paragraph from the Internet: "Typically, the bride and groom were treated to a barrage of raucous noise, in an attempt to coax them from the house. The racket might be made with cowbells, by shooting guns, detonating small charges of dynamite, banging pots and pans, and using other ingenious devices to produce harsh noise. In   Braxton County   a wire was stretched from the house to a tree, rosined, and played like a giant annoying fiddle. In Randolph, a wooden box with a crank caused clappers inside to produce a loud staccato sound. Large circular saws and plow disks become noisemakers when hung on a wire and banged.