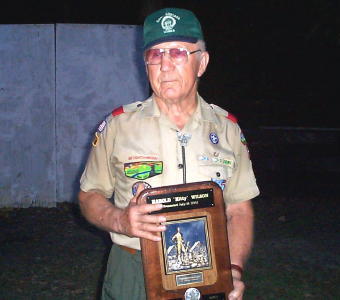 Harold "Kitty" Wilson of Grantsville has died at age 96.
He was perhaps one Calhoun's most admired civic leaders, decorated war hero, longtime scout leader, among many other lifetime accomplishments.
After graduating from Glenville High School in 1942, Kitty served in the US Army until 1946. Following his return from the war, Kitty attended Glenville State College and became the first of his family to earn a college degree in 1950.
He not only excelled in academics, but he was a pivotal member of the Glenville State College Pioneers football team and was recognized as the third leading college punter in the United States.
On June 10, 1950, Kitty married the love of his life, Dorothy Jeanne Johnson Wilson, and they enjoyed 66 years of marriage. She preceded him in death.
Kitty worked for 37 years at Hope/Consolidated/Dominion, but his true passion was as a boy scout leader. He was a scout leader for 50 years where he influenced the lives of hundreds of men, 50 of which achieved the coveted title Eagle Scout, 6 of those men being father and son pairs.
When he wasn't serving as a troop leader, Kitty could be found on his Cub Cadet where he spent so many hours the hour counter rolled over at least once. If he wasn't mowing, he would be somewhere in the great outdoors usually performing service for others.
His favorite saying was, "I did it because it needed to be done."
His favorite ways to unwind were watching sports on mute and singing songs around a campfire surrounded by family.
His family said was a dedicated father, loving grandfather, and spread so much love and knowledge during his time on this earth.
His remains were donated to the human gift registry at West Virginia University School of Medicine where he will continue even in death to educate and spread knowledge. A celebration of life for he and Jeanne will be held at a later date.
See full obituary Harold "Kitty" Wilson
THE REMARKABLE LIFE AND TIMES OF "KITTY" WILSON
CALHOUN'S 'KITTY' WILSON WAS HONORED BY LK SCOUTS ONE MORE TIME - An Accomplished
"KITTY" WILSON RECEIVES LIFETIME ACHIEVEMENT AWARD FROM GOVERNOR
AWARD WINNING CITIZENS WOOD FEST PARADE MARSHALS - Harold "Kitty" and Jeanne Wilson Honored
AN ACCOMPLISHED LIFE: 50 YEARS OF SCOUTING - Harold "Kitty" Wilson Honored