Courtesy of James C. Haught

The service in World War II was made mainly by about 1700 men from Calhoun County. But women did their part too. Women mainly did their part to support the war effort by a contribution on the home front. A great many civilian women took on the role of "Rosie, the Riveter."

But at least 19 women served directly.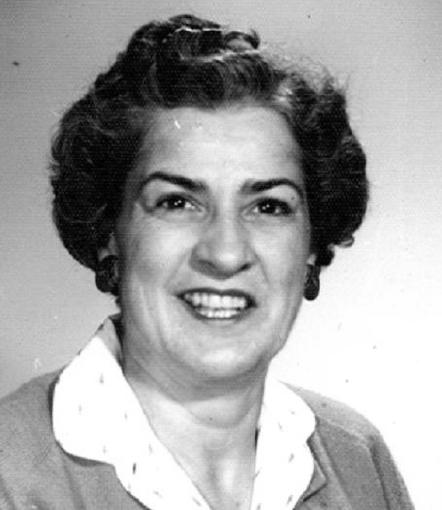 The first woman lived in my community, Mt Zion. She was Roxie Gail McDonald (see above) Roxie was the daughter of Tell and Ethel McDonald. She was born on 19 October 1916. But on 28 May 1943 she was a WAVE in the United States Navy. She served in Naval hospitals until she was discharged four years later on 26 June 1947. In 1953 she married Jerald Mills and they had one child. Following her naval duty she taught school in Mercer County.
Roxie Gail Mills died on 18 February 1998 at the age of 81. She is buried in Bethlehem Cemetery, Grantsville.
There was not much information available on Mildred Snider. She was in the Army and a private first class. She served in the Netherland East Indies. Mildred was born on 1 May 1906 on Leading Creek to M.S. and Ruby Snider.
Zella Auldrich joined the Cadet Nursing Corps on 15 June 1943.
Wheeler and Elizabeth Chenoweth of Arnoldsburg had a daughter, Eleanor who joined the United States Army. After she was discharged she married A.J. Sankowski.
Helen E. Ball who was born in 1918 joined the Women Army Corp on 30 August 1943. She was a clerk typist when she was discharged on 29 November 1945.
Alice Basnett was in the nursing corps. Hazel Bennett was a WAC private. Icie J. Brake joined in Navy on 3 April 1943 and was discharged 3 March 1946.
Fred and Carrie Ball had a daughter Gladys who was born 5 February 1923. She was a machinist in the Navy (WAVE). She returned to Grantsville to operate a drug store and restaurant. Gladys died on 29 March 1980.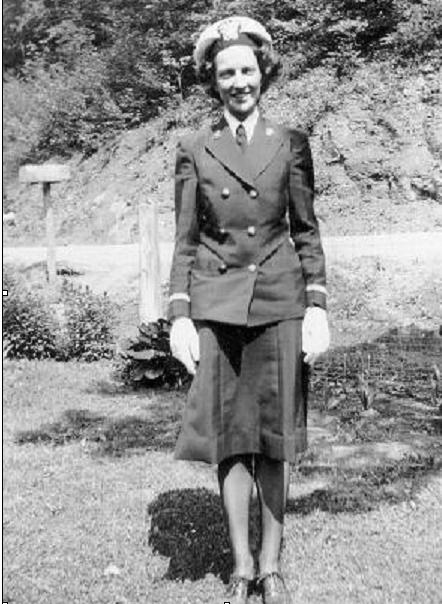 If one drove down Sycamore about two miles to the mouth of Mudlick, there is a road going up the hill. If one drives up this road for over a mile they will come to the house where Alva and Clara Haught Elliott lived.
They had four children. This story is about Melba Elliott (see above) Lt. Elliott was a Navy nurse. Her Navy career began in 1942. She served at Brookland Naval Hospital, Camp Perry, VA, Mare Island, CA and Guam. While on Guam she cared for casualties from the battles on Iwo Jima and Okinawa. She was discharged from the Navy 31 July 1946. Melba Elliott died on 15 November 2003. She was 90 years old.
Her nursing career continued in civilian life and has been declared a Pioneer Nurse of WV.
Helen Gainer was a member of the Women's Army Corps.
Gwendolyn Marshall Jackson, the daughter of J.A and Mildred Jackson of Grantsville held the rank of Staff Sergeant. She served in the European Theater of World War II. Gwendolyn is buried in Bethlehem Cemetery, Grantsville.
Virginia Hyatt Marshall was the wife of James D. Marshall of Grantsville. James was a Staff Sergeant in the Asia/Pacific theater where he received 4 bronze stars for action in combat. Virginia became a WAC on 24 June 1943. She was discharged a year later.
Mary Hope Reip, a Navy Yeoman, was the daughter of Homer Holt and Tillie Johnson Reip. She was born 1 May 1923 on Walnut in southern Calhoun County. She died in February 1972 in Ashland, KY. She was married to a True.
One Calhoun woman became a Marine. She was Ruth S. Umstead. She was born on 26 My 1923 in Tulsa, OK. She joined the Marine Corps on 20 May 1944.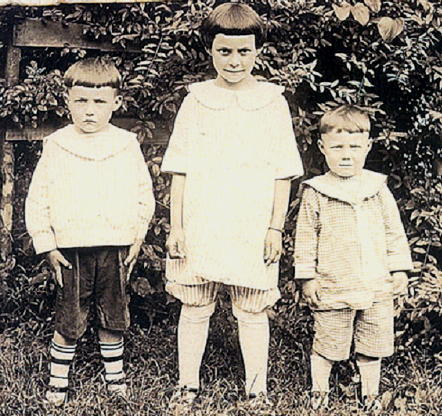 Mildred Lucille Criss (above pictured with her brothers) the daughter of Noah and Elsie Criss was born at Milo. When World War II broke out she and her two brothers joined the Army. Her brother, Harry was with the 1st Cavalry Division in the Pacific. Harry earned six bronze stars in combat.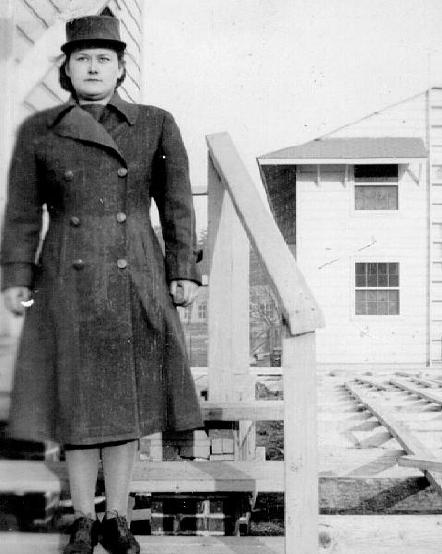 Mary Jane Hefner (above) was a member of the Women's Army Corps (WAC). She was born in Burnsville, WV. on 27 December 1921. When she was she was 22 years old she joined the Army (WAC). She became a Sergeant. Mary Jane died in 1977 and is buried in Bethlehem Cemetery, Grantsville.
Photos are from the Hur Herald Archives