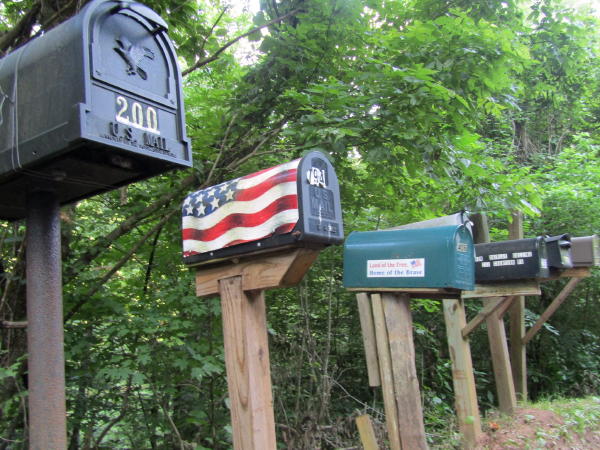 By Bob Weaver
Over 120 years ago there were over 80 post offices in Calhoun County, most mail was delivered by horse. Nearly all transactions were by mail, including mail ordering from the Sears and Montgomery Ward catalogs.
Those very thick catalogs served a secondary propose in the outhouse, despite being made of slick non-absorbent paper.
In my childhood days in the 1940s, things came to a stop in the household to stare down the road in expectation of mailman Lexie Miller. Early mailmen in the Village of Hur would accommodate postal customers by taking their store list and picking up a few groceries, and sometimes they would hitch a ride. Rules forbid such nefarious activities now.
Lexie's son Johnny took over the route, operating the service for 40 years.
Sometimes there was a small squabble who would go to the mailbox.
With my life now becoming quieter in Hur, we seem to have more discussions asking, "Did the mailman come yet?" Of course most of it is junk mail, a few magazines and bills, with a rare personal letter.
Personal letter writing went out with the coming of the Internet.
Among my prized collections are letters received by family members and neighbors, written over a 100 year period.
Here in the 20th Century I open old books to find a letter from my Aunt Gladys Weaver Stump, some telling me to behave.
Hur resident Cleo McCoy was an invalid and wrote and received hundreds of letters with soldiers in World War II. I also have his extensive diary and scrapbook of war clippings.
WWII letters from Roy Craddock to his family deep in the Bee Creek woods and a letter from a Spencer physician regarding a Hur girl getting an abortion circa 1930.
There are a few letters written well before 1900, including some from so-called lawyers representing local males, negotiating pay-off deals to women they impregnated.
The ill-begotten deals eliminated any future responsibility for the new born child. Unfortunately, some of them involved my relatives.
The "pay off" deals were common in Calhoun, likely into the 1940s. One letter mentions the burning of a KKK cross at the home of a Hur resident who was supposedly mistreating his elderly father.
Perhaps the most pleasant letters are between young lovers, one ending with "I have told you before and I'll tell you again, my love for you is greater than the light from the sun."
In the 1940s we'd crank up the old 78 rpm record player and feel sad listening to Hank Snow sing:
"No letter today I have waited since dawn
I've waited each day since you have been gone
No letter today all the days are so long
Oh why don't you write I know I was wrong."
Then I have a letter edged-in-black from an uncle, accusing my mother of digging up their brothers hidden money after his death. He more than adequately quoted demeaning Old Testament scripture that might help her, although she was not guilty of the act.
I have a letter I wrote to my grandmother McCoy in the 1960s while I was in US Army basic training. I whined about how tough it was.
Now, for amusement, as collector of old books, I skim them for old inserts and letters.
One letter read, "Dear Brother, When will you ever not be an asshole." It was signed "Love Margie."