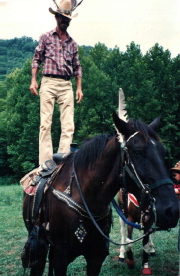 Schoolcraft (left) balancing on horse with John Wayne persona (Photo courtesy of Patsy Buvoltz)

Story by Maggie Volkwein 2015

Raymond Schoolcraft was a cheerful and truly friendly man from Chloe in South Calhoun. He carried a bullwhip or pistol when he walked along the road, striding along in his tall work boots until someone he knows picks him up, which didn't take long.

He will be remembered for his white cowboy hat with dozens of feather clips drifting behind it.

His wide grin in his shaggy black-bearded face was unmistakable too. He shook hands heartily and talked about the weather, the doings of the neighbors, and about horses.

Raymond would ride the road on a big black and white pinto horse, smiling and waving when he knew someone. The tourists would stop and stare when they would see him coming.

He liked to stare off in the distance like John Wayne, while the travelers would admire the good-looking cowboy and his splendid horse.

When I first knew Raymond he walked from Chloe to Rush Run carrying a very large chain saw. Then he left the highway and walked down the dusty road to the site of his brush cutting for the day.

He sawed wood, stacked brush, and cleared land all over.

Raymond stopped to talk with anyone who passed by, wiping his face with an enormous red bandanna and hollering, "Whew, it's hot today, boys!"

I would see him often while I rode through the lonely wild country on Rush Run. He always hollered, "Get down offa that HORSE!" Then he laughed long and hard. The joke never paled for Raymond.

Quiet horses, spooky horses, young and old, when I rode past Raymond I would hear him holler.

Once I was repairing my roof when Raymond strode by on the road. "Get down offa that roof!" he shouted, and laughed all the way past the neighbors.

Raymond loved music and hung out at the incredibly good local sings, where the music made him dance. He was a very good dancer and clogs down at the Upper West Fork when he feels like it.

He'd whoop and caper, then stop and wipe his thick glasses. "Can't see a doggone thing," he'd say.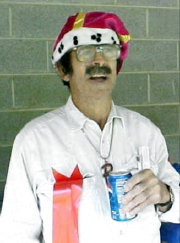 Schoolcraft was the Octoberfest King at Chloe in 2002
Raymond looked after Tom Cooper's place on Island Run in Roane County years ago. He lived happily in that closeknit community, and everyone knew him.
His habit of walking everywhere and his hearty and friendly manner won him the title of Sheriff of Island Run. He was given a tin star with Sheriff written on it and he wore it constantly.
"Yeh, I'm the Sheriff," he'd say.
In more recent years he rode in a car more frequently and walked less in the wild country.
"Gittin' kinda tarred lately," Raymond would say. "Hit's enough to wear a man out."
I'll miss saying, "Raymond, get down offa that horse!"
- Raymond Lee Schoolcraft, 78, died October 7, 2015 and was laid to rest at the Minnora Cemetery.