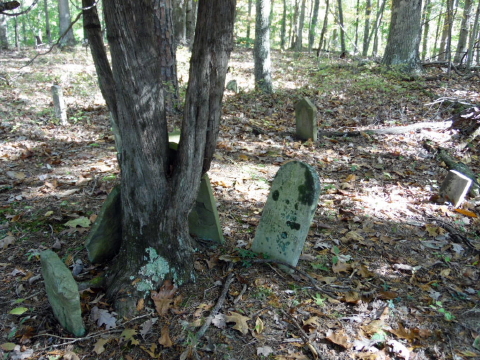 A few scattered Nutter-Mace markers with
fading inscriptions in remote cemetery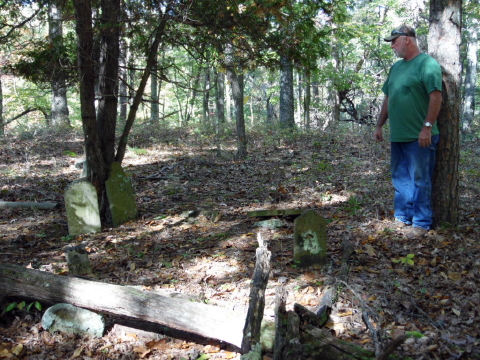 Egypt Ridge resident Jim Snyder explores
remote cemetery with about 30 grave sites
By Bob Weaver
Over 30 years ago, the late Randall Whytsell, historian and storyteller for the lower West Fork of the Little Kanawha, Rocksdale to Richardson, spoke of a remote unlisted cemetery in the backwoods above the West Fork off Egypt Ridge.
Years later, his brother, the late Victor "Gene" Whytsell, told me about where it was located, insisting that lore says that historic settler William "Billy Bluehead" Starcher was buried in the backwoods cemetery, although his grave marker is at the Dry Hill Cemetery beside the long-gone Dry Hill Church, originally named the Bluehead Church after Starcher.
"Billy Bluehead," the son of Calhoun's first permanent settler Phillip Starcher, was the owner of hundreds of acres of land along the West Fork in Calhoun and Roane.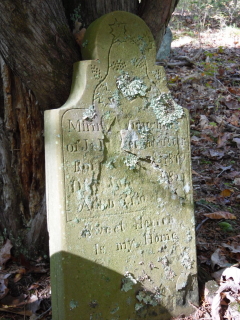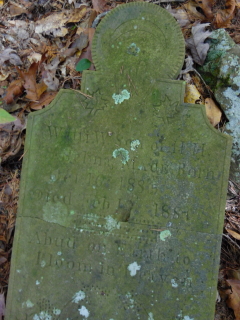 Inscribed markers are for infant children
These years later we have visited the un-recorded cemetery, a distance behind the former John Mace farm and the Dry Hill Cemetery, thanks to the assistance of Jim Snyder.
The cemetery appears to have about 30 gravesides, about five barely readable markers, about 15 with rock headstones, and ten grave indentations.
The marked stones appear to be for the newborn or young children of Henry Harrison Mace and Joseph Nutter, early settlers of the area, with they and their wives buried in marked graves at the Dry Hill Cemetery.
The Nutter-Mace cemetery could pre-date the Dry Hill Cemetery.
Joseph H. Nutter (1842-1907), son of Issac Nutter, was married to Minerva Starcher (1842-1911), daughter of William "Billy Bluehead" Starcher, in 1863.
Henry Harrison Mace, was a son of Henry and Sarah (Coger) Mace, was born in 1837 and died in 1923. He married Salina Starcher, daughter of William "Billy Bluehead" Starcher in 1860. Salina Starcher (1841-1918) was the daughter of William "Billy Blue Head" and Nancy (McElwain) Starcher. They had at least 10 children.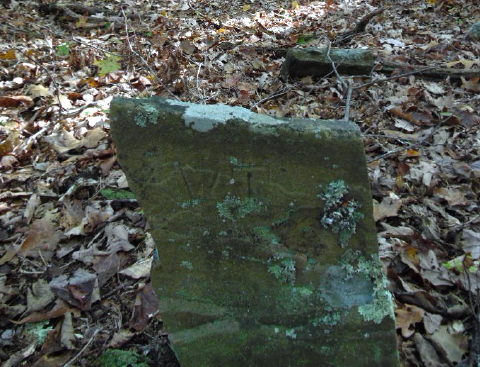 Cemetery likely pre-dates Dry Hill Cemetery
NUTTER FAMILY EARLY COMERS TO TRIPLETT RUN - How About Some Wildroot Cream Oil, Old Crow And Sal Hepatica?
WALNUT GROVE CHURCH ESTABLISHED 158 YEARS AGO - "Billy Blue Head" Starcher Founder
EARLY COMER TUNICE MUCKLEWAIN RESTS ALONG LOWER WEST FORK - Descendants Calhoun Wayne Family