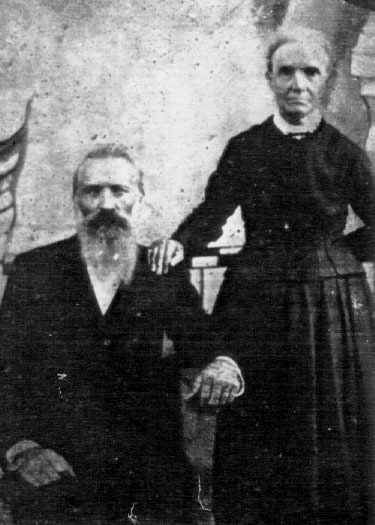 George and Elizabeth Starcher Gibson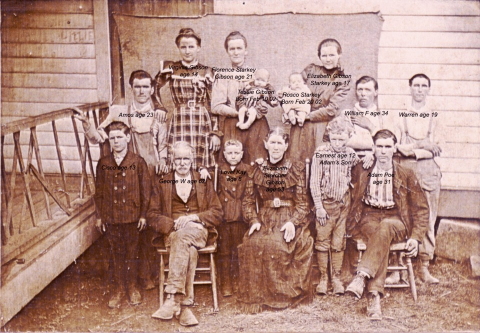 By Bob Weaver
The Gibson-Starcher history is among the most fascinating
in Calhoun County, the Starchers among the first comers to
the region, and the Gibson exploits during the Civil War
with the Moccasin Rangers, Gibson marrying into the
family of Calhoun's first permanent settler, Phillip Starcher
The source for this story was Esther Naylor Gibson (1888-1983), second wife of George W. Gibson, as told by her husband. She married Gibson in 1903.
George W. Gibson was born November 30, 1840, in Bath County, Virginia, on the Cow Pasture River near the county line of Culpeper. His father was David Gibson, his mother was Mary Ratcliff, daughter of a wealthy landowner and slave owner.
George had a brother, William, who settled on Chestnut Run, Burning Springs, West Virginia, after his marriage to Mary Elizabeth Rockole. He had five sisters, two or three died while single of tuberculosis. His sister, Jane, married James Maze and lived in Wirt County; his sister, Susann, married Tom Wicks.
George's father, David, was a Confederate soldier and died during the last eight days of the Civil War at Big Bend in Calhoun County, when an armistice was declared and there was to be no more fighting.
His house at Big Bend was surrounded with Yankees and David fled to the riverbank and hiding but was quickly located. He was shot in the foot or ankle area and pleaded for them not to kill him, but to no avail. He was buried at Big Bend. He had remarried after Mary's death. His second wife had children by a first marriage but none by her marriage to Gibson.
George W. Gibson enlisted for a three-year period as a private in Captain George Downs's Company of the Virginia Cavalry at Williamsburg, Virginia, on March 1, 1861, or 1862.
He was commissioned a second lieutenant in Company A, Nineteenth Regiment, Virginia Cavalry, as early as January 1864, according to two muster rolls, one showing him paid ninety dollars for one month and another for six hundred thirty dollars for seven months and seven days.
Once during the Civil War George Gibson was at the Adam Starcher home on Hughes Run, near Altizer, Calhoun County, and two of Mr. Starcher's sons were also home from service. The men had a "corn-shucking" and the women had a "quiltin," followed by a dance.
The Yankees found out about it and surrounded the Starcher house. George jumped out a high window and ran to the hill and escaped.
Three Yankees were killed at the Adam Starcher home, an eighteen-year-old boy, a Saurbourne (who was beheaded) and a Maze. Since Mr. Starcher had about thirty head of hogs in the field where the dead soldiers lay, he had the men make a fence around their bodies with crossties and somebody rode horseback to the "Neck of the Bend" area to notify the families to come get their men.
Between 1861 and 1863 three Yankees came to Adam Starcher's home and demanded food and other things they could use. There didn't seem to be much food to be had. However, there were several beehives near the house and they took every bucket his wife, Phoebe Starcher, had and filled them with honey, kicked over the hives and destroyed the bees.
The soldiers returned to the house where Mrs. Starcher had a loom with a blanket she had nearly finished. They cut the blanket up and took the pieces, also taking her quart milking cup. As they departed, one Yankee wrapping a piece of the blanket around him. He departed holding the milking cup in front of him.
Word got out that these soldiers were disturbing people and they were headed off on the old Ball farm about six miles north of Arnoldsburg, and they were shot, the one with the blanket and quart milking cup, still holding the cup, filled with his own blood.
Word was relayed to Adam Starcher and an inquiry made as to whether he wanted the blanket back or not. He told them that if the man stole his winding sheet to let him keep it. The Yankee soldiers were buried above the barn which presently stands on the old Ball farm nearly aligned with the lower edge of the barn. The burial site is over the hill from the cemetery where Tunis and Catherine Mucklewain are buried.
Lt. George W. Gibson was imprisoned for eleven months during his enlistment and his name appeared on a list of prisoners of war paroled May 10-11, 1865.
George was imprisoned at Camp Chase, Ohio, near Columbus. He had a buddy who had attempted to dig out, exiting through a tunnel dug out from under their bed, however, word was whispered of their planned escape and the tunnel was discovered. Gibson assumed complete responsibility, asking the Yankees not to shoot "those boys." Gibson was ordered to commence replacing the dirt in the excavated tunnel, with no food, drink, or sleep until it had all been tamped in. He spent three days and nights tamping the dirt back.
When word of the exchange of prisoners was announced, his was the first name called out. He was told to cook up three days' rations. He put two bushels of biscuits in a meat sack and headed south, assuming he would be accompanied by somebody with a complementary food selection that would offer a variety in diet, however, not one other exchanged prisoner of his outfit was called out, so his biscuits were his steady fare. He was discharged and went to Louisiana where he secured work napping iron ore in the first ore yard.
He decided to return to Calhoun County (then Lewis County) to see his girl friend whom he had met at the Adam Starcher house while in the service. When he left Louisiana the iron ore company paid him his wages of two hundred fifty dollars in gold, which he found heavy and difficult to carry without a suitable container for it.
Near Altizer, on Hughes' Run, he married his girl friend, Elizabeth "Betty" Starcher, on August 17, 1865. Betty was born March 8, 1850, and was the youngest daughter of Adam Starcher and Phoebe Cogar Starcher.
The Starchers had little variety in food outside of meat and bread so George gave his fiancee fifty dollars and she and her brothers went by horseback to Burning Springs to get more festive food for the wedding dinner.
They got brown sugar for one thing, there being no white sugar at that time. George was employed as a government land agent and wrote up and acknowledged deeds. For one job of preparing a deed he traveled afoot from early morning to reach the client where he prepared the deed and was then informed the people didn't have a cent in the house to pay him, however, the man's wife insisted he accept a turkey platter which he had to carefully carry home, arriving far in the night with the turkey platter unbroken.
George and Betty made their home with the Starchers and after the Starchers were quite elderly they arranged that George and Betty should have their farm in exchange for caring for them, the original log house.
Betty and George had the following children: Mary B. Whyte, 1866-86, buried Gibson Cemetery; William F. Gibson, 1868-1943, buried Gibson Cemetery; Adam Poe Gibson, buried Marietta, Ohio; Almira, buried in Ohio; George Gibson, Jr., buried Hur Cemetery; Freddie Gibson, died infancy, July 28, 1874, buried Gibson Cemetery; Amos Gibson, 1879-1964, married Virginia Craddock, buried Gibson Cemetery; Warren Gibson; Elizabeth, married a Starkey; Virginia, married Stockwell, Richwood, West Virginia; Cisco Gibson, buried Richwood, West Virginia; Kay Gibson, 1893-1957, buried Gibson Cemetery. George's wife, Betty, died November 14, 1902, and is buried in Gibson Cemetery.
During the hotly contested campaign for the 1900 presidential election between William Jennings Bryan, Democrat, and William McKinley, Republican, there was a large Democrat convention or rally staged near Parkersburg.
Mr. and Mrs. George W. Gibson attended as representatives of Calhoun County, and Mr. Gibson was asked to speak. Details of his speech are not known, except that he told of being from Bath County, Virginia, of his eleven months' imprisonment at Camp Chase during the war, and of his being a lifelong Democrat. When he had finished, Mr. Gibson received a great ovation and was voted the "outstanding Democrat in attendance."
After the Gibsons returned home, William Jennings Bryan sent Mr. Gibson an autographed picture of himself, and to Mrs. Gibson he sent a five-dollar gold piece. These gifts were delivered by Alfred and Amos Kenny of Grantsville, who had also attended the convention. Betty Gibson treasured and always kept her gold piece.
Following her death a few years later Mr. Gibson applied it toward the purchase of her monument. The picture given to George W. Gibson is still in its original frame and glass. The frame is slightly deteriorated but the picture is in good condition and across it is written "W. J. Bryan." Other information for this story was provided by Sharon Naylor (2004)
See CALHOUN'S FAMOUS CIVIL WAR HOMESTEAD: STARCHER-GIBSON HOUSE - Romance, Mayhem, Death, Gibson's Military Exploits Recalled