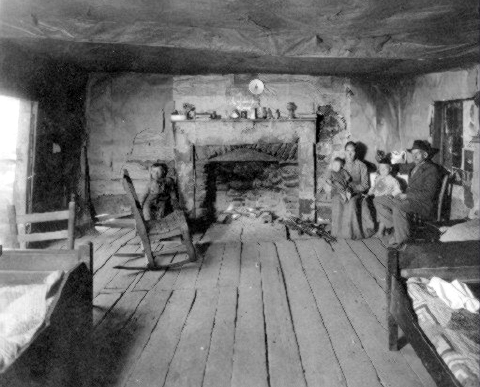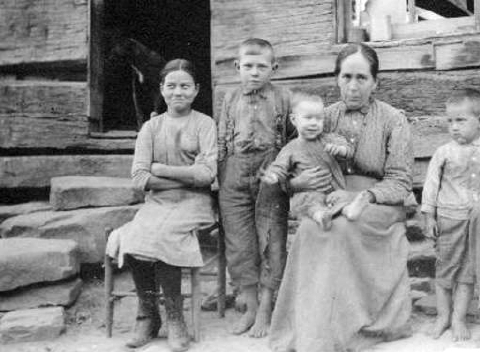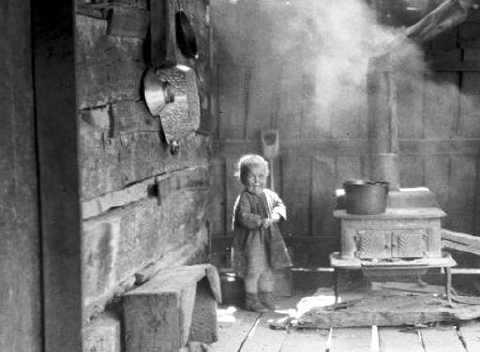 21st Century whining displaced by the humble life of
family members over 120 years ago, the Burns family in Clay
County KY (Claude Matlack/University of Louisville)
By Bob Weaver
At our household, the hot water pilot light went out to pose chilly showers, the newest vacuum cleaner is spewing dust into the air, the TV satellite quit working, the commode is leaking some water, and we're having our customary problems connecting to the Internet to produce the Hur Herald.
Someone whined about the tastelessness of some kind of frozen food we bought cheaply at WalMart, and I whined that the flowers and candy I bought for my wife for Valentines Day came from South America.
Someone else whined about the cold floor in our house, no insulation, as the temperatures plunged toward zero, although the house was cozy and warm.
Then I reflected on the life led by members of my family over 100 years ago, including the Burns' and Collins' who came from Clay County, Kentucky, to West Virginia.
Clay County, Kentucky, 120 years ago was among the poorest in the state, as it is today.
Real life photos reveal life in Clay County, Kentucky, taken by photographer Claude Matlack, centered on Rev. Anderson Burns who established the Oneida Institute about 1900, the first public school in that county.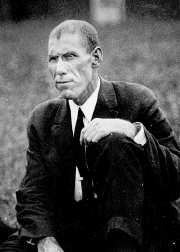 Rev. James Anderson Burns (right) was the brother of Rev. William and Florinda Stump Burns, the latter known to have established a number of churches in Calhoun and the region, including Enon Baptist and being the pastor of the First Baptist Church of Grantsville (1890-1900). He died in 1910 and is buried at Enon.
Rev. William Burns had about a dozen children, many of which once graced Calhoun County, a few descendants remain.
Their father, Rev. Hugh Burns, came with his wife Nancy Collins from KY to Uler/Elana in Roane County before 1860 (not far from the Calhoun line) to escape bloody family feuds and the pending Civil War.
Whining about 21st Century life, at least for a few hours, was reduced to moments of gratitude after continuing to research the Burns-Collins history, and more particularly reflecting on Matlack's photos, published in a book "Dawn Comes To The Mountains" and re-reading James Anderson Burns' biography "Burns of the Mountains."
My family, not unlike most still dwelling in the backwoods of West Virginia, had humble beginnings. A few moments of gratitude might surface by perusing Matlack's photos, now a digital collection at the University of digital collection at the University of Louville.
See   Library at Louisville Education Archives
Rev. James Anderson Burns-wikipedia.org
WHITE OAK CHURCH FADES INTO HISTORY - Frescoes Adorn Interior, Burns Was Hardshell Baptist