I have re-read the Palmer girl's life in Calhoun County during the Great Depression. It accurately portrays in a heart-felt matter the life experienced by most Calhoun families-Bob Weaver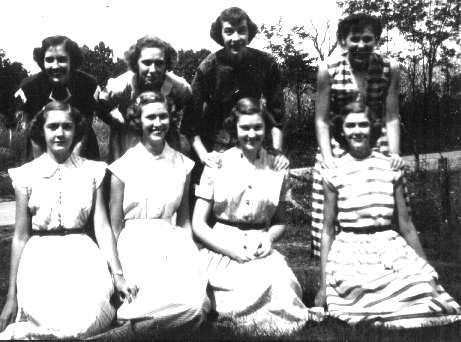 The eight Palmer sisters down on Sycamore in early 1950's
By Cora L. Palmer Foester and Alice J. Palmer Ramsey 2003

Here are the heartwarming stories of eight sisters growing up on Sycamore in Calhoun County.
The recollections of self-sufficiency on the backwoods farm will make you laugh and cry with the Palmer sisters, as Alice and Bo (pictured left) recall their childhood on the rocky 48 acre farm.
It is a fascinating story about life in the Great Depression, recalling family hardships and joyful triumphs. It Happened in West Virginia is a must read for every person who grew up in the hills of West Virginia, or for the newest generation who might learn about the possibilities of survival by love, family and a few acres of land.
The Palmer girls write about the simplest of things from washday, stacking hay and pet skunks to playing in the creek, making leaf dresses, raising chickens and produce, and rarely going to town (Grantsville).
It has been a delightful experience to read the book and communicate with the authors.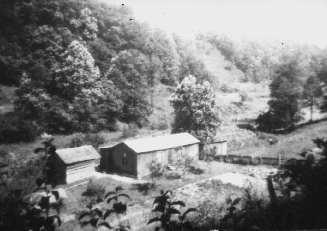 The Palmer homeplace
Their book may be purchased from Word Association Publishers, 205 5th Avenue, Tarentum PA 15084 for $14.95 plus $4 shipping and handling. www.wordassociation.com (or) 1-800-827-7903.
Here is Chapter 48 a true and fascinating tale about an event in the early part of the last century - Bob Weaver
THE WHIPPING AT SAND RIDGE, WEST VIRGINIA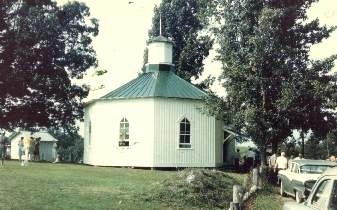 The Sand Ridge Church before restoration
Most children have a fond memory of a favorite story told to them by their mothers when they finally reach the age of liking to hear stories.
It so happens that "The Whipping at Sand Ridge" was our favorite story, often told by our Mom. We never got tired of hearing it; even when Mom was very busy, she would tell us the story while she was working. We loved the story because it involved relatives, whom we knew, and the church we attended from time to time. We sisters are very thankful that we copied the story on paper and had it typed several years ago, because she was in her 90s and was beginning to get quite forgetful.
Here then is the story of the whipping at Sand Ridge, as was told to us by our Mom.
This is an account of the whipping that took place on Sand Ridge, West Virginia. I, Esta Poling Palmer, was about 14 years of age.
My grandfather, Wesley Poling, donated a piece of land to erect a church on and provide a cemetery. My father and uncles built the church. It is a unique church because it has eight sides, shaped like an octagon.
Uncle Charlie and Uncle Nick Poling did most of the carpentry work. Dad and Uncle Asbury sawed the lumber. Very little work was done by the community. After the Poling brothers completed the church, there was a debt of $300. Uncle Albert went to the mountains and worked to pay it off.
Through the influence of Tim Snyder, it was decided to transfer ownership of the church to the Methodist Conference. This move proved to be a mistake for the Poling family. The very people who had built and paid for the church were put out.
As well as I can remember, together with what I have learned from the family, the following is what happened on Sand Ridge during the time before and after the whipping.
Grandfather (Wesley Poling) was the Sabbath class leader. A secret meeting was held with none of the Poling family present, and at this meeting Oscar Miles was assigned class leader.
Around 1904-1905 Uncle Albert and Uncle Nick Poling went to Oklahoma to take up homestead land. They stayed and proved their claims and built homes.
Around 1909, Uncle Albert helped bring a preacher by the name of Scot Williams to Sand Ridge to preach holiness. They fixed a home for Rev. Williams and his wife and their eight children in the house where Kenneth Hall now resides. However, the Methodist Conference refused to let Rev. Williams preach in the church. The Poling family was not welcome there and was threatened by people in the church.
Grandfather, Uncle Nick and Uncle Albert purchased a tent and put it on a flat piece of land along what is now U.S. 119/33.
Uncle Worthy and Dad (William Poling) were summoned to court in Grantsville on August 10, 1910. Neither Dad nor Uncle Worthy knew why they were to go to court. When they got there the court had been dismissed. It turned out the reason for the summons was to get them off Sand Ridge that night.
Aunt Rachel and her children came to spend the night with us since their father had gone to court. At about 10:00 p.m., Mother got up and horses were passing as far as she could see. There appeared to be about 300 horses and riders. She called Aunt Rachel; they were afraid the horseback riders were headed for Rev. Williams' place.
Aunt Rachel went to Grandpa and he said, "No there's nothing like that." Then she went to Uncle Albert. He said the same thing, but added that if there was anything like that he wanted to be there. Grandpa said he was going too.
Grandpa and Uncle Albert got to Rev. Williams' house just as masked men with little white caps were dragging Rev. Williams out of the house. They threw a pillowcase over Mrs. Williams' head.
When they started to whip Rev Williams, Uncle Albert said, "Brother Williams, stand true." There were five whippers and they gave him five licks each. After they whipped Rev. Williams, they whipped Uncle Albert. He said, "God bless this man as he whips me." The first man only gave him two licks. They then whipped Grandpa the same as they had Rev. Williams. As the horsemen were leaving, Rev Williams called after them, "Men, without holiness no man shall see the Lord."
I remember Uncle Albert having blood dripping from a cut on his arm; Grandpa's legs were very blue and sore. Rev. William's shirt had to be soaked off his back.
It was said that the horsemen did not do all they had planned to do. Maybe Uncle Albert and Grandpa were unexpected. One of the group said later that as Uncle Albert and Grandpa came out the road, two dressed in white were behind them. Uncle Albert said if that was true, it wasn't for him and Grandpa to see.
The men that had participated were deceived. They were men from out of the county and they didn't know what they were doing. One in the group said if Grandpa or Uncle Albert had raised a hand to fight, he would have cleared the yard.
After the whipping, the horsemen came out the road shooting and burned the tent.
As for the children being afraid, I shall never forget it. My sister Alma claims that she never got over the fright of that night. I thank God that Uncle Worthy and dad weren't on Sand Ridge that night. They were the two angriest men I ever saw. They tried to take it to court but no arrests were made. Uncle Albert said the thing that bothered him was that they even tried to take it to court.
On one occasion at Grandpa Simmons, Grandpa had hired a man named Eddie Jarvis, who wouldn't stay where Uncle Albert was. One day Uncle Albert found him in the barn and said, "It seems we can't get acquainted." Ed said, "Mr. Poling, you don't want to be acquainted with me. I helped whip you." Uncle Albert said, "Don't let that bother you." Ed left in a few days.
Rev. Williams would have stayed, but his wife and children were so frightened that he took them back to Oklahoma.
Editor's Note: Several of the people involved in this incident were hauled into Grantsville and some of them charged under the "Redman Act."