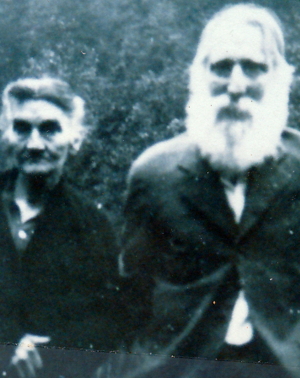 Pincton A. and Caroline White Bourn
(Photo Courtesy of Robert J., Jr.
and Hazel Collins Knotts)
By James C. Haught
Pickney Bourn had a cow that was always jumping the fence and getting out and Pickney would go all over the area locking for his cow.
When he caught the cow he decided to put a yoke on her. A yoke was keeping cows from jumping a fence, a y-shaped sapling. The "Y" was put around he cows neck and the other end was left long enough so that the cow could graze but could not jump fences.
Pickney was trying to place the yoke on the cow, but she was not cooperating.
Pickney was a calm, easy going fellow, but he finally got upset at the cows behavior. He called for his wife Caroline to come and assist him.
When she came to the barn he handed her a Maddox handle and said. "Caroline if that cow comes running out of the barn, you hit her with this Maddox handle."
Pickney took the yoke and went back into the barn. He put the yoke around the cow's neck and had hold of both ends and then the cow bolted and ran out of the barn, Pickney went with her.
Caroline was in place with the Maddox handle at the ready. She swung and instead of hitting the cow, she hit Pickney in the head.
The blow knocked him out and broke his nose. Caroline went to the house for some cool water. When she came back, Pickney had come around. Being a very calm and patient man, he looked up and said, "Caroline, why don't you just go in the house and tend to your own business ..."