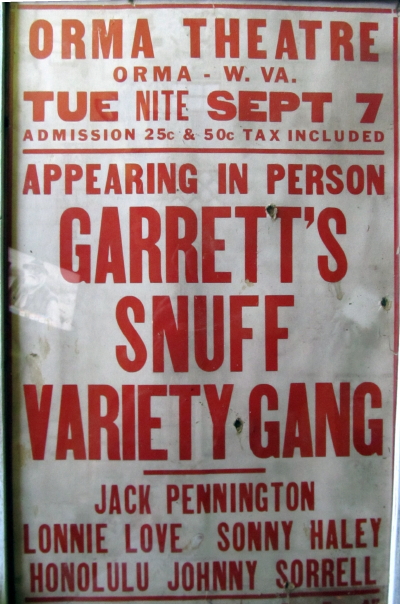 Live entertainment at the Orma Theater, likely in the early 1940s, drew a crowd out of the hollers, this poster advertising one of many events (Courtesy of Fred Waybright)
With 400 channel TV, Internet access, Facebook, music pods, texting, Facebooking, gaming and high-tech hand held devices, it is difficult to recall how people in Sunny Cal entertained themselves two or three generations ago.
Silent movies came to Calhoun in the 1920s with crank-up record players, but it was live entertainment that drew the crowds. Musicians and entertainers, many who went on to be famous with modern media, were on the circuit, coming to rural wide-spots.
One of Calhoun's country movie houses, the Orma Theater, frequently had live acts, including the "Garrett's Snuff Variety Gang."
THE ORMA MOVIE HOUSE - Grandpa Jones, T-Texas Tyler And Bill Carlisle, Customers Came Ridin' Horses And Model Ts
SUNNY CAL JOURNAL - Country Entertainment "Appearing Live"
CALHOUN'S MOVIE PICTURE SHOWS - Lillian Gish, Whip Wilson And Goofy Monsters (Part One)
SUNNY CAL JOURNAL - Whip Wilson, Nyoka The Jungle Girl And Frozen Custard, Memories Of The Kanawha
WHEN COUNTRY MUSIC STARS CAME TO TOWN - Older Calhouner's Recall Drive-In Days