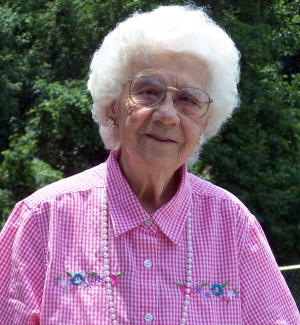 2014
Longtime one-room school teacher Mae Weaver Jennings of Nobe has passed at 96.
Jennings is likely the oldest remaining one-room teacher in the region.
She graduated from Tanner High School in 1938, continuing her education and receiving a teaching degree in 1941.
She later graduated from Glenville State College in 1951, and was honored by the college in 2001, fifty years after graduation.
Jennings sometimes rode a horse to school, walked or boarded near the one room schools.
She taught for 30 years at schools including Nobe, Beech Valley, Coal Fork, White Pine, Broomstick, Bell, Grantsville Grade School in Calhoun County. Also, Lower Run, Middle Run, Latonia, Upper Trace and Upper Laurel in Gilmer County.
Family members said she was a true woman of courage with a pioneer spirit, loved God and her fellow man.
See complete obituary Mae Elizabeth Weaver Jennings
MAE WEAVER JENNINGS HONORED AT NOBE SCHOOL REUNION
JENNINGS HONORED AT GSC GRADUATION - Calhoun Teacher Graduated 50 Years Ago