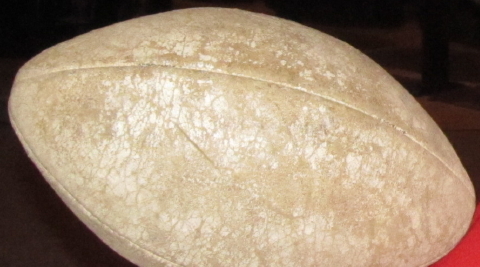 A faded white football returns to Calhoun after 63 years, a reminder of football's glory days under coach Wayne Underwood, to be placed in the museum honoring the coach at Calhoun Middle-High School
By Bob Weaver 2014
This is a story about a faded white football.
During the many years of Calhoun's award-winning high football school coach Wayne Underwood, he painted footballs white because of the poor illumination on the playing field, a field later named in his honor.
At the 27th CCHS Alumni reunion, 63 years later, the faded white 1951 ball from an undefeated season was returned to the county to be placed in the Wayne Underwood Museum.
CCHS grad Virginia Weaver Buck, whose husband, the late Orvin Glenn Buck, played during the Underwood years, said the return of the ball was "a great addition to the reunion, I even got to hold it."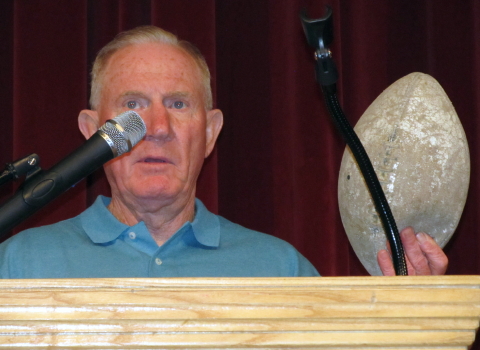 Bob Bailess of Bristol, Virginia, former Underwood player with the Class of 1954, told the story of the ball donated by Bill Richards, saying "The ball is home."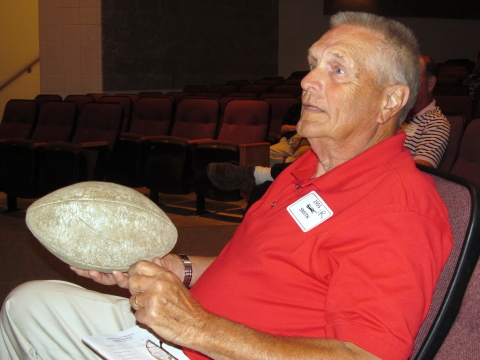 Burl "Junior" Smith, Class of 1955, one of the original "Three Amigos" and a developer of the Wayne Underwood Museum said, "Touching the ball brings back lots of wonderful memories."
The ball was donated by CCHS grad Bill Richards, a renown world-class artist and former Red Devil player from the early 50s, with Bob Bailess of Bristol, Virginia (Class of 1954), presenting the ball during Saturday's alumni event.
Richards said, "I'm sorry I can't attend to present the ball. Coach Underwood would buy two footballs each year and paint them white with house paint to make them easier to see during home games, then the old footballs would be used in practice."
Richards told why he had possession of the ball for 63 years, sometimes losing it.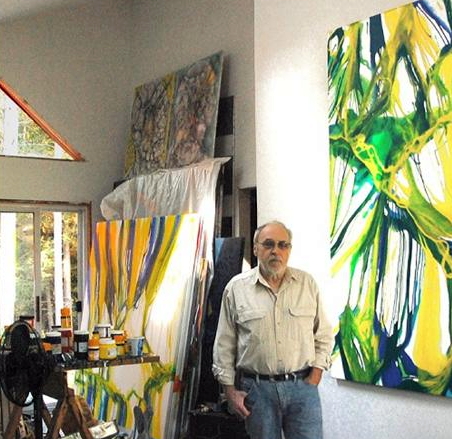 CCHS graduate Bill Richards of NY, one of thousands of Calhoun High grads who have gone into the world to make a mark and contribute, is a world-class artist whose paintings have appeared in galleries around the world, including Moscow, and has lent his skills to television and motion pictures, he being the son of Carl and Melissa McMillan Richards, Calhoun natives, and grandson of early Calhoun merchant George Richards. Read more about Richards billrichardsstudio.com
"When the 1951 winning season was over, the non-graduating players practiced for an additional week."
"I fumbled during a scrimmage, and after practice Underwood handed me the white ball and told me to carry it with me for a week, everywhere, including to classes," Richards said.
"You can imagine how embarrassed I was, but I followed his orders."
"When I returned the ball to Underwood, he smiled and told me to keep it."
See CALHOUN'S ILLUSTRIOUS WAYNE UNDERWOOD - "He Was Not A Great Man Because He Was A Great Coach, He Was a Great Coach Because He Was A Great Man"
UNDERWOOD TROPHIES EXHIBITED IN CM-HS MUSEUM - Ox's Dream Lives On
SUNNY CAL JOURNAL - A Field Of Play
THE COACH'S SON - Underwood Recalls His Father, Calhoun Football Days