By Bob Weaver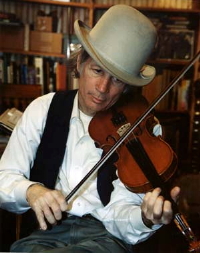 The blessedness of being a wanderer, mostly in the hills of West Virginia, has allowed the rewards of happenstance, meeting people that I would not have ordinarily met.
Most of those people have no claim to fame, rarely venturing from their humble beginnings, living beside the road or in the head of a holler, while others have risen to recognition by their efforts, causes or talent.
The happenstance meetings of singer and songwriter John Hartford are among those that propelled me into realms that I would not have traveled.
Hartford's most famous song, "Gentle on My Mind" has lyrics that delve deep into the human soul.
"And it's knowing I'm not shackled by forgotten words and bonds and the ink stains that have dried upon some line, That keeps you in the back roads by the rivers of memory, that keeps you ever gentle on my mind."
See John Hartford's 'Gentle on My Mind' lyrics
Hartford, now deceased, won Grammy awards in three decades, a musician, songwriter, steamboat pilot, author, artist, disc jockey, calligrapher, dancer, folklorist, father, and historian.
He introduced me to the life and times of Blind Ed Haley, who brought his famous fiddle playing to Calhoun County during the early part of the 20th Century, excited when I told him I was from Calhoun County.
Hartford's "Gentle on My Mind" was his anthem, a song which he said brought him liberation, and took those he met into his world of curiosity.
During earlier decades he frequently appeared on network TV variety shows. In 2001, he was awarded a Grammy for his contribution to the soundtrack of "O Brother Where Art Thou."
Mountain Stage producer Larry Groce said, "John Hartford was one of the rarest of musical birds. He had one foot deeply rooted in the past and the other always at least a few steps into the future-and both were dancing."
Hartford made critical efforts to record the life and times of Blind Ed Haley, an ongoing effort picked-up by Brandon Kirk.
Hartford's ode to the journey of lives crossed is the reward of doing short stories about Calhoun people - "That you're wavin' from the back roads by the rivers of my memory ever smilin', ever gentle on my mind."
See CALHOUN'S 'BLOODY BUCKET' WILD AND DEADLY - Famous Fiddler Blind Ed Haley: "Don't Go Up Stinson After Dark"