By Bob Weaver 2013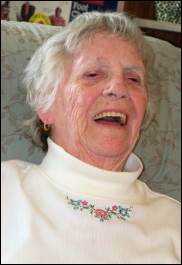 Hazel Ruth Wallbrown Brannon of Arnoldsburg planned on celebrating her 103rd birthday Thursday.
She fell short by two days, passing Tuesday night at the residence of her daughter and caretaker of 20 years, Myrtle Carpenter. (Carpenter has also passed)
Her daughter had bought a birthday cake for her 103rd.
At her 100th birthday celebration, she said, "I've seen a lot. I don't think about getting old, but my body tells me different."
She reveled on her family history, particularly the Wallbrowns, German immigrants who came to Calhoun in 1877 and purchased 300 acres on Beech.
During the past several weeks, her daughter said she had been facing some medical challenges, but "Mom still has her good days, and bad days."
Hazel is blind, but has enjoyed listening to music and listening to people talking.
She has been frequently visited by her 100-year-old sister Pearl Wallbrown King, who now lives in Ripley, in addition to other family members. (Peal Wallbrown King is deceased).
See CALHOUNER PEARL KING HITS CENTURY MARK -Survivor Of Great Depression, 'We Paid $1 Rent'
Hazel will be remembered as a full-of-life person, with great humor, who had the ability to embrace the light of day and the darkness of night.
See complete obituary Hazel Ruth Wallbrown Brannon
And ... CALHOUN CENTENARIAN TURNS 102 - Hazel Ruth Wallbrown Brannon 'Excited About Birthday'
HAZEL BRANNON IS LIVING TO BE 100 - Descendant Of Beech's Wallbrown Family