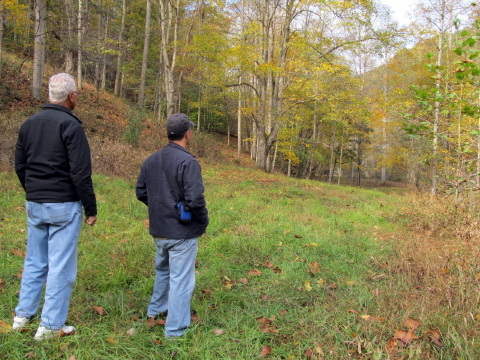 Donald and Ramin Streets return to Calhoun, their Odgen
family came here seeking a way of life post-slavery,
shown here in the Hicks "Darky Fork" community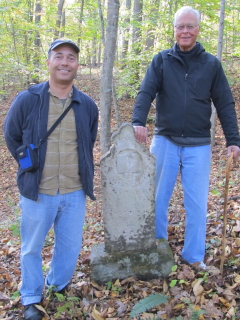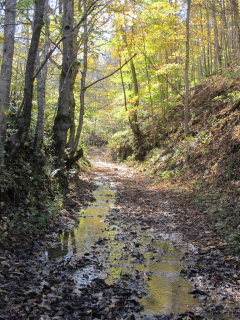 2013
Donald and Ramin Streets at marker of Jessey Odgen (1858-1889),
Catlip Cemetery on Raccoon Run, whose father David Ogden is
buried nearby, a view looking up Raccoon Run toward Three Forks
"By the end of the Civil War David Ogden had lost his first wife and came to Calhoun ... He wanted to be left alone to live as he saw fit and to raise and educate his kids with minimum interference."
By Bob Weaver
Calhoun's two black communities from Civil War days, given the prejudiced names "Raccoon Run" and "Darky Fork" are long abandoned, but still rest in the remote woods, reminders of the life and times of those families that lodged themselves in the narrow valleys.
A family whose origins that once graced those communities recently returned to the Calhoun locations to get a sense of their roots.
Donald Taylor Streets, 78, of Scottdale, Arizona, is a retired Professor of Education and co-author of the Anisa Model of Education, accompanied by his son, Ramin David Streets of Chicago, a Software Quality Assurance Analyst for Mediaocean, LLC in Chicago and is a singer/songwriter www.raminstreets.com.
The men spent a day walking through the Raccoon Run and "Darky Fork" Hicks settlements.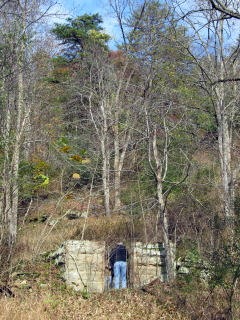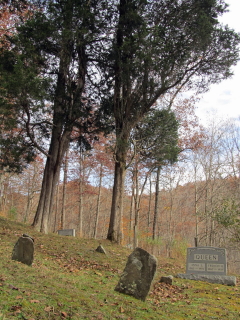 Donald Streets examines Peter Hicks homestead
site (left) nearby is the Hicks family cemetery
The Ogden family left Calhoun about 1900, leaving behind their patriarch David Odgen (died in 1894) and other family members, all buried in the Catlip Cemetery on Raccoon Run.
The Catlip cemetery has about 25 burial spots, mostly unmarked, located up the narrow Raccoon Run valley off Steer Creek.
(Since this story was first written, vandals have desecrated the cemetery)
The Ogdens, like the Hick's family, who were emancipated from the prominent slave holding Neal family of Parkersburg, were connected to another historically prominent West Virginia family, the Camdens of Lewis and Wood counties.
The Ogdens likely connected with the Hicks family in Parkersburg before they settled in the Calhoun woods.
Family accounts say David Ogden dressed like an Native American, spoke as an Native American, and always tried to disprove the myths that were spoken about the pilgrims.
Ogden was of short, stocky build with long hair down to his waist, was known to play the fiddle at barn dances that were held in the community. He died of a heart attack, while working in the corn fields on Raccoon Run.
The Raccoon Run black community was populated with a dozen or more families by 1900.
Perhaps the best known resident of Raccoon was Napoleon Bonaparte "Bone" Ratliff, who is said to have fathered 23 children. Bone's family was likely owned by prominent Arnoldsburg farmer, politician, businessman and rebel soldier Peregrine Hays.
Records indicate Bone left the county to join the Union army.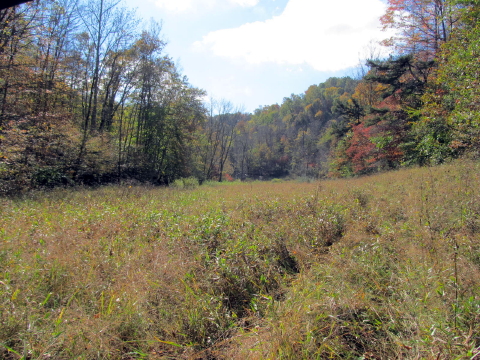 The center of the Raccoon Run black community at Three Forks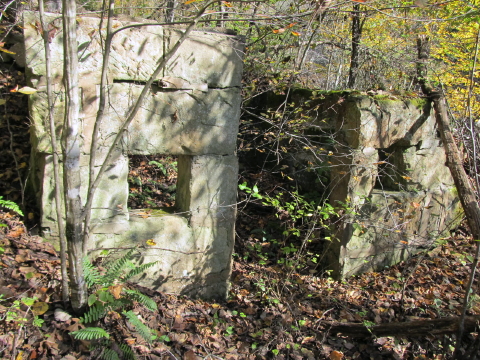 Ruins of long-gone Raccoon Run family dwelling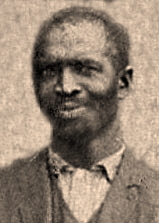 Raccoon Run resident Jacob Henry "Jake" Catlip (left) was remembered attending church services in both the Raccoon Run black church and school and the Steer Creek white church for "prayin' the house down."
Jake would deliver a long prayer during which he would insert, "Some folks think us Negroes don't even have a soul," recalled by Gladys Weaver Stump who attended church services.
Also residing in the community was John Sutton, who taught the Raccoon Run one-room school, and Libby, daughter of Bone Ratliff, who married John Adams, and was later a well-known housekeeper for several Calhoun families.
Ramin Streets said, "Our road trip was amazing. We started off from Chicago and first researched my grandmother's side of the family in Kentucky and on to West Virginia."
"The picture that emerges is that of people endeavoring to lead a normal life both for themselves and their family," Streets concluded.
DARKEY FORK TO RACCOON RUN - A Tribute To The Blacks Of Calhoun County: Part One
DARKEY FORK TO RACCOON RUN - A Tribute To The Blacks Of Calhoun County: Part Two
CENSUS OF CALHOUN BLACKS (Residing In Raccoon Run or Hicks Communities)
SUNNY CAL JOURNAL - Lessons Of Prejudice And Hate, 'He Had But One Eye,' Not Like Us
LONG-FORGOTTEN BLACK FAMILY RESTS ON MULBERRY RIDGE