By Bob Weaver

Irene Jarvis Gunn, 99, of Chloe, died in Conroe, Texas on December 31,2020, just weeks before her 100th birthday.

Jarvis, a descendant of the legendary "Mammy Jane" Jarvis was the subject of several Hur Herald articles.

NEWSPAPER: JARVIS OBITUARY:

She was born January 20, 1921, a daughter of the late Spencer Doc and Effie McClain Jarvis.

Irene is survived by her daughter, Labana Berry (Bill), her grandchildren Arwen, Bill, Martha, Susan, Charles, and Bella, as well as several great-grandchildren.

Irene started her teaching career in a one-room schoolhouse on Oka Road in 1940. Following marrying her husband, Denzal Gunn, they moved to Macon, GA, where he was stationed during WWII

. During that time, she was a Rosie the Riviter and worked in munitions, scooping out tiny thimbles full of gun powder for the anti-aircraft shell fuses.

After the war, she came back to Calhoun County. She taught at Whitehouse Elementary for 15 years from 1945 to 1960. When her family moved to Jacksonville Beach, FL, she taught at Windy Hill Elementary for another 11 years in Duval County. In 1970, Irene returned to Calhoun to take care of her parents and teach at Arnoldsburg Head Start and Minnora Elementary.

She returned to Calhoun County to visit family and take summer classes. She earned her masters degree in library sciences from West Virginia University in 1985.

Over her 42 years, Irene taught pre-school through 6th grade, and probably shared the lives of over 1,200 children in her classrooms.

Eventually, she retired in 1986, and the whole community turned up to celebrate with her at a square dance in her big red barn. Up until a few years ago (when she needed more help), Irene lived on her families ancestral farm in the West Virginia mountains.

She then moved to Texas to be cared for by her daughter and family. In celebration of her nearing 100th birthday, Irene received over 200 cards from all over the world, including many second, third, and fourth generation students of hers.

A graveside memorial service was conducted by Stump Funeral Home & Cremation, Inc., Arnoldsburg, WV, at Thomas P. Jarvis Cemetery, on June 7, 2022, with Butch Conrad officiating. A memorial scholarship in honor of -Irenes life-long dedication to education is being established for Calhoun County elementary teachers.

SUNNY CAL JOURNAL - Labana Jane Said "Don't Spend Energy On Anything You Can't Eat," Irene Jarvis Gunn Holds Forth At Homestead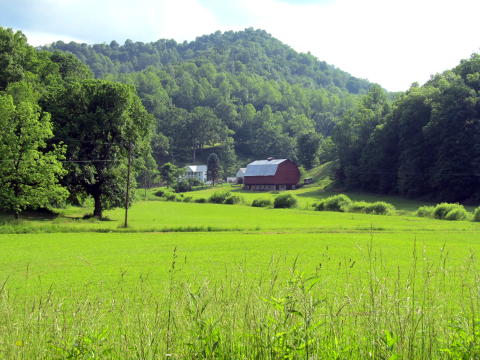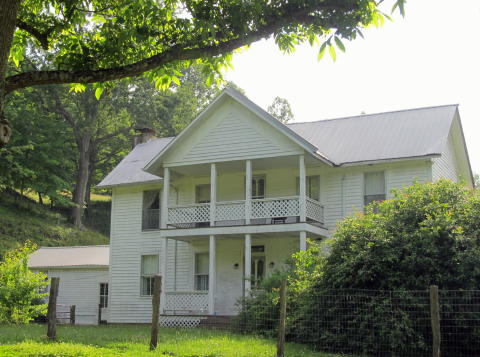 Historic Jarvis homestead on White Oak Road (Oka) has
drawn many visitors following publishing of "The Legend
of Mammy Jane," written by Sybil Jarvis Pischke
By Bob Weaver 2013
"Don't spend any energy on anything you can't eat," said Labana Jane Jarvis (1850-1941) a Calhoun woman made famous in a fictionalized historical novel "The Legend of Mammy Jane."
"My grandmother was an amazing woman, having 14 children in the house, working to raise food and saving money to buy more land," said 92-year-old White Oak Road resident Irene Jarvis Gunn, who still lives in the historic Jarvis house.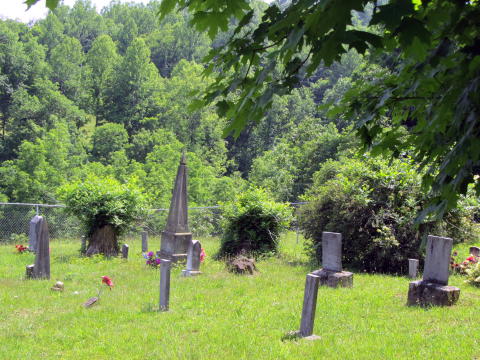 The Jarvis family reposes on hillside cemetery beside
the homestead, where Labana Murphy Jarvis is buried
"Today, young mothers seemed overwhelmed with the care of a couple children, even with the modern conveniences," Irene said. "Grandmother often repeated the old adage, "Godliness is next to cleanliness."
"I'm overwhelmed every time I think of her, her strength and perseverance," Irene said.
Labana Jane Murphy married Thomas P. Jarvis (1841-1919) soon after he returned from the Civil War. Jarvis had been married previously, having six children with his first wife, she dying shortly after childbirth of the sixth child. She then had eight children with Thomas.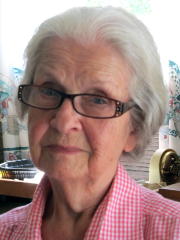 Irene Jarvis Gunn (left) a school teacher with a nearly 40-year career, has maintained the family homestead which was built replacing a log house after the Civil War.
"I'm connected to this place," said Irene, who has a sense of her roots and family every morning she rises.
Irene spent time with her grandmother as a child, recalling her two trips in an automobile. "Uncle Newt came from Ohio and encouraged her to return with him for a visit. When they arrived in Spencer, grandmother say all the people bustling around, and ask him to take her back home."
"Another time she got in a car and and went to the Oka School to vote," she said.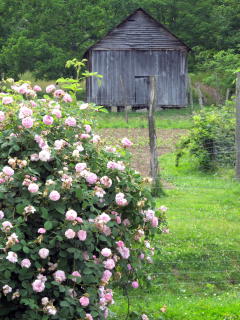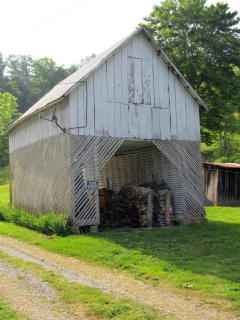 Original Jarvis barn and corn crib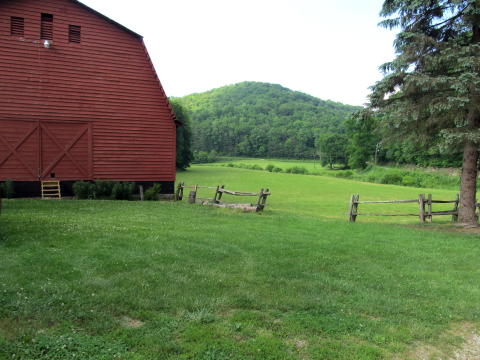 New barn Irene built in the 1970s, designed and built
by a Frenchman who briefly lived in the county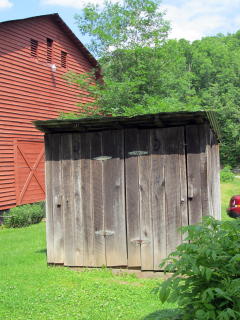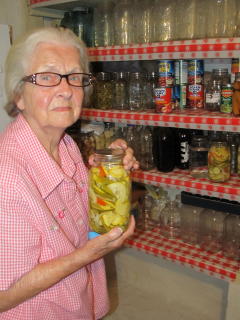 Original double outhouse for privacy,
Irene still does canning at age 92
Long-time teacher Irene, whose parents Spencer and Effie McClain Jarvis are buried nearby, is a person of place, independent and sometimes feisty, whose values are connected to an earlier time.
She donated her parent's Oka country store building to the Calhoun Park, where it has been restored and on display.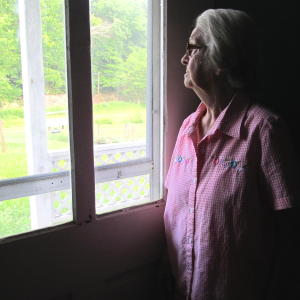 "When I become president, they can't take away your property
and lock you up in a nursing home," said Irene Jarvis Gunn
See "MAMMY JANE" AUTHOR DIES - Calhoun Novelist Was 88
Note: The Jarvis family history is well-recorded, the original Jarvis' came to the county about 1843, on several thousands acres of land granted by the governor of Virginia.