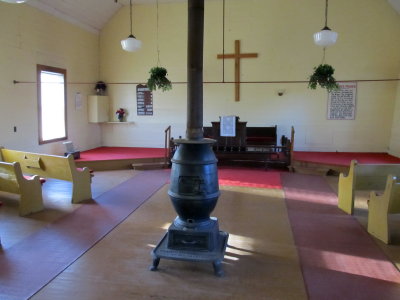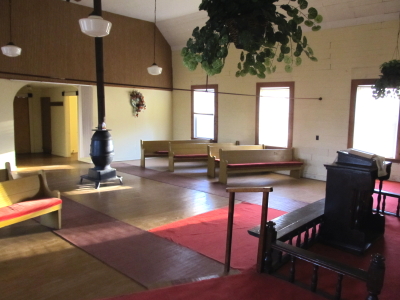 ST. PAUL CHURCH - "To everything there is a season,
and a time to every purpose under heaven." - Saint Paul
By Bob Weaver
St. Paul United Methodist Church had a grand 100th year celebration in 1996, its lights soon to be dimmed permanently, joining the closure of dozens of Calhoun's rural churches.
It was a remote place to build a church, although an early county highway passed nearby, around the ridge from Pine Creek to Hur.
Martin Sturm, an early settler of Hur, said he wanted to be buried on a Pine Creek hilltop, extracting a promise from a member of the Gainer family that a church be built near his gravesite. Sturm died in 1879 and the current church was built is 1896, among the organizers Jesse, Allen and Samuel Gainer and Samuel M. Ward.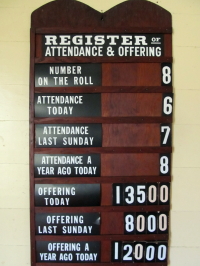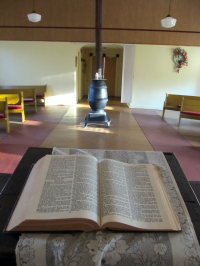 The numbers dwindled to the day of closing
Parishioners came mostly from the forks of upper and lower Pine Creek, the cemetery recalls their life and times.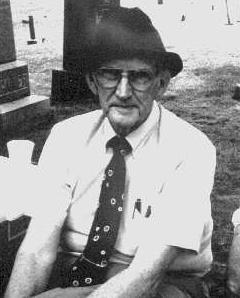 During the 100th anniversary service, Rev. Glendon McKee (photographed at centennial celebration above) said, "The St. Paul Church may not have erased all darkness, but for those who walk with Christ, it was a beacon of hope. Down the years it kept alive in human hearts a vital sense of the presence of God." McKee served as the pastor starting in 1963.
Before its closure, a major effort was made to renovate and preserve the structure, which has led to it being in good condition .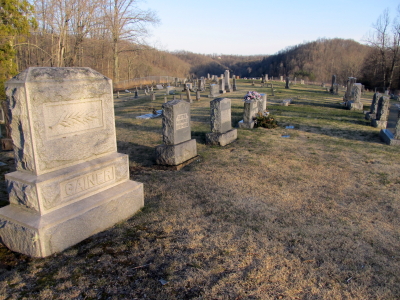 The faithful rest in large cemetery, Gainer, Nichols, Stevens, Weaver, Digman, Little, Kerby, Ward, Ball, Sturm, and others