Bob Weaver

The snuff rubbers came from the hills and hollers of the Husk Ridge (Hur-Richardson Road) to attend the one room school that doubled as a church.

Tuttle Hill was a place of worship or education, supported by several dozen families who lived in the backwoods in the early 1900's.

The teachers, preachers, parents and kids, nearly all practiced tobacco usin' during services or class, thus Tuttle Hill got its name - Snuff Box Glory, the Tuttle Hill one-room school.

By 1950 an official church building, the Mt. Olive Baptist Church, organized by Southern Baptists, was constructed after the demise of the one room school-church.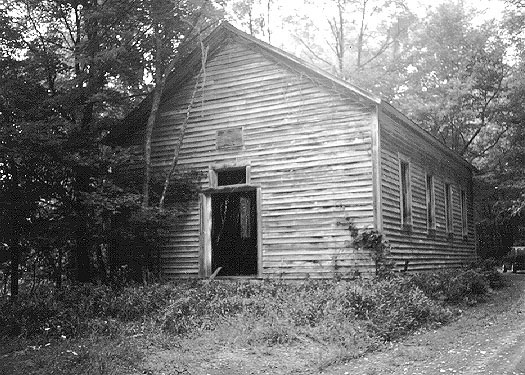 "This church replaced the nearby Snuff Box Glory school and church"

The Husks, Coons, Carpenters, Tuttles, Goughs and other families turned out for events, with some of the worship services being held outside under brush shelters.

Worshipers would seat themselves on logs, protected by a "lean" of brush, and "stump preachers" would revive their spirits from a stump.

In more modern times, ornery boys irritate folks around Hur squealing the tires of their pickup trucks and roaring the motors of their 4-wheelers while they do daredevil feats.

The anti-authoritarian youth of Snuff Box Glory days had a tendency to go around and disrupt church services, keeping the Sheriff busy.

On one occasion the ornery boy clan hurled some rotten eggs into the Baptist bent congregation on the Husk Ridge.

Aunt Harriett Adams, who undoubtedly was a rubbin', got struck in the head and rose to exclaim, "Oh Lord, numb the arm of that boy who threw that rotten egg."

Ola Husk, a leader in the congregation, continued the response from his stump in the middle of the congregation, shouting, "Oh Lord, just numb his WHOLE BODY."

The late Pauline Kerby Duskey, wife of the Rev. Bob Duskey, who got his start as a Methodist clergyman in the Village of Hur, wrote about Snuff Box Glory:

"Many things have changed over the years, but memories still linger that keep me laughing."

"You see, most of the old-timers (and even the kids) used snuff in those days. The front part of the church was a favorite for the devoted. They sat in the amen corner, particularly during revival."

"The old-timers had their spit cans sittin' beside the pew, and believe me they would spit whenever they wanted to. You could hear the echo of the metal spittoons during services."

"I recall a group of boys from Cremo and Cedar Grove paying a visit to Snuff Box Glory. Thirteen boys in all!"

"Beside the pulpit was a water bucket and dipper, placed there before each service for the preacher to quench his thirst and clear his throat."

"The preacher took off his coat, loosened his tie and his voice rose over the congregation of about seventy-five people. He would stop occasionally stop and take sips from the dipper."

"The thirteen boys entered the right side of the church, and one by one they went up the aisle to the pulpit and took a drink from the bucket, and then quickly exited the other door."

"The ornery boys ran off the ridge, not to be seen again. The members seemed dumbfounded and the preacher kept right on preachin', dry and parched. 'I seed it with my own eyes,' an old-timer once told me."

2001