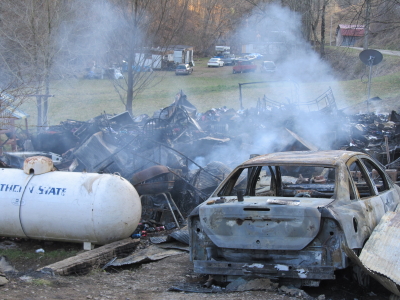 Mud Fork fire still smouldering at 6 p.m. Thursday,
investigators remained on scene of tragic fire that
took four lives, seriously investigating the cause
UPDATE 3/16 - Fire marshals and investigators were back on the scene Friday of a tragic fire that took four lives on Mud Fork Road in Calhoun County.
Authorities are trying to determine the cause of the fire that struck the house at 5 a.m. Thursday, killing a grandmother and three small children. Two adult men managed to escape, both patients at Cabell-Huntington Burn Center.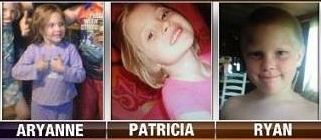 Dead is Darlene Gooslin, 57, who has been praised as the primary caregiver, and her three grandchildren, Ryan Jackson, 7, Patricia Jackson, 6, and Aryanna Jackson, 5.
All three were students at Big Otter Elementary School. Grief counselors were on hand at the school Friday.
The school's website says, "Our hearts are broken because of the loss of three of our students."
The bodies of the victims were taken to the state medical examiners office.
3/15 - Several units of the WV State Police and the West Virginia Fire Marshal's office remained on the scene of a tragic fire Thursday evening, investigating an early morning fire that killed four on Mud Fork.
A 57-year-old grandmother Darlene Gooslin, 57, and her grandchildren, Ryan 7, Patricia 6, and Aryanne Jackson 5, didn't make it out of the 5 a.m. fire.
The children's father, Benjamin Jackson, 35, and his brother David Jackson, 40, managed to escape the blaze with burns. They are in Cabell-Huntington Burn Center.
State Police said Thursday evening that all the victims had been found and removed from the debris.
Mark Lambert, assistant state fire marshal, said there was no sign of smoke detectors in the home.
Investigators say they are seriously investigating the cause of the fire, and will likely be on scene until late Thursday night.
The tragedy was the first such incident with so many victims in Calhoun County over many years.
The closed road was opened at 9 p.m.
The Upper West Fork VFD returned to the site at 10 p.m. to put out some rekindled hot spots.
See related story UPDATE: FOUR DEAD IN EARLY MORNING FIRE ON MUD FORK - Grandmother, Three Small Children Victims, Two Survivors Taken To Burn Center