A TRAGIC 2013 CALHOUN FIRE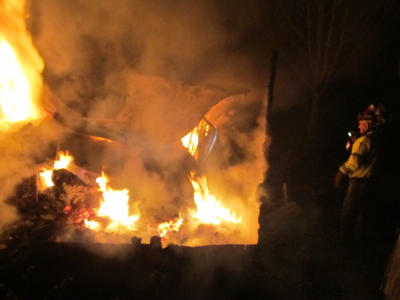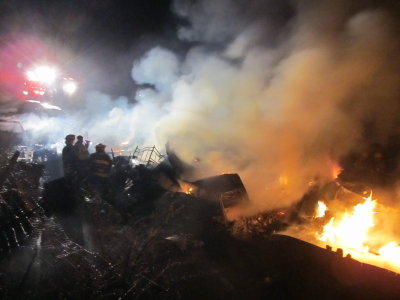 Fire takes four lives on Mud Fork, two survive
3/15/2013
5 PM UPDATE - The grandmother who died in a 5 a.m. fire on Mud Fork has been identified as Darlene Gooslin, 57. Three of her grandchildren died in the blaze.
Gooslin, according to the neighbors, was a primary caregiver to the children. Verla Longfellow, who operates the nearby Stinson Grocery, praised Mrs. Gooslin for her kindness and caregiving.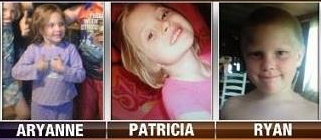 The children have been identified as Ryan, 7, Patricia, 6, and Aryanne Jackson, 5, students at Big Otter Elementary School.
Their father, Benjamin Jackson and David Jackson managed to escape the mobile home. Both received burns, one seriously with burns to 45% of his body. They were taken to Cabell-Huntington Burn Center.
A state fire marshal said there appeared to be no smoke detectors in the structure.
Investigators are on scene, sifting through debris.
Firemen responded to an outbuilding fire at the same location in 2011.
ORIGINAL STORY - Tragedy has struck a rural Calhoun Community on Mud Fork Road, a few miles off State Rt. 16 at Stinson-Chloe .
Fire swept through a mobile home at 5 a.m. Thursday, with a grandmother, 57, and three of her grandchildren dying in the blaze.
Neighbors said the grandmother was the primary caregiver of the children.
The children, a 5-year-old girl, 6-year-old girl, and a 7-year-old boy. Some of children attended Big Otter Elementary School in nearby Clay County.
Two male occupants of the dwelling, one the father of the children and another male, managed to escape and went to a nearby residence.
Both men, reportedly in their 30s-40s, were burned, one burned seriously over 45 percent of his body. They were taken by Calhoun EMS to Cabell-Huntington Burn Center.
The Upper West Fork and Arnoldsburg VFD responded to the fire.
Sources at the scene indicated the cause of the fire is yet unknown. State Fire Marshal Zack Bailey is investigating, and responders were preparing to remove the remains at 9:30 p.m..
Cpl. Jeff Hunt of the Grantsville Detachment was on scene, and a State Medical Examiner was arriving.
The investigation is expected to continue throughout the day. The names of the victims are being withheld.
More to follow.