FLASH (7/7/99) Emu Sighting at Hur
About 80-years-ago Holly Kerby screeched his car to a sudden halt in the Village of Hur, and announced with halting speech that he had just seen a kangaroo cross the road as he was coming up Pine Creek Hill. We all laughed, since Holly had a tendency to see strange varmits in these hills around Hur.

I now want to apologize to the late Holly Kerby, for a short time ago his daughter-in-law, Phyllis Kerby, called to say that there was an ostrich or an emu circling her house, and we'd better come out.

We did, and sure enough, right there at the head of Pine Creek Hill was this large bird, running and prancing around Phyllis' front yard.

A call to DNR resulted in some information that the creature, whose owner is unknown, has been wandering around the Calhoun hills for several days. Officers have been unable to catch it. It was certainly a photo op for The Hur Herald, with update to follow.

EMU SIGHTED IN VILLAGE OF HUR (7/8/99) Update Bird Travels Across Calhoun
Phyllis Kerby was napping on her couch when she heard a pecking on her window in the Village of Hur. She rose to investigate, discovering the large six-foot tall Australian bird attracted to it's reflection. Phyllis called 911, advising them that she was "not crazy and not drunk." Calhoun County dispatch advised her that the Emu was for real and had been sighted by other folks.

The previous day the wandering animal was spotted at the Duane Poling residence near Grantsville. DNR officer, Tom Fox, said he had been receiving Emu reports for about two weeks. "I haven't a clue who might own it, but it may have drifted in from Braxton County," he said.

The first Calhoun sighting was in the upper West Fork area at Nicut. He said other reports have come in from Arnoldsburg, Crummies Creek, and the Calhoun Park at Mt. Zion. Fox said the owner would probably want the animal returned. "It would be best to just leave it alone, for now," he advised.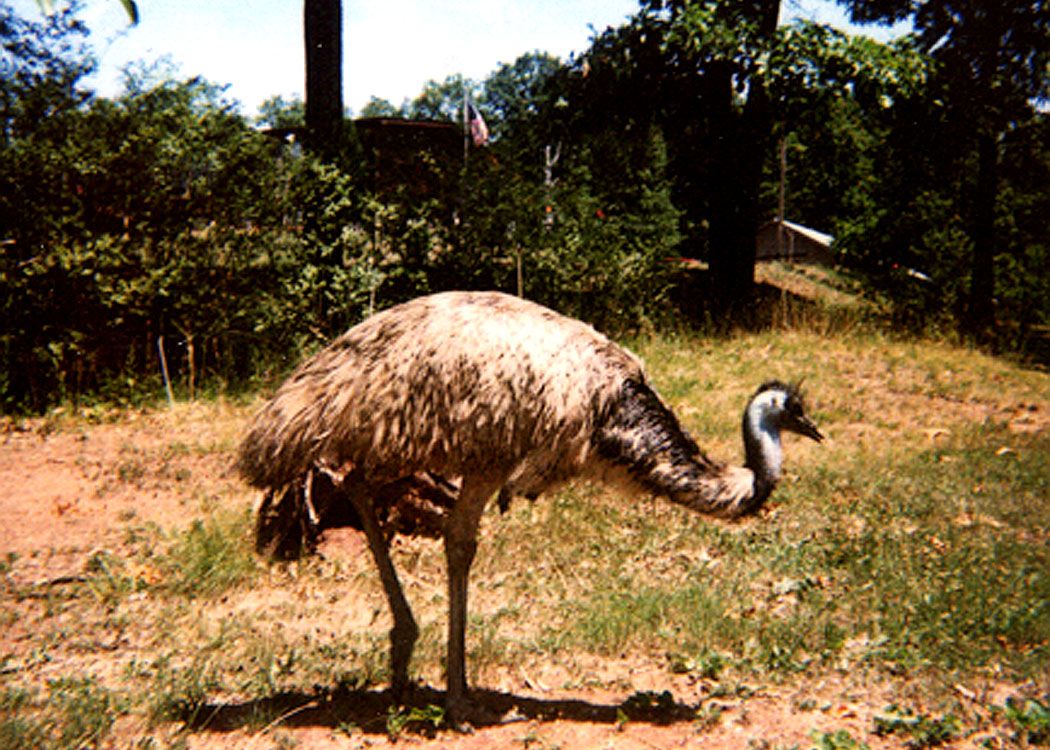 Calhoun's wandering Emu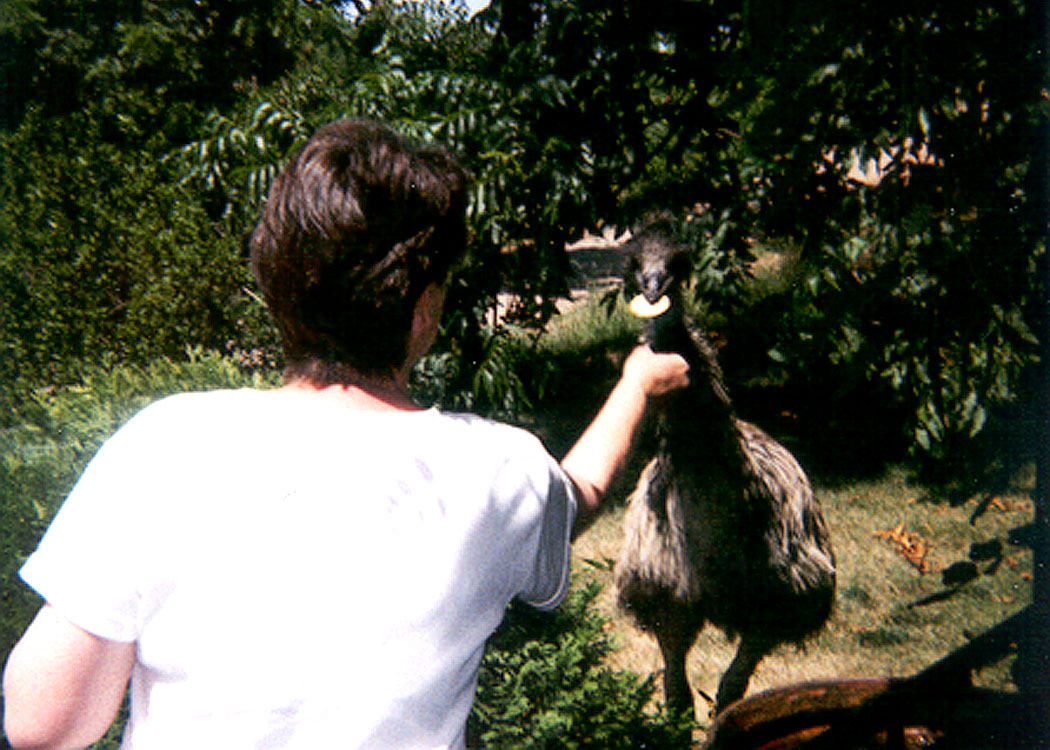 Dianne Weaver feeding "Big Bird"

HUR HERALD EDITOR'S NOTE: Dianne and I went out the road to Phyllis' house to see the creature circling her house and pecking at her windows. I was reminded of Holly Kerby of Hur, Phyllis' late father-in-law, who had a tendency to spot unusual creatures, usually during darkness. He was the skittish type. About 47 years ago, Holly screeched his car to a stop in the Village of Hur and frantically announced that he had just seen a Kangaroo on Pine Creek Hill. "Hope my die, it had to be a Kangaroo," he said. We all laughed. So, dear Holly, maybe we owe you an apology. At the same spot, these many years later, your daughter-in-law, Phyllis saw an Emu! This time we have pictures.

CALHOUN EMU (7/12/99) Chapter Three
It wandered across Calhoun County for two weeks, surprising and entertaining each community. Chased by dogs and people, and put into flight by oncoming cars. In a few quiet moments folks settled down to fed it. This past weekend it was lured by some corn into one of Charley Heiney's barns between Hur and Joker and is currently awaiting extradition to Braxton County.

Calhoun Dog (Emu) Catcher, Ron Gordon, said that the EMU escaped from a petting zoo in Braxton after it caught on fire, and that the owners "got excited about getting the bird back." They are expected to come to Calhoun to complete the extradition.

Pro Hardware employee, Howard Johnson, was the "corn man," instrumental in its capture. Actually, as Emus go, it was quite friendly. NEXT:CALHOUN EMU-The Final Chapter.

EMU: RUNNIN' WILD AGAIN (7/21/99) Chapter Four
Calhoun's wandering Emu has been held captive pending placement for several days in a barn on the Joker Ridge. Mrs. Charles Heiney of Grantsville, who has developed a fondness for the creature, reports the bird has been "busted out" and is now on the loose again. The Heiney family captured the six-foot bird since it roamed into the Hur-Joker area a week ago.

Several reports indicated that the Emu escaped from Braxton County, and has traveled from Nicut to Crummies Creek to Hur in the past three weeks. Mrs. Heiney had planned on placing the creature on the Ball Farm on Bull River in a high-fenced area. "I would like to get it back," she said. So, if you spot Calhoun's wandering Emu, give her a call at 304-354-7912.

CALHOUN'S EMU POPULATION DOUBLES (7/27/99) Chapter Five The Continuing Saga
Calhoun's wandering Emu has been joined by a second critter, probably a male. The last sighting was on Pine Creek Hill above Grantsville last Saturday at the Raymond Starkey residence. Starkey discovered the six-foot birds in his pasture. One of the critters had his calf by the ear, the animals "fighting" over food in a grain box. "It wouldn't let go for about three minutes," he said. Starkey called 911, and Sheriff Allen "Lash LaRue" Parsons came to his assistance, roping one of the animals and leading it to another field.

Then both animals went into the woods one more time. The staff of The Hur Herald is starting a fund to place a TV head-cam on the creature, and have an ongoing travelogue of the county live on the net. Last week one of the Emus got "busted out" of Charles Heiney's barn on the Joker Ridge by a "free the emu" person. Earlier the critter spent time in downtown Hur at the corporate headquarters of The Hur Herald after sightings on Nicut, Crummies Creek and Phillips Run. Stay tuned.

CALHOUN'S WANDERING EMU(S) (8/5/99) Chapter Six
When we last saw Calhoun's wandering Emu it had found a soul mate at the top of Pine Creek Hill and was jockeying for food from a grain box with Raymond Starkey's calf. It grabbed the calf's ear in a contest for the grain, and did not want to let go. Starkey, unable to understand the nature of the bird, turned to Calhoun Sheriff, Allen "Lash LaRue" Parsons for help. Parsons roped one of the Emus and placed it in Raymond's barn, ignoring the prospect of the bird's powerful kick.

The other Emu ran into the backwoods of Pine Creek. Sheriff Parsons, duty done, left the scene in his cruiser to return to Grantsville. Moments later, the Emu kicked down the barn door, escaping again. Parsons reported the Emu passed his cruiser as he drove down the highway.

Later, one of the critters was caught by Bonnie Lemley's daughter on Northside, Grantsville, who turned it over to the Emu Warden, Ron Gordon. Gordon is now "holding" the subject in a pen at his house near Orma, where he reports it is "good natured and really likes dog food."

Gordon says he has grown fond of the critter. The other Emu, meanwhile is still on the loose. STAY TURNED FOR EPISODE SEVEN?

CALHOUN'S WANDERING EMU, NOT WANDERING     (9/22/99) Chapter Seven

With cold weather approaching, fans of Calhoun's wandering Emu, will be consoled by the news that it is in safe captivity and shelter, eating five pounds of dog food daily, and gaining weight.

The lost Emu, which traveled about Calhoun much of the summer, is under the care of Emu Warden, Ron Gordon of Lower Nicut. "It's feathers are coming back," he said. "It is really a friendly creature, and even likes the puppies."

Gordon continues to grow fond of the creature, but is open to placing it in a facility or at a farm where it can be enjoyed by the public. "I don't want it destroyed," he said. "If such parties are interested, they should contact me."