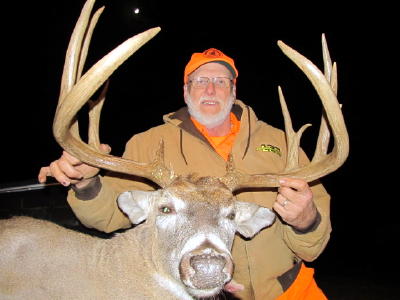 Arnold downs long-sought buck near Arnoldsburg
By Bob Weaver 2012
Most regional deer hunters are after the "big buck."
Arnoldsburg resident Randall Arnold killed a trophy 13-point buck the first day of season, and all it takes is to gander at its head to know it will go into the record books.
The large deer has been caught on game cameras the last three years, as it wandered in the woods near Arnoldsburg.
Arnold brought the deer down in the woods along the West Fork, about a mile below Arnoldsburg on Altizer Road.
The 13-point buck has an inside spread of 21" and weighed almost 175 pounds dressed.
The news of the kill spread rapidly, and more than 50 hunters came to Arnold's house on Millstone to gaze at the buck.
"It's been the most talked about deer in these parts for a long time, since being caught on lots of game cameras," said Arnold, who has already taken it to Weston to be measured and judged.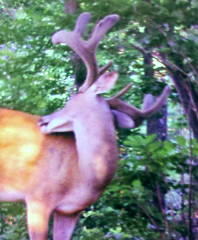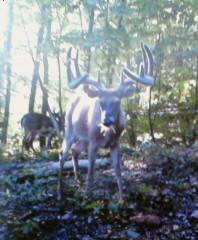 This buck has been caught on Arnoldsburg
area game cams for about three years, and has
drawn interest of lots of regional hunters
"In the hunting world, I got lucky," he said.
Arnold has already made connections to have the head mounted, and is went into the state's records.
Another trophy buck was killed by Chloe resident Bill Jarvis in 1974. See BILL JARVIS' CALHOUN HALL OF FAME BUCK
Woodsman Arnold made another fascinating discovery in 2009, a giant fossilized rock that well could be an ancient dinosaur bone, yet to be examined by a paleontologist. See GIANT DINOSAUR-LIKE BONE DISCOVERED BY MILLSTONE MAN