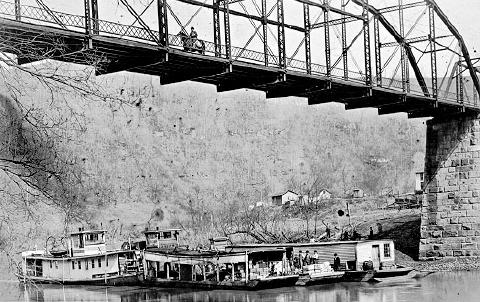 Little Kanawha Riverboats at the Grantsville Landing, after 1912. Gasboats, left to right: "Return" pushing a covered barge or bateau, "Edith H" pushing an uncovered barge, "A. J. Kenney" behind either a fully enclosed barge or bateau or an unidentified gasboat (probably a barge or bateau since the craft does not have a pilot house).
(Photo Courtesy of Randall Whytsell)
By Bob Weaver
There are no people that can recall the glorious life of river boat transportation on the Little Kanawha River, a connection to the greater world of Parkersburg on the banks of the great Ohio.
Improved roads to the backwoods of Calhoun was the demise of dozens of gasoline driven packet boats that traveled daily up and down the Little Kanawha as far east as Glenville.
River travel faded in the 1930s.
Today, the Little Kanawha is filled with sand and gravel, with holes of water separated by "sand banks" that require small boat owners to drag their vessels across the impediments.
Long gone are a series of dams on the downstream waters of the Little Kanawha that bolstered river traffic.
This amazing history, with photos, has been recorded by historian Norma Knotts Shaffer and others.
See Norma Knotts Shaffer's photos and story of early river life on the Little Kanawha
See also CRESTON - LEGACY OF AN ERA PAST
TRAIN PASSENGERS TOOK TO BOAT - Tragedy Averted in 1907
ETHEL RADER'S RIVER LIFE - "I Grew Up In Hard Times"
CRESTON'S FIRES, FLOODS AND HARD TIMES - Twelve Fights At The Dance Hall At One Time
KANAWHA HEAD SCENIC SPOT ON LITTLE KANAWHA WATERS