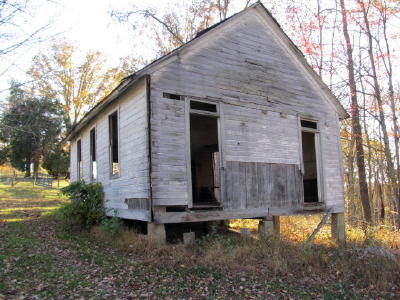 Building once used as Metheney
Ridge church and school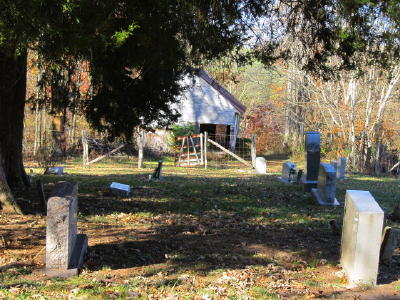 Metheney Cemetery is behind old structure,
first burial was church founder
With infant mortality rates very poor in the early 1900s, it's not uncommon to see this kind of marker
By Bob Weaver 2013
Metheney Ridge is a remote, uninhabited area near the Calhoun-Clay line, blessed with a beautiful stands of trees, located between Walker Creek and a tributary of Stinson.
Still standing on the ridge is a building constructed by William Metheney(1852-1936) for a primitive Baptist church. Mr. Metheney appears to be the first person buried in the Metheney Ridge Cemetery, just behind the church.
The building has two doors, one for men and one for women, once a practice with many churches, requiring women to sit on once side and men the other.
During the earlier part of the 20th Century, the church building was converted or used as a one-room school.
Finding teachers for rural schools was hard, and county officials granted Paul Stalnaker an emergency certificate to teach the Metheney Ridge school.
He was 17.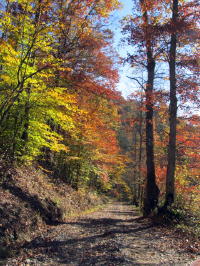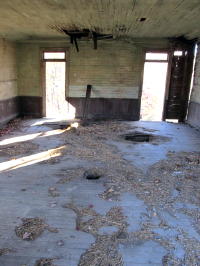 Can you visualize children coming
up the mountain to this one time school?
Spending time at the location, I visualized young Stalnaker, just out of high school, coming from Orma every day to this remote place, muddy roads that often required chains, but more often than not, the teacher and students walking up the mountain to get to school.
Stalnaker, now deceased, went on to get a teaching degree, and taught for many years at Calhoun County High School.
See "CALHOUN STUDENTS WERE THE GREATEST" - Educator Stalnaker Says "Country Boys Would Want To Whip Ya"