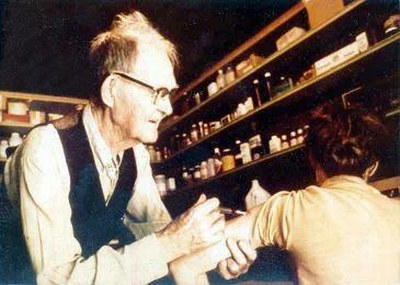 By Bob Weaver
Self-taught physician, dentist and midwife, James Franklin "Doc" White (1889-1974) of Ivydale, Clay County was also a well-known Appalachian fiddler.
Doc was a self-made man who taught himself a variety of trades through the years, including medicine and dentistry. Never having any formal training, he was fascinatingly allowed to practice his art in the backwoods of Clay and regional counties, and often made house calls into southern Calhoun.
In the early 1970s, I visited Doc at Ivydale, despite his health failing, he told me several ruckus tales, which I cannot publish here.
Operating out of his office, he prescribed medication, gave shots and pulled teeth, most of which he kept in large washtubs.
"He honed his skills by apprenticing under local doctors and dentists and by reading every medical book he could get his hands on," according to the WV Encyclopedia.
It appears that state officials just left him alone.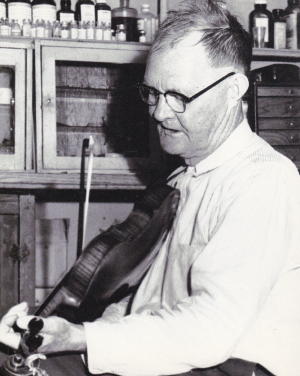 Doc White photographed fiddlin' at his Ivydale office
for Dr. Patrick Gainer of the WV Folk Festival, who
recorded his tunes in the 1950s (Jack Cawthon Photo)
It was estimated that White delivered more than 1,800 babies throughout the hollows of Clay County, and he routinely made house calls to residents too ill to visit his office. In addition, White served as a Justice of the Peace in Clay County for more than 30 years.
He was one of a long line of accomplished traditional musicians in Clay, including Jenes Cottrell, Wilson Douglas, Ira Mullins, Sylvia O'Brien, Minerva White, Lee Triplett, French Carpenter, and others.
Doc was proud of his musical ability and traveled to many fairs and festivals around the state to demonstrate his talents.
See CLAY CO. MOUNTAIN MID-WIFE DELIVERED OVER 3,000 BABIES