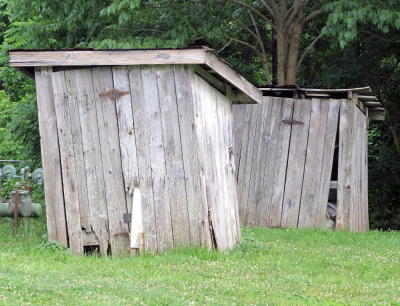 During the 20th Century, convenient outhouses in rural
America were named Jiggs and Maggie, to identify gender
differences on the Mt. Zion Ridge
Jiggs and Maggie were popular cartoon characters in the "funny pages" of the nation's newspapers.
During electrical outage affecting water supplies and the ability to flush indoor toilets, the outhouse represents a simpler way of life.
It was even cheaper using old newspapers and catalog pages, with toilet paper now moving toward $5 a pak for the good stuff.
These Mt. Zion outhouses were adjacent an old roadhouse at Gunntown on Rt. 16, in later years Moore's Store, which burned to the ground about 1950.
The old roadhouse was a 'convenience store' in its time, beer parlor, dance floor, skating rink, groceries, gasoline and a car repair shop - and two fine outhouses.
The outhouses, a few still standing.