Spencer State Hospital once described as the longest building
under one roof in eastern USA, long view circa early 1900s
By Bob Weaver
Spencer State Hospital had an omni-presence in the town for over 100 years, closing in 1989.
The huge stately building stood out, at one time it was said to be the longest, continuous brick building under one roof in the USA.
It spawned a fascinating history, some of which is laced with tragic tales about an archaic mental health system that warehoused patients, providing little psychiatric care until the advent of modern psychotropic medications in the 1960s.
At one time the facility held 1,200 patients, many of which were committed from Calhoun County, with a large number of Calhoun citizens employed as caregivers at low wages and long hours. Many boarded at the hospital.
A diagnosis for admission could be ambiguous and far-etched, opening the door for people who might not have had a severe mental illness, but just needed to be put away for awkward reasons.
JEALOUSY, POLITICAL EXCITEMENT OR RELIGIOUS ENTHUSIASM - Reasons For Admission To State Hospitals
Once a patient, getting discharged was difficult, with hundreds spending their life in the institution.
Living in Spencer for a number of years, there was a constant reminder three times a day at the changing of shifts, the loud steam-boat whistle sounding off, a sound that could be heard miles away in Calhoun.
A resident of Market Street at the time, on warm summer nights one could hear the suffering cries of patients, which at times would build to a disturbing crescendo.
A hospital street person in Spencer, with whom I was acquainted in the 1960s, was born in the institution, his mother impregnated by another patient.
He didn't leave the hospital until he was in his 40s when patients were deinstitutionalized, a name given to a movement to take patients out of institutions and place them in the community. His mother died there.
The hospital issued street privileges to some patients, and many of them were graciously accepted in the community, becoming part of a fascinating street culture.
One of the best known was Teddy Goldstein, who was the proud "paper boy," selling the daily and county papers year after year. He fought to be first on the street on Wednesday night with the hot-off-the-press paper, sufficiently defending his territory.
Another well-known street person was "Jocko" Fields, who more often than not carried a bull whip with him, cracking it as he went down the street, or cracking it at neighborhood kids who teased him with nicknames.
"Jocko" had an amazing nimble talent, being able to jump and turn his body 180 degrees, whip in hand.
It's highly unlikely that such behavior would be allowed today.
Recently I spend an afternoon walking around the hospital's old cemetery where hundreds of unclaimed patients are buried, a grassy field with sunken holes to memorialize their life on earth.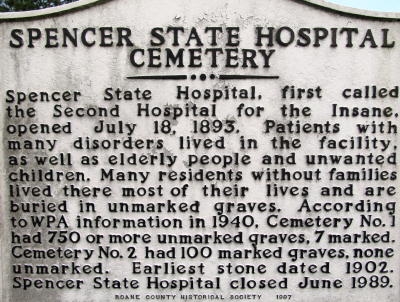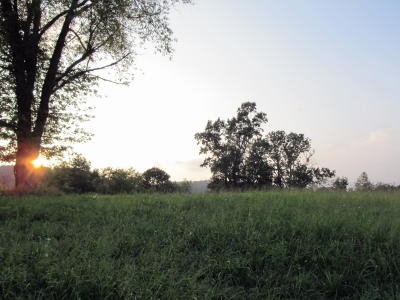 Over 850 former patients, unclaimed by family members, were
laid to rest in two cemeteries on the hospital grounds
CALHOUN NEWSPAPERS REPORTED TRAGIC STORIES
In 1897, the Calhoun Chronicle reported "one of the most horrible annals at the Spencer Asylum."
A patient named Taylor secured a bar of iron and during the night made some disturbance, for which an attendant by the name of Barrows unlocked his cell.
"The patient brained the attendant at one blow with the bar of iron, which caused him to fall dead in his tracks. But not content with this he pounced upon him and beat his head into a heap of unrecognizable skull, brains and blood," the report said.
In another story reported in the Calhoun paper, "Owing to despondently arising from domestic troubles, Mrs. William Hughes, residing on Mushroom Creek, about two miles from Arnoldsburg, poisoned and killed her infant child of six months, and attempted in the same manner to kill herself and son, Harvey, which failed."
"At a hearing before Justice Powell, upon which Prosecuting Attorney Smith attended, the mother was released of responsibility for the murder and was committed to the hospital for the insane at Spencer.
I have previously written about my uncle, a long-time patient in the hospital, who was a victim of a trend to lobotomize troublesome patients and make them docile, unscrupulously used on thousands of mentally ill patients.
SUNNY CAL JOURNAL - Uncle Harrison's Lobotomy
'ICE-PICK' LOBOTOMIES GIVEN AT SPENCER STATE HOSPITAL - "It Was A Real Grisly Thing," Said Doctor
SPENCER SURRENDERED WITHOUT A SHOT - New Book Chronicles Civil War Events, Memorial Located On Historic Hospital Grounds