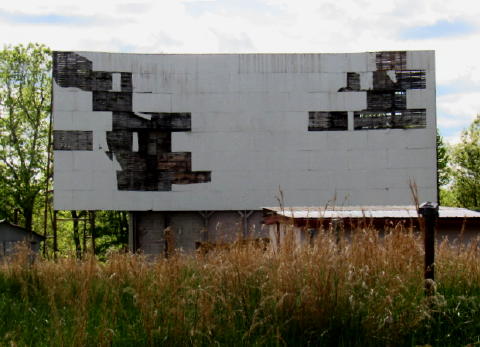 The Mt. Zion Drive-in theater closed in 2015 after 63 years, with a few sections of the silver screen hanging on in 2023, happy memories left behind, owners unable to finance the equipment that ended film and went digital.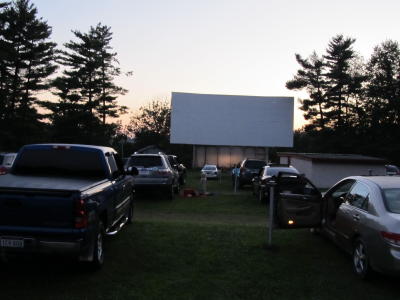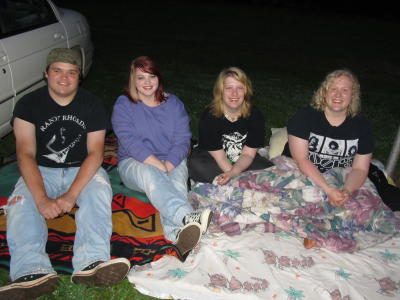 Movie goers come early to the Mt. Zion Drive-In,
where John Cook heated baby bottles in 1952
By Bob Weaver
The Mt. Zion Drive-in opened in 1952, and was among America's last drive-in movies.
Several generations of Calhoun and regional families have frequented the drive-in, reveling in the experience of a night-out with the family, not to forget the use of the facility for dating, particularly in the early years when couples snuggled in the back row.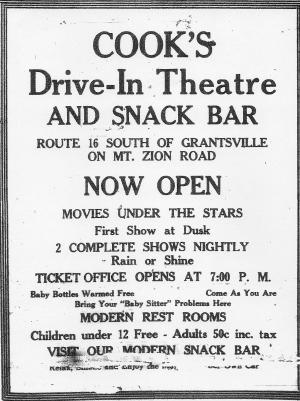 Some churches labeled drive-ins as "passion pits," and encouraged their parishioners to divert their children to healthier activities.
Boys and girls still hang-out in the snack bar and parking lot, a crop of kids connecting before they left the county into the big world.
At one time the USA had 5,000 drive-ins. They are rapidly fading with a few hundred left.
It is hard to believe I was there on opening night with my parents in 1952, watching "Tea for Two," a movie musical of great disinterest to all of us. But it was a movie.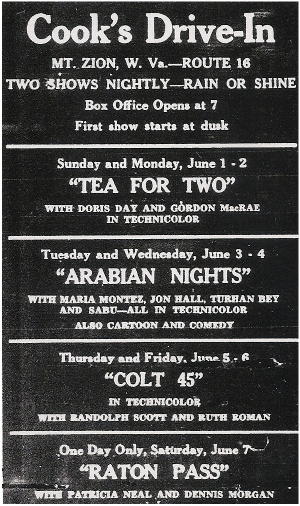 A short time later we returned to watch the horror flick "The Thing From Another World," the original fright movie made in 1951, causing me to have a sleepless night.
It was at the drive-in I was introduced to the talents of Elvis and watch live performances of fledgling country music stars performing on top of the projection booth.
We have often written about movie entrepreneurs John and Helen Cook, longtime operators of the Kanawha Theater in Grantsville since the late 1930s, who had the vision to open the business in the face of television becoming an attraction that kept movie-goers at home.
For about a year, they kept the Grantsville movie house open, closing it for lack of attendance. People flocked to the drive-in with cars backing-up a half-mile to get in.
Cook had a keen sense about kids hiding out in car trucks or sneaking through the woods to get in free, while he and his employees directed traffic to parking spots, personally welcoming movie goers on the sound system every night, and then directing traffic back onto Route 16 when the movie was over.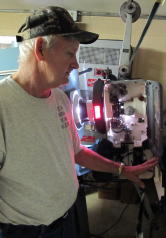 Over the years the drive-in has changed hands to Jiggs Rose, Morris Rose, Tom Johnson, and to Marshall (left shown running projector) and Virginia Bever in 1979.
The Bever family has a long history as drive-in operators, starting with Virginia's grandmother and father, Bida and James Hanna who owned the Craigsville Drive-In in Nicholas County.
There have been four generations of drive-in operators in the family, currently a fifth generation is standing in the wings.
Some things have changed little over the last 60 years. Families still bring lawn chairs, blankets and pillows and "camp-out" beside their vehicle, or sit on the tailgate of a pick-up truck parked back-wards, while munching down on snacks and drinking sodas.
The kids can be rowdy and play before the movie starts, with watchful eyes keeping them under control.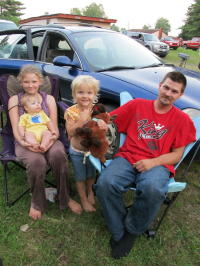 Rick and Lisa Nicholas with grandchildren, Addisyn
and Nicholas Williams enjoy snack bar (left); the
Bauer family from Looneyville WV settle in for movie
Most movie goers said they come a few times every summer, while some said they make an annual visit as a matter of nostalgia.
Calhoun's drive-in is faced with a change in technology, going from movie film to digital projection.
Hopefully, the Bever family will keep it going awhile longer, so another generation can have the memory, someday to be recalled as a snippet of a time past.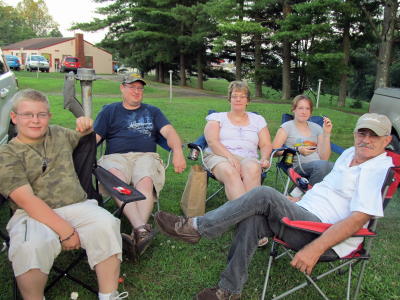 The Hardway family from Harmony says we keep coming back
"It's a great place to bring the family, safe and open."
"We really enjoy sitting with our friends and talking before the movie starts."
"The kids can go to the playground, and you can keep an eye on them."
"We come once or twice a year, just to have the experience."
"Hey, my wife and I leave the kids at home and we come a couple times a month to get away."
"The popcorn always tastes better."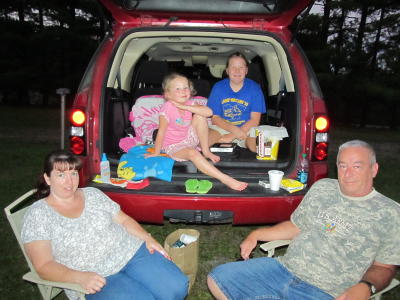 Brown family says, "We come a few times a year"
"We like hanging out at the snack bar, just like we did when we were in high school."
"The boys would nearly always get into a fight in front of the drive-in on Saturday night when I was a kid, but they've calmed down now."
"This place is a real bargain to get out to."
"I brought my wife here when we were dating, and we're still coming."
MT. ZION DRIVE-IN IS 'HAPPY MEMORY' PLACE - Drive-In Opens Friday
WHEN COUNTRY MUSIC STARS CAME TO TOWN - Older Calhouner's Recall Drive-In Days
SUNNY CAL JOURNAL - Country Entertainment "Appearing Live"
SUNNY CAL JOURNAL - Movie Wonderment: Flickers Come To Calhoun
THE ORMA MOVIE HOUSE - Grandpa Jones, T-Texas Tyler And Bill Carlisle, Customers Came Ridin' Horses And Model Ts

SUNNY CAL JOURNAL - Sippin' With Tex Ritter Along The Elk

SUNNY CAL JOURNAL - Whip Wilson, Nyoka The Jungle Girl And Frozen Custard - Memories Of The Kanawha