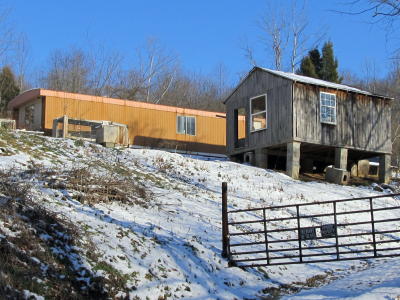 2010
Barrera property near Orma along Rt. 16,
site of alleged dogfighting operation
Visitors from other states may have traveled to Calhoun County to watch dogfights organized by the late Edward Barrera, according to the Times Record-Roane County Reporter.
The Humane Society of the US says dogfights took place in a trailer behind Barrera's house, three miles south of Arnoldsburg.
"I'd say there were a significant number of fights that occurred on that property," said Chris Schindler, of the law enforcement unit of HSUS, indicating there was a substantial amount of blood discovered.
Barrera raised a large number of pit bulls.
The Calhoun County Sheriff's Department arrested neighbor Dwayne Smith, 30, last week charging him felony dogfighting.
It was the first felony arrest for dogfighting in WV since the law was changed in 2006.
Officials said Smith indicated the last dog fight was about two months before Barrera's body was discovered on December 14.
The Times Record-Roane County Reporter says Humane Society officials said they found a slat mill, a treadmill device used for training dogs and hanging scales used to weight dogs before fighting.
Schindler said there were break sticks, small wooden handles forced inside a dogs mouth to break it apart from another dog during fighting. Also large "spring poles" used to help dogs strengthen their jaws.
Inside the fight trailer was carpet, used to help dogs gain traction during a fight, Schindler said the carpet and walls were splattered with blood.
Schindler said he would not be surprised if people from other states attended the fights. "There's a whole network of people involved," he said.
Barrera was apparently involved in dog fighting long before he moved to Calhoun County.
"It was very clear that the now deceased owner of these dogs had longtime ties to organized dog fighting, and Smith was a partner in the dog fighting operation," said Schindler.
Barrera contacted authorities several weeks before he died, reporting a hooded figure broke into his house and stole $800, severely beating Barrera and requiring him to seek medical attention.
Last June, Barrera was arrested in Jackson County with one-and-one-half pounds of marijuana.
The Times Record/Roane County Reporter did a story "A Look Into the World of Dogfighting," in this week's edition.
See related story UPDATED: CALHOUN MAN ARRESTED FOR DOGFIGHTING ACTIVITIES - Hundreds Of Dogs Buried On Barrera Property, 'Can't Count Numbers,' Says Accused, Buried 27 In One Day