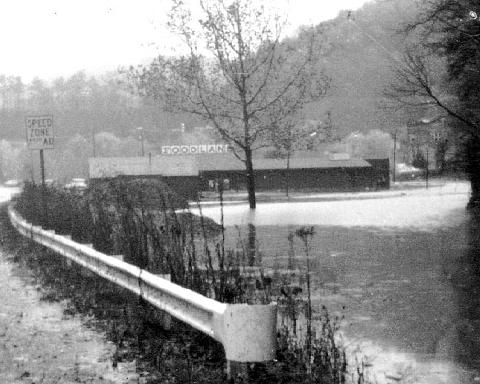 Route 16 South Looking Toward Grantsville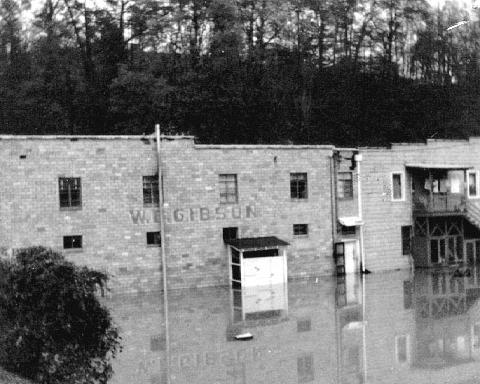 Route 16 South at the edge of Grantsville
(Photos Courtesy of Emory and Saundra Johnson)
On November 3, 1985, the thousand year flood started heading into the Mountain State.
Forty-seven people were killed in the Mountain State. None died in Calhoun County.
In Grantsville, the 1985 crest of 42.87 feet was just shy of the record flood of 1967 at 43.90 feet.
By November 4, three to eight inches of rain fell in less than 24-hours in the headwaters of the Potomac, Greenbrier, and Little Kanawha rivers and even heavier rainfall in the basins of the Cheat, Tygart Valley, and West Fork rivers.
The Cheat and Greenbrier rivers crested at record levels.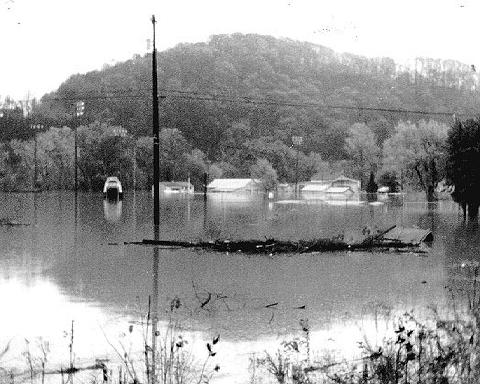 Old Calhoun County High School football field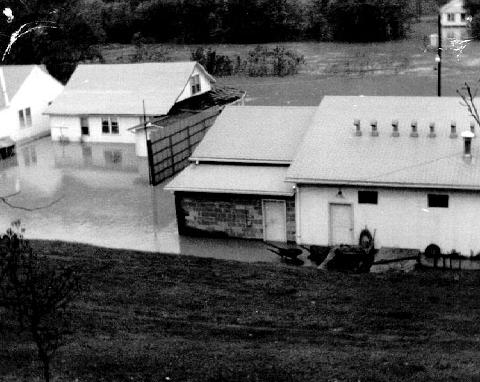 River Street near intersection with
Route 5 West large building is laundromat
(Photos Courtesy of Emory and Saundra Johnson)
Record water heights were also seen on portions of the Tygart Valley, Little Kanawha, and West Fork rivers, and on the North and South Branches of the Potomac.
At Glenville, the Little Kanawha River crested 13 feet above flood stage, about two feet higher than the March 1967 flood.
RECORD CALHOUN FLOODS
(1) 43.90 ft on 03/07/1967
(2) 43.10 ft on 04/17/1939
(3) 42.87 ft on 11/05/1985
(4) 40.34 ft on 03/02/1997
(5) 39.50 ft on 12/15/1949
(5) 39.50 ft on 12/15/1948
(7) 39.47 ft on 02/02/1951
(8) 39.42 ft on 11/20/2003
(9) 38.76 ft on 01/26/1978
(10) 38.73 ft on 02/19/2000