IT'S NOW QUIET ON MURDER MOUNTAIN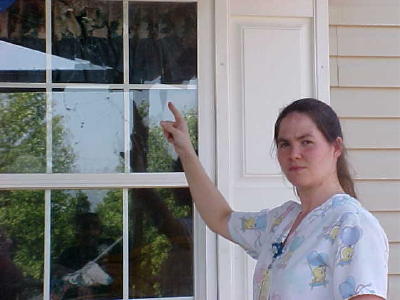 Renee Boyd, significant other of now imprisoned
Tommy Young, Sr. displays bullet holes
in her Murder Mountain home, Boyd dying early at age 39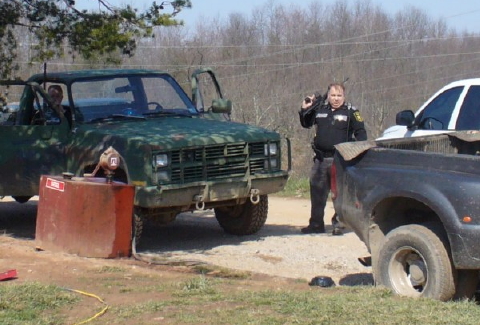 Former "Walking Tall" Clay Sheriff Randy
Holcomb on Murder Mountain investigating a
field of stolen equipment from three states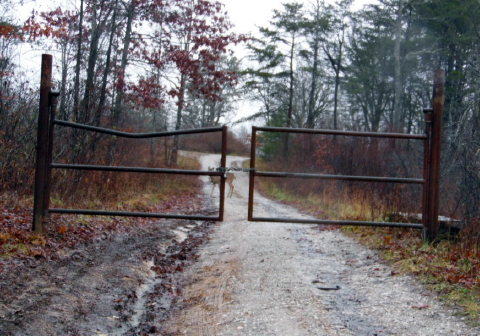 A locked gate now blocks access to Murder
Mountain, scene of mayhem starting a decade ago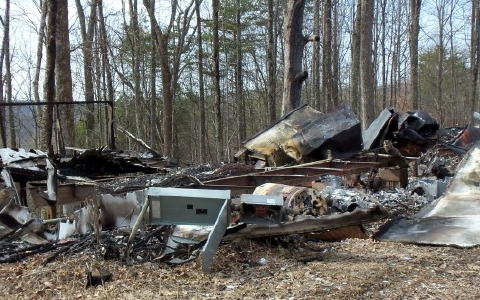 Remaining on Murder Mountain, burned houses
and falling down structures of former residents
By Bob Weaver
We returned to Ovapa, Clay County for a re-visit to Murder Mountain, a remote area plagued with violence, death, criminal activity and mayhem, much of which started over a decade ago.
Covering the Murder Mountain story, linked to several murders, we encountered some dangerous people, some with guns.
The individuals and their extended families who violently turned on each other over drug activity, at times firing thousands of rounds of ammo at each other, are gone, some in jail and several dead.
A locked gate now blocks access to the ridge road, with nearly all the participants houses burned or falling to the ground, deer wandering across the road with the peaceful quietness of West Virginia mountains.
Thirty-nine-year old Renee Boyd, the significant other of Tommy Young, Sr., was caught in the 2004 cross-fire of guns and criminal activity with her children, died in 2010 from cancer.
Young is now incarcerated for his part in a multi-state theft ring, with his sons Tommy E. Young, Jr. and Jacob D. Young, with Tommy Young, Jr. recently released.
Three of Renee's four daughters and a grandchild were placed in foster care during those years.
Despite a difficult life, the Clay Communicator reported that, "Renee was 100% mother, always taking up for her kids," her children neatly kept.
During our reporting visits to Murder Mountain, Renee was graciously open about the tragic events taking place, welcoming me into her bullet-ridden home.
The "Murder Mountain" phrase, coined by Clay Communicator publisher Andy Waddell and myself, has evolved into a fictionalized account and film regarding the events.
Hundreds of rounds of bullets had been expelled on the mountain just before our arrival, and several of the principals had been wounded.
Clay Communicator publisher Andy Waddell was in our car with other locals during a visit.
A few tense moments happened when our vehicle was turning around at the end of the mountain road, when we spotted a fast approaching car, raising a huge cloud of dust.
Fearful of gunfire, we prepared to hunker on the floor board, but it was Renee Boyd, accompanied by her cousin who had a head wound from gunfire. It was then she invited us to her home.
She fully understood my role and I told her if she objected to my presence, I would gladly remove myself.
The house had lots of guns, including one resting with her son Jacob, who was 12 at the time.
Her young daughters took me by the hand to show me bullet holes that penetrated their bedroom wall and had broken a commode in a nearby bathroom.
Perhaps Renee's biggest concern was the conflict between her companion Young and her brother Richard Cummings, both handy at shooting weapons with extensive criminal records.
Renee was the person who said her brother, Richard Cummings, allegedly said regarding the disappearance of Christian Dawn Starcher Seabolt, she was "ground up into bitch burgers."
That turned out to be incorrect.
The woman's body was found years later near Creston, her murder yet to be solved.
Cummings was connected to the murder of Judson Reid in Roane County at the "Tattoo" Vince Gosolow property, Reid's body being dumped on Pisgah Ridge, a mountain above the town of Clay.
Gosolow is now in prison for the murder.
Coming off Murder Mountain a decade ago, police stopped us at a road block at the bottom of the mountain, inquiring why we were there.
Andy Waddell said, "Just doing our thing." The officers shook their heads and motioned us to go ahead.
Here are a few stories related to the tragic events on Murder Mountain:
"ALL HELL BROKE LOSE AGAIN" ON MURDER MOUNTAIN - Tommy Young, Sr. Reportedly Shot
ROANE MURDER VICTIM WILL HAVE FUNERAL - Officials Yet To Confirm Identity, Clay County Drug Problems Swirling
  "IT IS A WAR ZONE" - "They Are Getting Even" On Murder Mountain
CUMMINGS FOUND NOT GUILTY IN YOUNG SHOOTING - Peace On Murder Mountain?
MURDER MOUNTAIN RESIDENTS SUE "UNRESPONSIVE" OFFICIALS
MURDER MOUNTAIN SHOOTERS FAIRING WELL
THEY GROUND HER UP - Clay Woman Makes Accusation
CRESTON REMAINS IDENTIFIED AS MISSING SPENCER WOMAN - Christian Dawn Starcher Seabolt Disappeared In 2002