By Bob Weaver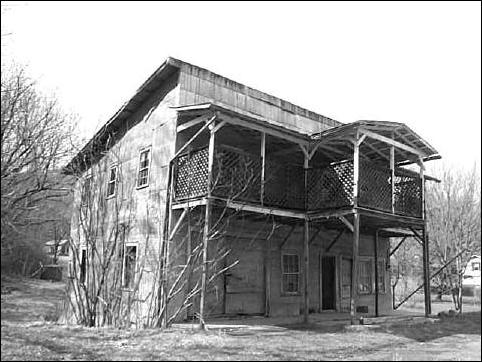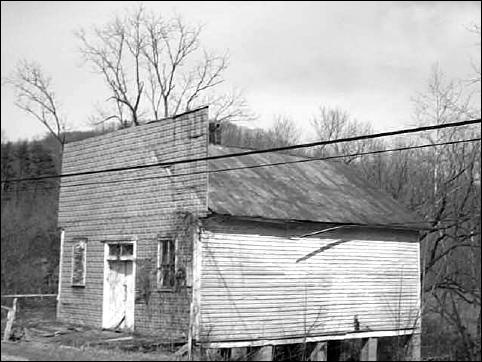 We displayed a couple of pictures of old store buildings at Orma, and had some interesting e-mails and calls regarding olden days in the village. Thurl and Betty Metz, who still live close by, operated a store in Orma for 18 years, starting in the two-story store building in 1951 (pictured) and later moved to the smaller building (pictured) next to the West Fork.
"It was a much bigger building then, and was used for Precinct 19 voting," she said. Thurl and Betty later moved slightly north on Route 16 and operated the Miller and Metz store and Betty was the Orma postmistress for 29 years.
The Orma post office was named after Orma Stalnaker in 1905, but was originally called Rilla. Rilla was a "boom town" with 300 residents, but by mid-century in the 1900's only 30 people remained.
Now, the Orma Post Office has been closed.
Starting in 1890, the village had a restaurant, meat market, a barber, a baker, a saloon, a music teacher, a carpenter, a blacksmith, a pipe company, a lumber company, a stone cutter, a general store, a hotel, two coopers, and two physicians.
They even had their own newspaper "The Rilla Signal." It would be great to discover a copy of the publication. Does anyone have a copy?
Otis and Carrie Conley owned most of the business property along the highway, including the Orma Theatre, which Ms. Conley and her sons, Paul and Gary operated during the early 1930s-1940s.
They were both teachers, but Paul later entered the Methodist ministry. Her daughter Ruby married Olin Hill, both Calhoun educators.
I met Carrie Conley (1889-1984) while a student at Calhoun High School. Being fascinated with electronic devices, radio and machines, with the help of my friend Ronzil Lynch, we managed to re-open the musty Orma Theatre in the summer of 1957.
The movie screen was gone, but we hung a sheet and borrowed two 16 mm movie projectors. We never made a dime, but with the help of Ms. Conley who sold tickets, we showed the movies and folks up and down the West Fork came.
Otis and Carrie Bennington Conley moved from Uler, Roane County to Orma in 1918 to the Bennington property, where they spent their lives.
Duane Poling says his grandfather Albert Poling had a store in the smaller building (shown above) at one time. (Collapsed in 2012)
Wanda Dailey wrote her uncle Sheridan Brown had "a store in the big building" about 1944-45. "There was an old school behind the store, up the holler. I think it is still standing. My mother Orma Siers Criss went to school there.
Sheridan Brown was married to my mom's sister, Ruth. They had three girls, Betty, Carolyn and Sandra."
"They later had Jonnie and Richard. We use to play under the old theater building and find change people dropped down the cracks of the porch."
"They also had live bands and country musicians at the theater," she concluded.
In 2012, the biggest Orma news is the proposed closing of the post office, which happened.
The oldest landmarks still standing, the Orma Methodist Church and the Orma School, situated in a hollow behind the old Conley/Bennington place, now used for a barn.
A number of early photos of Orma are on the Herald, including store buildings and the old movie house.
See also
ORMA NEWS: 1933 - Orma Wants Consolidated School, New Road Coming Up Fork, Young Men Leaving
ORMA CHURCH CELEBRATES 200TH ANNIVERSARY - 'Christian Saints Kept It Going'
SUNNY CAL JOURNAL - Country Entertainment "Appearing Live"
THE MAN OF MANY VERSES TURNS 80 - Calhoun Poet Clings To His Roots
CIVIL WAR VET ISSAC NEWELL GETS HIS MONUMENT
ROMNEY SCHOOL FOR DEAF AND BLIND CELEBRATES 140 - Calhoun's Selden Brannon, Overcoming, Achieving And Serving
TUBE CHECK PARSONS PICKS "HERE RATTLER HERE" - "Calhoun Musicians Don't Get Their Due"
A COMMUNITY GATHERING ON BEAR RUN - Early Photo Needs Identification