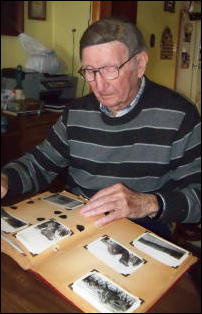 Arnoldsburg resident Paul Fleming visits his WWII
scrapbook 65 years after the great world war ended
(Right) The former Orma sharpshooter takes a break in Algiers
By Bob Weaver 2010
"Lots of times life looked short," said Arnoldsburg resident Paul Fleming, recalling his life as a soldier during World War II.
A 20-year-old country boy from Orma had already gotten a job with Ford Motor Company in 1941 when he was drafted into the Army, little knowing he would spend the next four years fighting Hitler and his allies.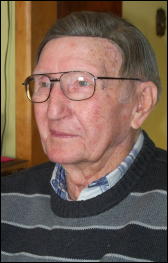 Fleming was in "the war to end all wars," involving most of the world's nations and over 100 million soldiers. America placed its very existence on the line, fighting both Germany and Japan on two fronts.
Over seventy million people, the majority civilians, were killed, making it the deadliest conflict in human history.
Hundreds of Calhoun men and women served in the conflict.
Sgt. Fleming, a mechanic, traveled by boat to Algiers, recalling his memory of the Rock of Gibraltar. He spent most of his time with the 62nd Signal battalion, "tracking the enemy," with few days going by without engagement, often being attacked from the air with bombs and bullets.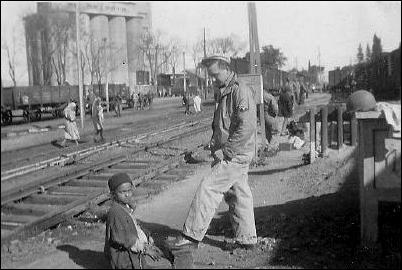 Fleming gets a shoeshine in Algeria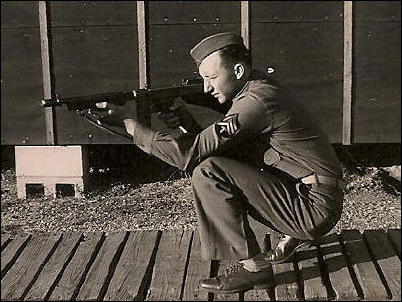 Fleming earning his sharpshooter status
"America made every effort to return their war dead to our soil, but the Germans buried their soldiers where they fell, erecting crosses with the Nazi emblem," said Fleming.
"We dug lots of trenches to stay secure. Like all soldiers, you're bond grows tight as the days come and go, looking out for each other."
Fleming said, "Someone had gotten a cheap camera at Orma and I took it with me," after which he and a military buddy acquired rolls of film from local stores to keep "shooting the war."
He sent the photos home to his new bride, Glenna, who carefully placed them in a scrapbook.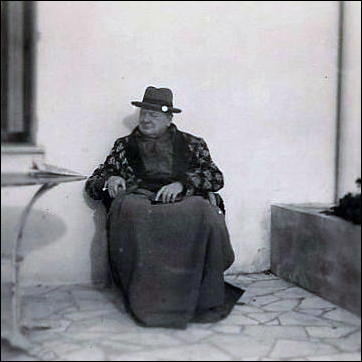 Winston Churchill photo, taken by a young Paul Fleming
Leafing through the scrapbook, there was a whole page of small photos of Winston Churchill taken by Fleming, while Churchill was visiting the front.
Later in the war, Fleming and his outfit went to Italy shortly after Mussolini was hung. It was there Fleming received a piece of shrapnel that lodged against his spine.
Fleming said, "The doctor said if it moves in one direction, you'll be fine. If if moves in the other direction, well you have a lot to worry about. It went in the right direction."
"I really believe the Lord was looking after me all the way through," Fleming concluded.
Fleming's 90 birthday will be celebrated Saturday (Feb. 27) at the Arnoldsburg Community Building.
(Fleming is now deceased)
CAPTURED GERMANS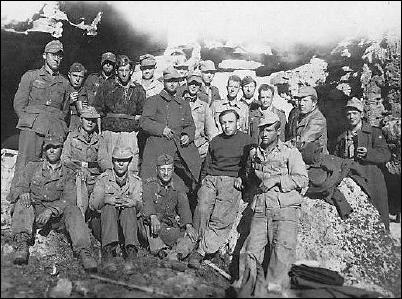 Surrendered Germans just coming out
of foxhole (Photo snapped by Fleming)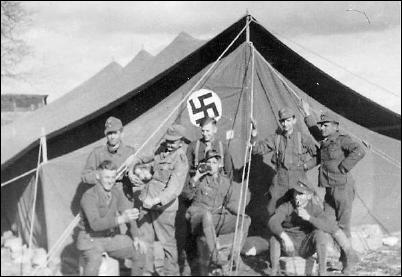 German prisoners, sometime later -"They weren't any
happier about this war than our guys," said Fleming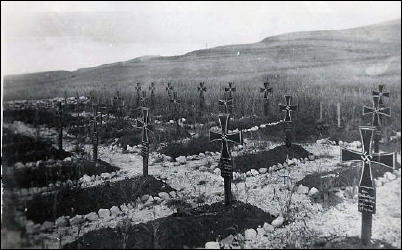 "Germans buried their war dead where they fell," Fleming said,
"While the US made every effort to bring their war dead home"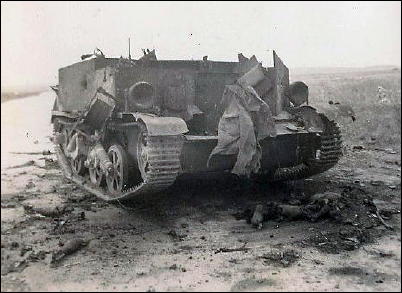 A destroyed tank with dead German soldier
THE FLEMING FAMILY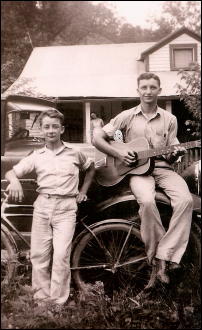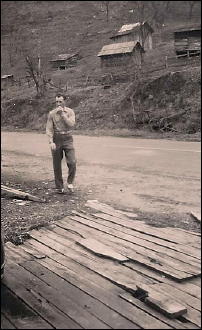 Left - Paul Fleming (with guitar) and brother John at
Orma before the war, about 1936, beside a 1927 Essex;
Right- Paul on leave visiting Glenna at Orma, Rt. 16
at the location of the former Arnold and Alfred store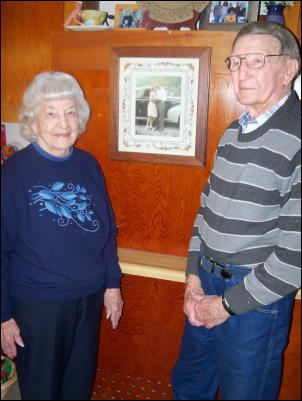 Paul and Glenna Fleming at their Arnoldsburg home in 2010
Paul has been married to Glenna Stalnaker Fleming for almost 70 years. They have three children, Ron (Pam) Fleming of Walker, WV; Sue Johnson of Greensboro, NC, and Cheryl (John) McKinney of Glenville, WV, also three grandchildren, six great grandchildren and one great-great grandchild.
Paul is the son of the late Guy and Mona Fleming of Orma. He worked in the automotive industry and was an independent oil and gas producer, and is retired from the Calhoun County School System. He enjoys his lifetime hobby of traditional country music.
Glenna is the daughter of the late Fenton and Opal Stalnaker of Orma. She is a graduate of Glenville State College and is retired from the Calhoun County School System where she served 34 years as a teacher and principal. She remains active in numerous civic and community organizations.
Paul will celebrate his 90th birthday on February 26. His family will host an open house Saturday, February 27 at the Arnoldsburg Community Building.
Friends and family are welcome to stop by between the hours of 1 and 3 p.m. to wish him a happy birthday. No gifts please.
If you're unable to attend, Paul would enjoy receiving a card at 63 Altizer Road, Arnoldsburg, WV 25234.
NOTE: Paul and Glenna Fleming are now deceased.