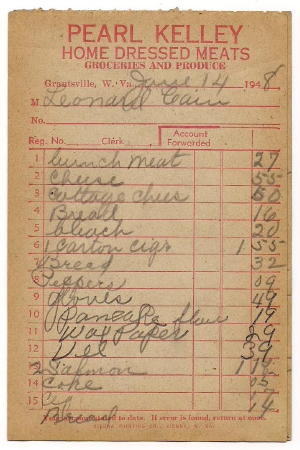 1948 store bill, Pearl Kelley's Main Street store, bread
was 16 cents a loaf and a carton of cigarettes was $1.55
Tom and Dick Ullum, while going through some old papers belonging to their grandfather, Leonard Cain, discovered this 1948 store bill.
Pearl Kelley, whose general store was on Main Street through the 1950s, was known for meat cut up in the back room and fresh fish, caught by Pearl from the Little Kanawha.
Pearl was said to keep a small supply of spirits for a thirsty tongue, but is best remembered for her generosity to the poor and people down on their luck.
She turned few away, often issuing credit.
Calhouner Denver Roberts recalls a sign in Pearl's store:
"I order my goods COD, Pay my bills PDQ, And can't use your IOU."
While Pearl had her generous streak, she tried to get her customers to pay.
If readers have stories or remembrances of Pearl Kelley, we'd like to hear from you.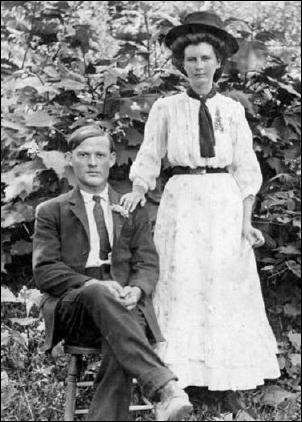 George and Pearl Kelley About 1925
(Photo from Morris Bower Collection)