CRESTON, AT THE JUNCTURE OF THE WEST FORK AND THE LITTLE KANAWHA RIVER, THRIVING ON THE LONG-GONE RIVERBOAT TRAFFIC, WAS ONCE A BUSY VILLAGE WITH STORES, HOTELS AND CONVENIENCES, NOW FADED INTO THE HISTORY BOOKS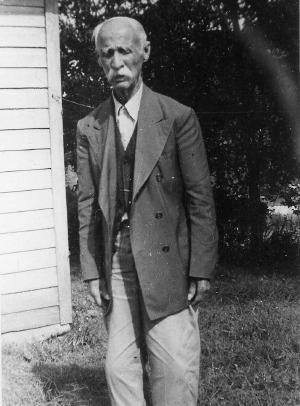 Dr. D. S. Stewart was remembered at the Creston
Homecoming for his 66 year service to the community
By Bob Weaver
A Creston doctor who tended the medical needs of the now faded river community for 66 years was honored at the Creston Community Homecoming a few years back
Dr. D. S. Stewart, came to Creston in the early 1880's, having graduated from the University of Louisville School of Medicine in 1884.
The diminutive Stewart, who lived to be 105, filled the stereotypical role of a country doctor, traveling up and down the hills and hollows of Wirt, Calhoun and Roane counties on horseback, sometimes days at a time with little sleep.
Married to Emma Robey, they had eight children.
Dr. Stewart was one of several Creston residents who engaged in the undertaking business, in addition to having his medical office and drug store attached to the historic Creston General Store.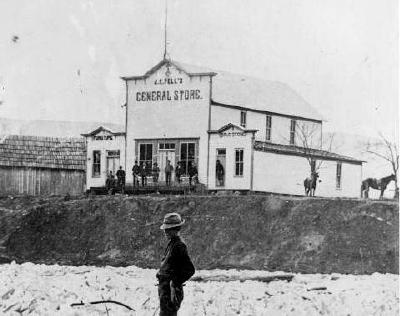 Dr. Stewart's medical office and drug store was to the right of Creston General Store, at the opposite end was the undertaking company
Creston historian Alvin Engelke said "I guess Doc could get them coming or going."
Retiring at the age of 90, Dr. Stewart was said to have worn out five horses and delivered 2,028 babies.
He grew up in Reedy, Roane County, telling a reporter he always wanted to be a doctor. He saved money to attend medical school, after "first studying under three doctors, and practicing a bit helping them, sometimes by myself."
The certification of physicians was rather broad at the time, with some being self-proclaimed or attending a medical course lasting a few weeks.
"I wasn't satisfied with that," said Dr. Stewart, who actually attended and graduated from a medical university.
In 1883 he got into trouble with a federal agent who came up the river to Creston, charging him with the sale of illegal liquor.
Dr. Stewart, throughout his practice, is said to have kept and dispensed such spirits to the community.
In a letter to his wife in 1883, apparently on his way to a federal hearing in Clarksburg, he consoled her not to worry about his arrest, so she would "not have any fears about my case." saying he had a license to dispense spirits.
Dr. Stewart was not much for accumulating wealth, living on a $28 relief check the last years of his life, following a lifetime of "never refusing anyone who needed help."
An early newspaper article said Dr. Stewart was "like an angel moving among the stricken," through many epidemics.
After traveling in an open car to cut the dedication ribbon at a new $400,000 Elizabeth bridge in 1949, Stewart fell ill and died.
Dr. Stewart was buried at the DePue Cemetery in a homemade coffin of poplar, described by Mrs. Massie Ewing as having the inside adorned with "white organdy and lace with ruffles around the edge, the outside covered by black satin.
While sitting on the porch of the Creston Store, telling stories of his life, he was known to climb into his coffin and try it on.
Dr. Stewart's legendary life is one of many stories connected to the once thriving Little Kanawha River village.
1883 Letter Dr. Stewart sent to his wife from a Parkersburg hotel,
after being arrested for selling liquor (Courtesy Alvin Engelke)