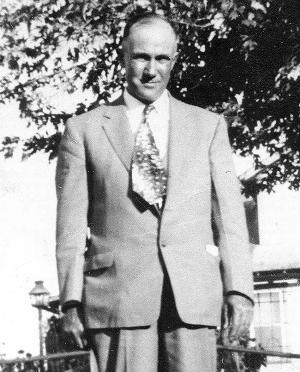 Hur resident Ruby Smith (above) was not expected to survive a Calhoun gas explosion, according to a news account appearing in 1927.
Smith was seriously injured when a casing head blew off a well, hurling him at least 50 feet. He received a fractured skull and serious injuries about his face and head.
It was felt he might lose vision in one eye. He did not, and went on to live a full life.
The two-person crew had gone to the Jessie Davis well to do some repairing, (also named No. 6358 Elliott, Calhoun District) about one mile above Grantsville on the Little Kanawha River.
The well had been shut-in by a winter freeze and had collected about 1200 lbs. of pressure when Floyd Duskey opened the throttle at the drip to release pressure.
Immediately, the head blew loose.
A boat was rushed to the scene from the Hope office in Grantsville, being the days of river transportation.
Floyd Duskey, who was also slightly injured, received treatment from a physician at the main office. Smith was then taken to a Parkersburg hospital by riverboat.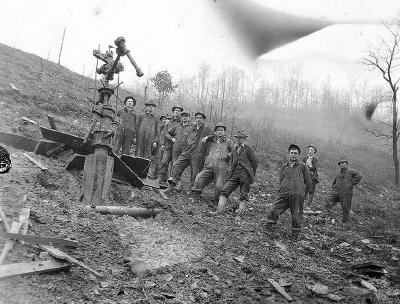 Hope employees at accident scene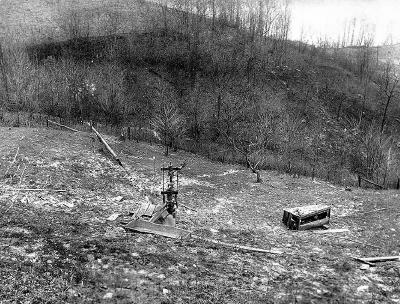 Debris scattered over a large area
Ruby Smith was the son of Amos Smith of Hur, he married Ona Roberts in 1921.
They had a large number of children, including sons, Aden, Denzil, Donald, Dale, Frank, Glendle; daughters, Freda Lakocy, Eulah Allen, Bonnie Bird, Betty Fram and Beulah Hayes.
Smith went on to be a long time employee of Hope Gas, usually working as a meter reader, walking from well to well in the backwoods of the greater Hur area to read and change charts.