Fred O. Barnes Died In 1999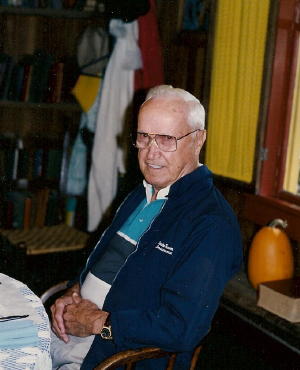 "Nobody gave a greeting like Fred Barnes," a tribute given at his death, a man who inspired a generation of Calhoun students.
By Bob Weaver 2009
When former Calhoun County High School grads return for their annual reunion, during presentations about their school days or in private conversations, biology teacher Fred Barnes is frequently remembered.
At a homecoming, the late David Hathaway, class of 1959, recalled Barnes' flower and twig trips on the Joker Ridge, and his insatiable desire to teach his students about life on earth.
His class was a magnanimous workshop of discovery, blackboard scribbling, note-taking, scrapbook collecting from everything about the human body to dissection of living things.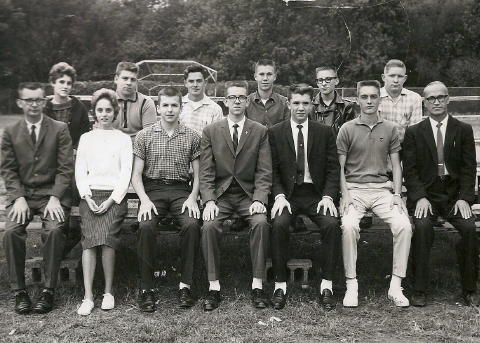 One of hundreds of Calhoun County High School yearbook photos with his protegees, Barnes (far right), science teacher Bernard McKown (far left)
It is unlikely Barnes would be able to function with todays scripted teaching modules.
Years ago, we wrote about Barnes passion, calling his style "You can't sit still, there's too much too learn, and besides, it's an adventure."
A generation of CCHS students, covering nearly 40 years, were challenged by Barnes' boundless energy to inspire and teach.
Daughter, the late Ann Barnes Smith, also deceased, said, "I believe he brought out the best in students, with his wonderment of life."
Smith says he played no favorites, and was aware of each students challenges.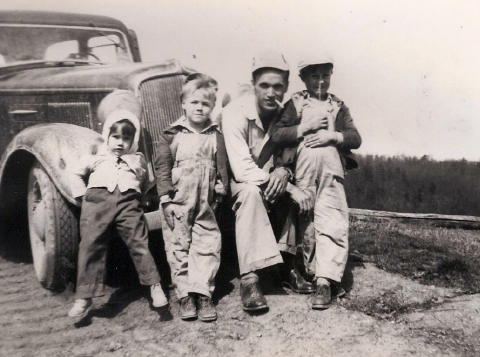 Fred with his fledgling family in the Village of Joker, photo in the 1940s
(L to R) daughter Ann, the late Dr. Bill Barnes, Fred and son Dick
"You couldn't hide in the back of the room," she said, "I think he made his students into stars."
It was difficult to be a slacker. Sidney Underwood, in his column, said he gave up being a slacker.
Barnes was a story-teller, short to-the-point stories that etched in the minds of his students, from his World War II experiences to finding a rare plant on a Calhoun hillside.
Barnes was among hundreds of Calhoun men who marched off to World War II, serving in the 88th Blue Devil Division in Italy and Africa, and engaging in three major campaigns for which he was awarded the Bronze Star.
Perhaps the most appealing yet tragic part of Barnes' life was his devoted love for his wife of 63 years. "Toots" and Fred were inseparable, both passionately connected to their family, neighbors and community.
Two months after her death, and a year following the untimely death of his son, Dr. Bill Barnes, he took his life, seeking relief from what Ann Barnes Smith called "deep depression."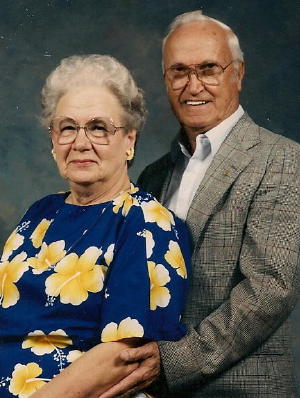 Fred and his beloved wife "Toots" Gainer Barnes
When Barnes died, the Herald received dozens and dozens of e-mails and phone calls regarding his life, all offering tributes.
Perhaps the most inspiring was from now retired Calhoun science teacher Marvin Stemple.
"Sadness has entered our household. We, Peggy and I have lost a friend, a mentor, and a fellow teacher. Mr. Barnes was part of our life for nearly 50 years," Stemple wrote.
"He took a shy, introverted, young person with a severe stuttering problem and started to work. He pushed, threatened, cajoled, and yes, praised a cowardly, confidence lacking young man to his feet.
"Mr. Barnes permitted me to grow as a human being and to have confidence in my own abilities. Yes, I became a science teacher. Perhaps, this next spring with its wild flowers and tree frogs, we shall again remember Podaphyllum peltatum or Hyla crucifer, and say 'Mr. Barnes taught us this in biology'."
Another comment, "I hurt over the death of this chipper and inspiring man, but I will, not unlike his family, cling to my memory for what he did for me."