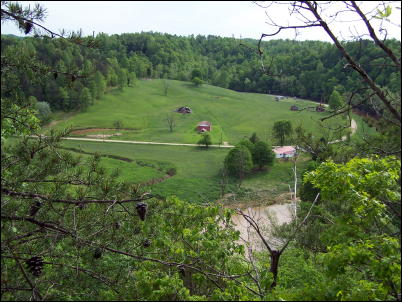 Where once stood the bustling Village of Richardson, there is a grassy
field with a few dotted remnants of the faded community (Hur Herald 2009)
By Bob Weaver
Contributed Photos Randall Whytsell/Elva Duskey Moore
Richardson was a center of commerce in the late 1800s, reaching its' apex in the early 1900s with an oil and gas boom.
It was the place to which my grandmother Mary Virginia Riggs McCoy rode her horse to shop when she married in 1895, traveling the six miles from the Village of Hur.
It was a place to which medical help was sought for her mother-in-law Rebecca Burdette McCoy, who developed consumption in 1880, dying.
It is a place I frequently visit, not for what it now is, but for what it once was.
Located along the lower West Fork of the Little Kanawha, it was founded by Charles H. Richardson, a native of Watertown, Massachusetts.
Richardson came to Calhoun is 1866, commencing a general mercantile and milling business and introducing the celebrated Holstein breed of cattle. He was the village's first postmaster in 1873.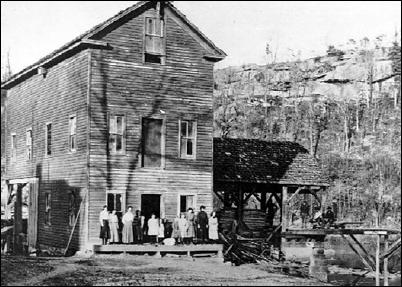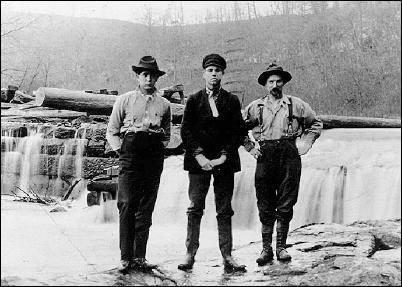 The old mill was the village's landmark structure, with
its adjacent dam across the West Fork of the Little Kanawha
Perhaps its' best known landmark was the Richardson Dam and Mill, the building a large three-story structure which served as a store, grist and saw mill.
A specially built paddle boat with steel spikes on the paddle (to pull over sand bars) was used to bring goods and oil and gas field supplies up the West Fork to the village and beyond.
The village had hotels, general stores, physicians offices (Dr. Ira Connolly), a shoemaker, barber shop, drug store, and a blacksmith, in addition to the Methodist Protestant Church and the nearby Pine Grove School on the Husk. It once had a large gas compressor station years later.
Early 1900 long-view of a section of the
village, note ballplayers in rear of photo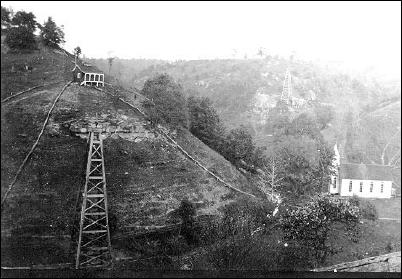 Steam boiler house on hillside piped steam to
drive drilling rigs and heat houses, early 1900, note Richardson Church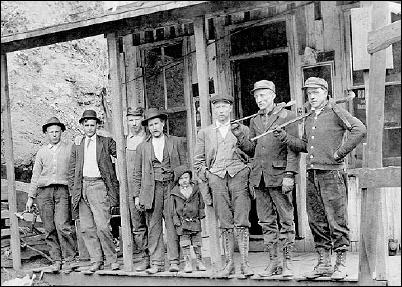 Workers gather on porch at Duskey Store before heading out
McConaughey, Bee, and Company, C. H. Richardson Company (founder of village), James Duskey (son of Civil War Daniel Duskey) and B. Stennett, were early businessmen.
German immigrants, like the Kemner family, came early to settle in the village. The drilling boom used steam boilers to drive engines. A large boiler house fed steam lines which extended great distances around the hills and valleys. The steam was also used to heat houses.
During later years, it was the site of a large gas compressor station with company houses for the workers.
A few of its' prominent citizens repose in the Bee Cemetery, overlooking the now empty green fields.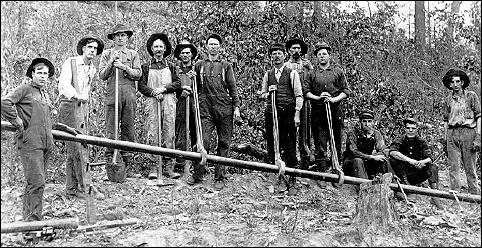 Early oil and gas field workers
circa 1900, several German immigrants
A long view of the village circa 1900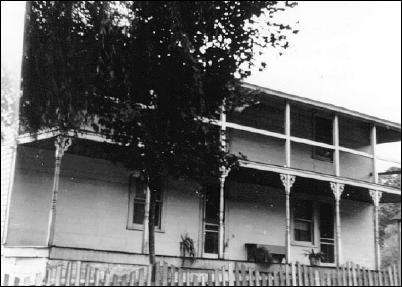 Bee Hotel housed visitors to the village
ELVA DUSKEY WILSON DEAD AT 96 - Last Surviving Grandchild Of Moccasin Ranger Daniel Duskey
RICHARDSON-PHOTOS OF WHAT ONCE WAS
A FLAG NOW FLIES OVER LONG-GONE RICHARDSON
OLD NEWS FROM RICHARDSON
1894 - Sherman Bee and his brother got badly if not fatally cut.
A few miles below Richardson, near the residence of "Prophet" Greathouse in the edge of Roane county.
At a dance Sherman Bee got into a quarrel with two men by the name of Greathouse, said to be sons of the "Prophet." A fight ensued which resulted in Sherman Bee being "literally cut to pieces."
The supposition is that both men had used knives on him, as a number of bad gashes were cut about his face and head, and one in the abdomen which is thought to be fatal.
Bee's younger brother was present and interfered and was also badly but not fatally cut. Dr. Connolly of Richardson, was summoned and was upon the scene, and at the time our reporter left, a messenger had been sent to Burning Springs for Dr. Mitchell.
We understand the parties to the affray are under arrest and will be held by the Roane county authorities to await developments.
1895 - Tom and Sarah Towsan were brought to town by special constables Lynch and Greathouse last Thursday evening and lodged in jail on a commitment from I.B. Starcher of Richardson.
Tom was committed for thirty days with a provisio that if the fine and costs were not paid by that time he should have ten additional days to linger in the cooler and think on his ways, and by that time there will be but few melons or vines left for him to steal or destroy.
Our information is that melon stealing and vine destroying, coupled with his general reputation for being a worthless wag, is what he was sent up for.
Sarah got ten days for adultery. We are informed by Jailer Blackshere that the girl claims she is innocent of the charge, and complains because the man with whom she was caught was not sent up also. In short it sounds like this: "I'm not gilty of nothin and tha node the man as well as tha node me."
1897 - A horrible death has been reported at Richardson. A Mrs. Tanner went to bed taking with her her twin babies, aged about two weeks.
Being in rather delicate health and having lost considerable sleep, she slept very soundly.
On awaking she found one of the babies dead, having been killed by rats during the night. The rats had eaten the nose and one cheek off and one eye out, besides otherwise horribly mutilating the child.
1897 - Jim Price of near Altizer, was drowned in the West Fork at Richardson. The manner of his drowning was substantially as follows: He with two other men were running a raft of square timber out of the creek and passed over the Richardson dam all right, and as is usual in running timber in that stream the raft went bow formost against the bank below in what is known as a whirlpool, to get out of which is generally necessary to swing the raft.
This, it seemed, Mr. Price attempted to do, but the raft being too long for the width of the creek the upper end caught the shore on the opposite side of the creek and it then began to sink in the middle and the waves lashed across it.
It seems that he had his coat laying on the raft and he ran to pick it up, but about the time he reached the coat his foot slipped and he fell almost down and the waves caught him in the face and swept him off below the raft.
He not being able to swim, only struggled with the water a distance of about 100 yards, once getting near enough the shore to reach a willow twig which broke.
Several men were on the opposite side of the creek, but were powerless to render any assistance.
It is said that one man was on the bank near him and could have saved his life by handing him a pole or anything, but made no effort to do so.
At the present writing his body has not been found. Mr. Price was an honest, hard working man, and his sudden and untimely death casts a sudden gloom over his family and the community in which he lived.
1898 -A sad accident reported, Richardson attorney Thomas Hickle, was cleaning a Winchester rifle which accidentally discharged killing his little boy instantly.
"Mr. Hickle is a very affectionate father and is almost demented with grief since the unfortunate accident," reported the paper.
1909 - A knifing at Rocksdale results in death. A rowdy dance at the home of one Dick Church near Rocksdale, Job Ward sometimes known as Job Starcher, was stabbed and fatally wounded, death resulting from the wound.
Some five or six of the participants were arrested and tried before Squire Gough at Richardson and fined $5 for disorderly conduct and discharged.
There are several versions of the affair, one of the most credited being as follows: A drunken fight started while the dance was in progress several parties taking part in it. When the fight was over Ward was left lying at the roadside with a severe knife wound in his abdomen, the crowd participating in it, not taking the trouble to ascertain the extended his injuries, cursed him and left him alone in the night, wounded unto death.
He regained consciousness after a while and crawled a long ways to the home of Al Stump, where medical aid was summoned and everything possible was done for him but it was already too late.
The man who did the cutting, Howard Lang, by name, has departed for parts unknown. A very bad state of affairs exist in that neighborhood and it is hoped that sufficient punishment may be meted out to the guilty parties to teach them a lesson.
1921 - Dr. Commodore Connolly of Richardson, one of the county's best known physicians and best liked men, underwent an operation in St. Joseph's hospital in which his right leg was amputated at the knee.
Dr. Connolly was stricken with rheumatism several months ago and his condition soon became serious. He suffered greatly with the disease, his right leg being terribly drawn out of shape.
The doctor is getting along very well now and will be able to return home in due time. His many friends in all sections of the county will regret to hear of his misfortune, but will be thankful that his life is spared.