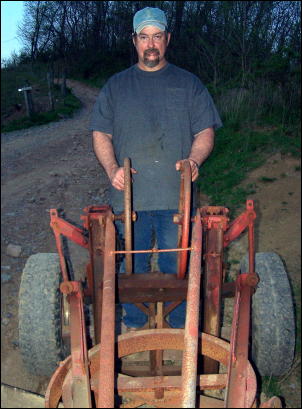 Jack Carpenter demonstrates his brother
George's, J. D. Adams "Road Patrol" grader
2008
Orma resident George Carpenter, who lives off the main highway on what folks call an "unimproved road," purchased an antique horse drawn grader.
Carpenter now uses a tractor or ATV to pull the grader over his dirt road.
The grader is similar to those used on early Calhoun roads.
The Road Patrol grader was built by the J.D. Adams & Company of Indianapolis in the early 1900's.
J.D. Adams is credited with inventing the first successful leaning-wheel pull grader in 1885.