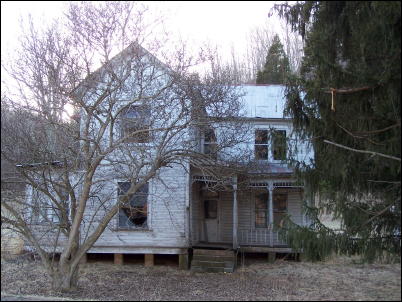 The old Minnora Knotts Proudfoot house is on its'
last legs, crumbling into history, in later years
the house was occupied by the Homer Witt family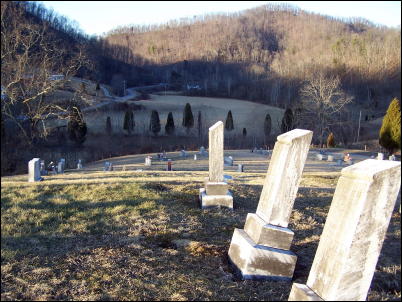 Many of the Knotts family rest on the hill in the Prudence Chapel
Cemetery, above the house, view down the West Fork, Rt. 16
By Bob Weaver
The Minnora Knotts Proudfoot house along Rt. 16 at Minnora is crumbling to the earth, once home to the daughter of one of Calhoun's famous early citizens, Captain Abasolom Knotts.
What tales it could tell, if only the voice of the grand lady could be heard, recalling Civil War stories and reflecting on early life in Calhoun County.
Minnora Knotts Proudfoot died in 1958 at the age of 103.
The nearby village of Township Hall was re-named at least a hundred years ago, changed to honor the young Minnora.
Her 1934 account brings to life the Minnora community well over 100 years ago.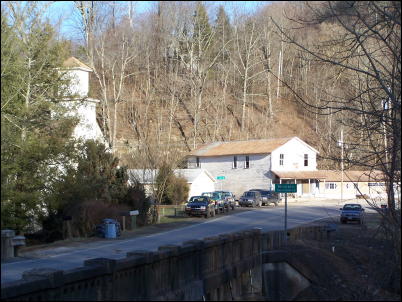 The Village of Minnora 2009, formerly Township Hall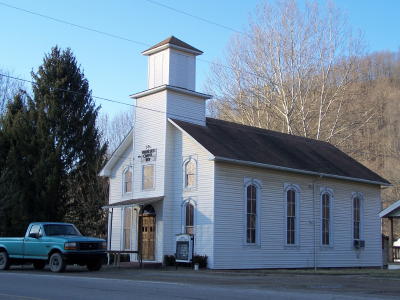 Prudence Chapel Church is still holding services after 118 years
See ... LIFE THROUGH THE CIVIL WAR - "We Saved Our Cat And Mother's Side Saddle"
and ...  PATHS OF GLORY LEAD BUT TO THE GRAVE - Ms. Prudence's Burial Ground Of Calhoun Pioneers