JENNINGS FAMILY SETTLED ON CRUMMIES CREEK
By Bob Weaver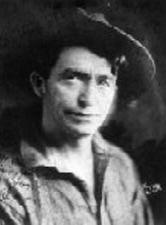 Alphonso J. "Al" Jennings, a famous western folk figure, cowboy, lawyer, gunslinger, train robber, jailbird, evangelist, politician, author, and Hollywood movie subject, likely graced the Calhoun hills on Crummies Creek in the late 1890s.
His father, a medical doctor and several siblings, according to a 1924 story in Roane County's Times-Record, came to Calhoun after purchasing 1000 acres of timber land.
The elder Jennings reportedly purchased the timber land from Samuel Hays, who had moved to Parkersburg. They settled two miles above Arnoldsburg on "Crummis Creek," with the intent of removing the timber, which never happened.
Six members of the family resided on the creek, Dr. Jennings and five children, including a daughter and four sons, including one "Al Jennings," who is likely the legendary western "hero."
The family "appeared in this section (Calhoun County) about 1899 in a mysterious manner and took their departure the same way," according to the newspaper account.
"People looked with suspicion on the moving of such a family into this rural community. They were very sporty and well-dressed, and seemed to have plenty of money."
The Jennings boys organized an accomplished musical band, furnishing their own wind instruments and even started a baseball team at Arnoldsburg.
The boys were quite popular, but rarely disclosed information about their past. "They always stuck together, even doing their courting," with very smooth manners.
The family always carried guns, which was not against the law. "They were great fighters, being mixed up in all sorts of brawls, usually coming out on top."
One Calhoun man, according to the account, said on one occasion he saw the Jennings boys pointing a pistol at Arnoldsburg resident Joesph Lambert, made him retract some uncomplimentary remarks he made about their father.
The Jennings family suddenly sold their 1000 acres to Lycurgus Offutt, moving to the Spencer area for a short time, and then leaving for parts unknown.
The 1924 newspaper account says "The next time Al was heard from was as a famous bandit," but the reference is likely to the elder Jennings' son, both having the same name.
The same account says a Jennings was summoned to Washington as a witness in the Teapot Dome scandal over leased oil lands. Whether it was the elder or younger Jennings is unclear.
Jennings apparently gave hearsay testimony related to the famous scandal, and his testimony was not admitted.
FAMOUS FOLK HERO HAD CALHOUN CONNECTIONS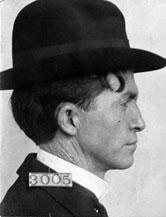 Al Jennings (prison photo) always claimed he was "The fastest gun on the range", but most historians said he was an even faster talker.
He boasted killing 18 men, saying "I always shot 'em in the throat so they couldn't talk back." Historians say there is no record that Jennings actually killed anyone.
He claimed to have bested Jesse James in a shooting match, which would have been easy, since James happened to be dead at the time of the alleged incident.
Real desperadoes like Fred Dalton of the Dalton Gang scoffed at Jennings as "the guy who held the horses" during bank robberies, and his outlaw exploits were marked by comical ineptitude.
Al Jennings' tall tales were much taller than himself, standing at 5'1". He ran away from home in Virginia (or West Virginia)and learned to sling a gun while saying he encountered such legendary figures as Bat Masterson and Wyatt Earp.
While Jennings was drawn to outlaw types, he was fascinated with the legal system. He says he obtained a law degree from the University of West Virginia and was admitted to the Comanche County bar at age 21.
In 1892 he was elected District Attorney in El Reno, Oklahoma. A short time later be began his career as a badman with his brother Ed, who was also a lawyer.
He actually did commence robbing trains, stealing cattle and holding up stores, with many of his tales recorded in a biography called "Beating Back," followed by a Hollywood film about his exploits.
Jennings claimed to have robbed between 15 and 20 trains in Oklahoma, Kansas, Texas, and Arkansas. He wasn't very good at it. During one attempted holdup, Jennings stood menacingly on the tracks, guns drawn, attempting to flag the train down. The engineer ignored him and nearly ran him over.
Another exploit was recorded by author Louis L'Amour: "The gang boarded a train and a conductor with a deep, booming bass voice yelled from another car, "What's going on up there?"
Frightened, the gang jumped off the train and walked miles back to their horses. Jennings' biggest single haul netted him $27 and a jug of whiskey.
"There wasn't a lot of money on those trains", he recalled, "so we had to take up a collection from the passengers, just like in church," he said.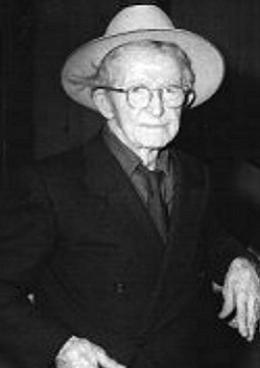 An older Jennings after illustrious storytelling career. including claiming friendship with O'Henry
By 1895 the law finally caught up with Jennings after his typical bumbling. He blew up a U. S. Mail car while trying to open the safe, which didn't. He was captured without a shot being fired and sentenced to life in prison.
Jennings had a lot of influential friends and in 1904 Jennings was pardoned by President Theodore Roosevelt.
Jennings then became an evangelist, did the lecture circuit and resumed his law practice. In 1914 he ran for Governor of Oklahoma on the platform, "If elected I promise to be honest for a year, if I can hold out for that long."
After losing, he said "There's more honesty among train robbers than among public officials."
After his "Beating Back" book was written in 1914, he entered the silent movie business, sometimes starring himself or sometimes helping with scripts.
Show business folks were charmed to be in the presence of a "real-life outlaw".
He stayed to work as a technical consultant, screenwriter, and character actor in over 100 silent and early talkie westerns, including such epics as "Hands Up!" (1917), "The Ridin' Rascal" (1926), and "Loco Luck" (1927).
Another autobiography, "Al Jennings of Oklahoma," was filmed in 1951 with Dan Duryea in the title role. Jennings bought a modest ranch in the western end of the San Fernando Valley where he raised chickens and sat on his front porch reminiscing about the old days.
In 1945 he sued the producers of the "Lone Ranger" radio serial for defamation of character, claiming the show's writers had belittled his prowess as a gunman.
"They had this Lone Ranger shooting a gun out of my hand, and me an expert", he griped in court. The jury was entertained by Jennings' stories. He lost the case.
In November of 1961 Jennings' wife Maude passed on and the heartbroken 98-year-old bandit took to his bed and died a month later.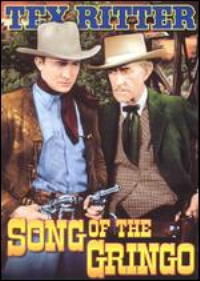 Former real-life outlaw Al Jennings helped write this
musical western that marked the screen debut of Tex Ritter